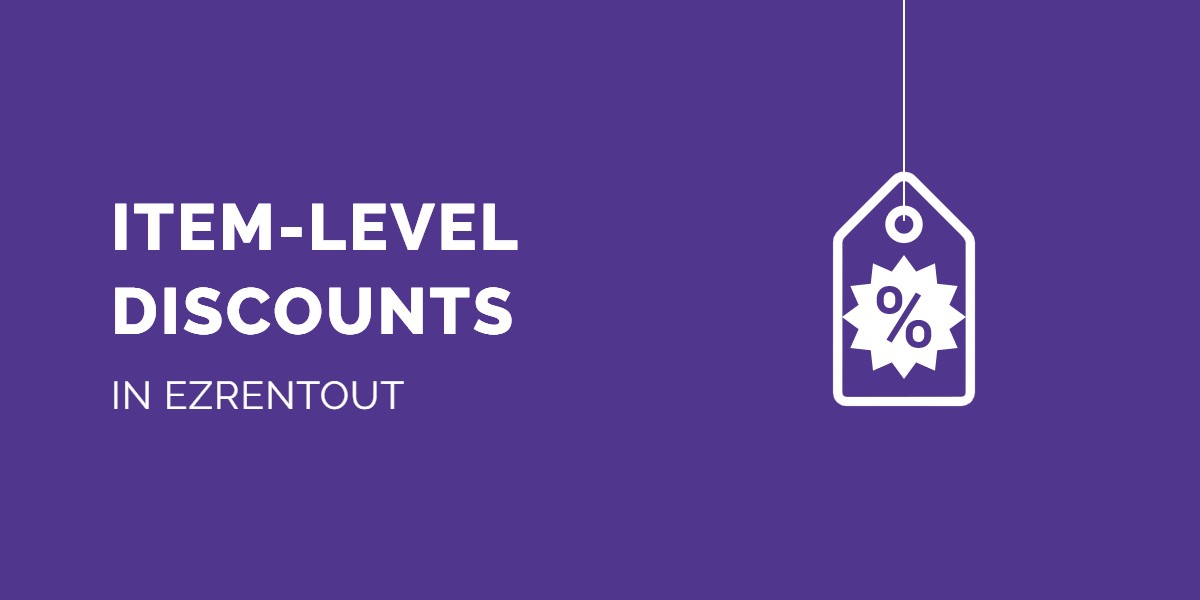 EZRentOut has released a new feature that enables you to offer discounts with more flexibility. Instead of giving a flat discount on the entire order, you can now apply individual discounts on each item with Item-Level Discounts.
For example, let's assume you are running a construction rental company. You have two new excavators and one that has been in use for a while. Your client is looking to rent all three for an upcoming project and you want to charge different rental rates for them. Now you can use Item-Level Discounts to give a discount on the older excavator in the order.
Let's dive deeper to see how you can do this.
Contents:
1. Enable the feature
2. Add Discount/Charge to an Item
3. Add Discount/Charges when importing from Excel
4. Generate Custom Report
1. Enable the feature
To enable the feature, go to Settings → Add Ons → Item-level Discount/Charge and click 'Enabled'.


Scroll down and click 'Update' to save these changes.
2. Add Discount/Charge to an Item
You can apply a Discount/Charge to Assets, Asset Stock, and Inventory following the same process.
Go to Orders and open a particular Order. Then scroll down and click on the edit icon highlighted below:

This opens up the following overlay from where you can add a new column for Discount/Charge: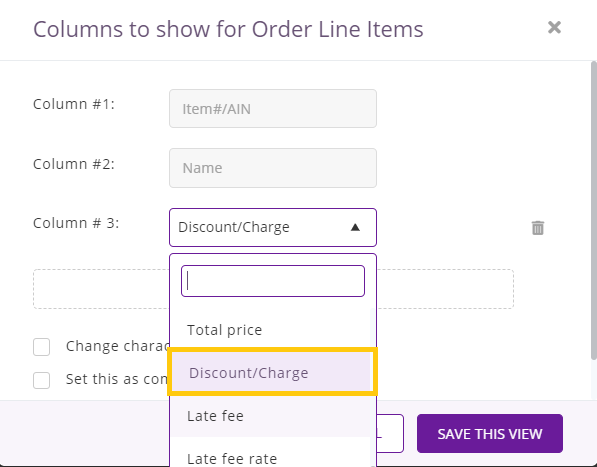 Now a new column will appear on the Order Details page for Discount/Charge. You can edit the field value for each item in the Order as you want.

If you scroll even further down on the Order Details page, you can see the discount or charge applied here as well: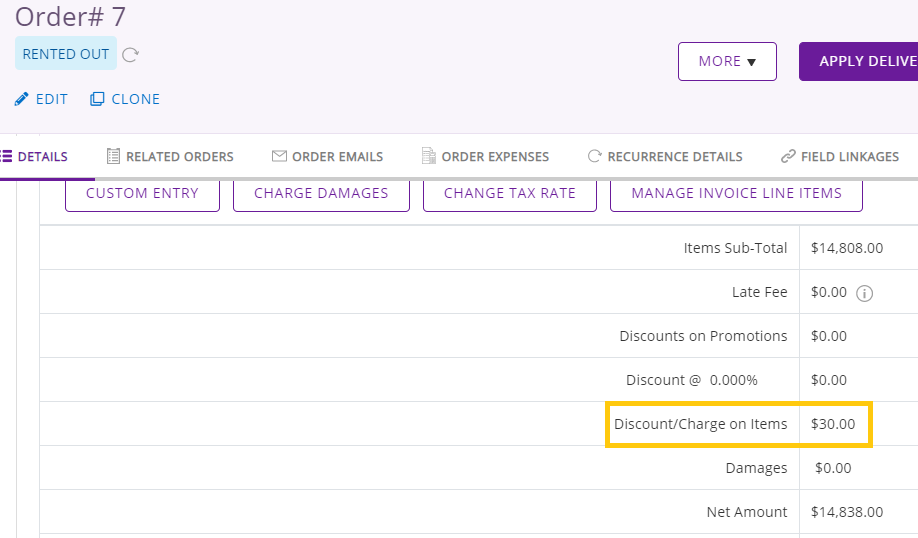 Note: When you apply a discount to an item, that discount will also be applicable on the Webstore.
3. Add Discount/Charges when importing from Excel
You can also add item-level discounts or charges when importing items from Excel or updating existing items.
To do so, go to Items → Assets and click the 'Import from Excel Sheet' button. From the dropdown options that appear, either choose 'Add New Assets' or 'Update Existing Assets', depending on your requirements.
Upload the Excel file and map the columns in your Excel sheet to fields in EZRentOut. You can map the relevant column to the Discount/Charge field as shown below: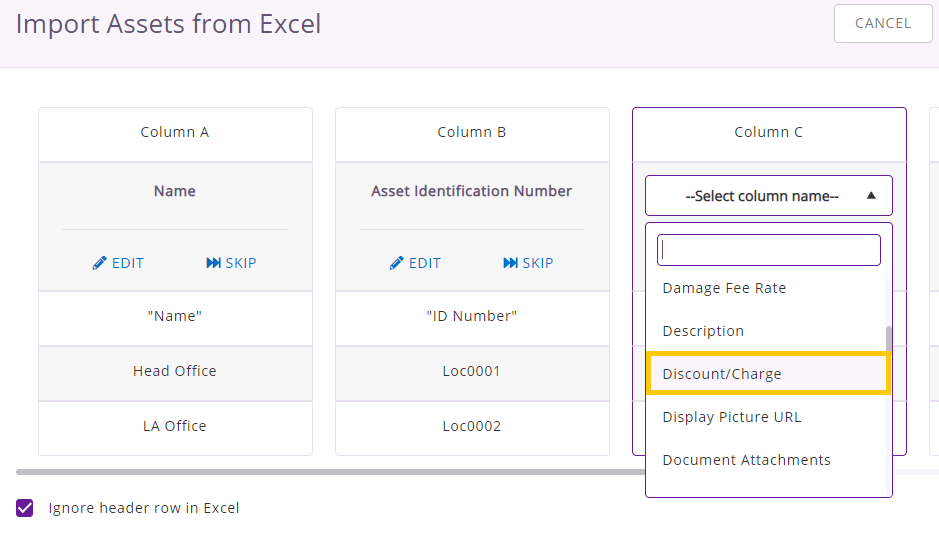 Once you're done, don't forget to hit 'Preview and Import' to progress.
Here's the format that your Excel file should follow:

In the case of a discount, you have to write 'Discount' and similarly write 'Charge' when a charge is applied. Furthermore, use the '$' sign to specify whether you will be applying a flat dollar amount discount/charge, or the '%' sign to specify whether you will be applying the discount/charge as a percentage.
Here's a breakdown of what the format should be like in the Excel file before you import:
<amount><space><% or $><space><Charge or Discount>
Note: You can also import the discount or charges applied to Asset Stock and Inventory by following the same process.
4. Generate custom report
Go to More → Reports → Custom Report. In Step 2, you'll see the highlighted columns related to item-level discounts to help you build your custom report: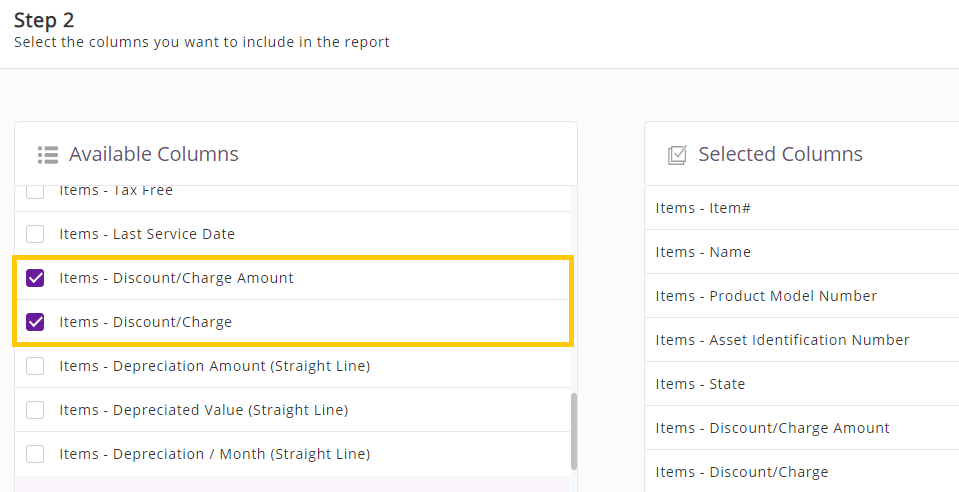 Have any questions?
EZRentOut is the leading equipment rental software used by SMBs all over the globe. Sign up today for a free 15-day trial.
For more assistance, drop us an email at support@ezrentout.com. You can also share your ideas on our Community Forum or visit our blog for detailed support posts.