You can now integrate your EZRentOut Webstore with Magento and increase your Orders by renting out via the leading platform for online commerce websites. Let's dive deeper into how you can do that.
How to download the extension
To download the EZRentOut Online Webstore extension for Magento, log in to your Magento account and follow this link: https://marketplace.magento.com/ezrentout-plugin.html
Then, choose a Magento Store version from the right-hand side as shown below, and click 'Add to Cart'.

Then click on the cart icon at the top right corner and click 'Proceed to Checkout'. On the payments page, you don't need to add any payment information. Simply add your shipping info and click 'Place Order'.
With your purchase successfully complete, you can choose whether you want to install or download the plugin.

Adding the Webstore Cart icon
1. Ensure that the Webstore and the Webstore Plugin are both enabled in your EZRentOut Account. Verify by going to:
a) Settings → Store Settings → Webstore → Enabled.
b) Settings → Store Settings → Webstore Plugin → Enabled.
2. Open your Magento 2 admin account.
3. Navigate to the Stores icon on the left-hand navigation bar and select Configuration.

4. This reloads to a new page, from where you have to click on the EZRENTOUT tab.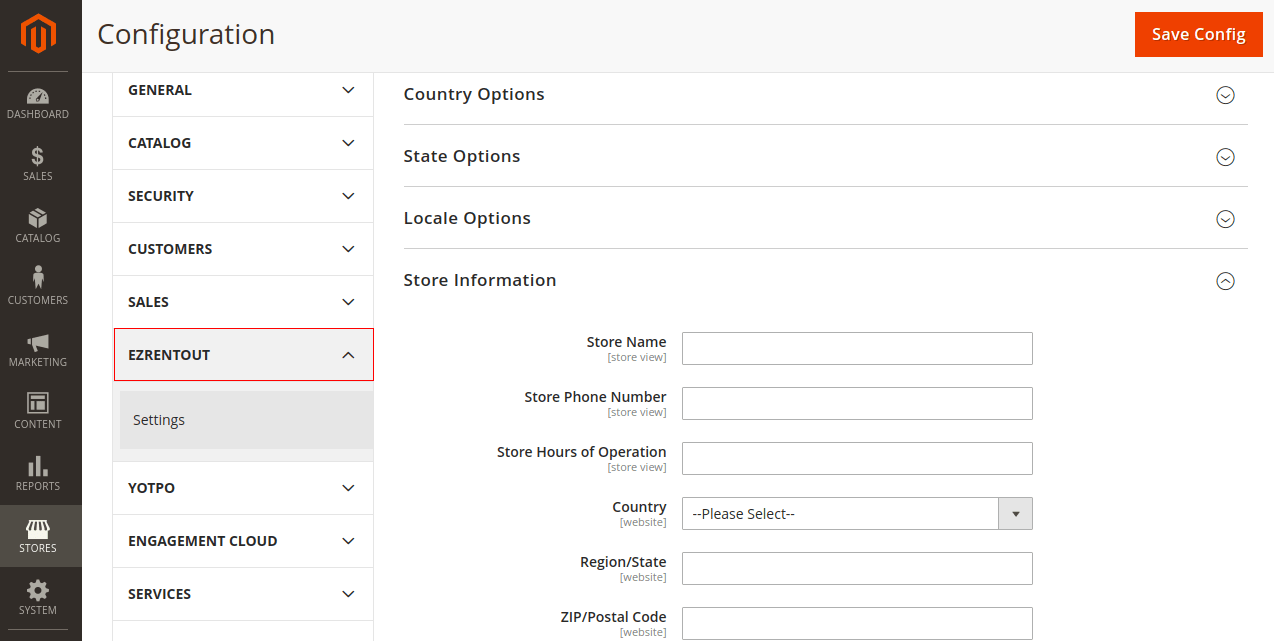 5. Now click on Settings and paste your Webstore URL (https://<subdomain>.ezrentalstore.com/) here. You can find the Webstore URL from your EZRentOut account by going to Settings → Store Settings.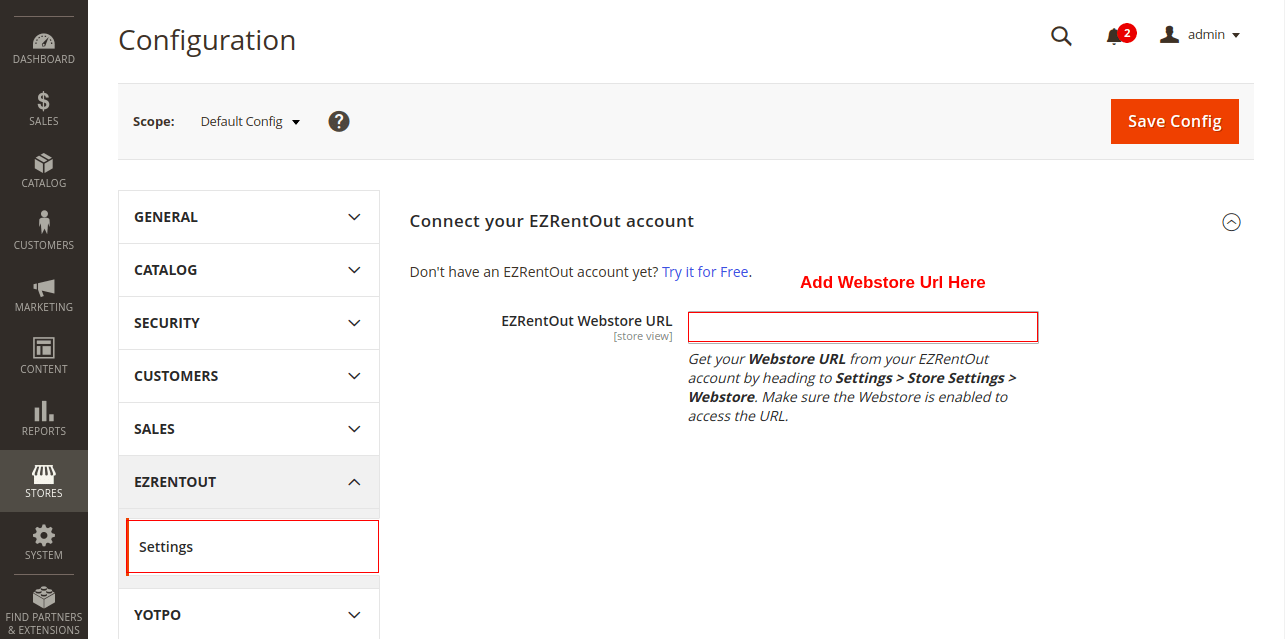 6. Click the 'Save Config' button.
Adding the Webstore Add To Cart button
Items in your rental catalog need to be equipped with the right anchor tags to link them with their respective Item Details pages in EZRentOut.
1. To get the anchor tag, head to an Item Details page.

2. Click on the 'Anchor Tags for Widget' button as shown above.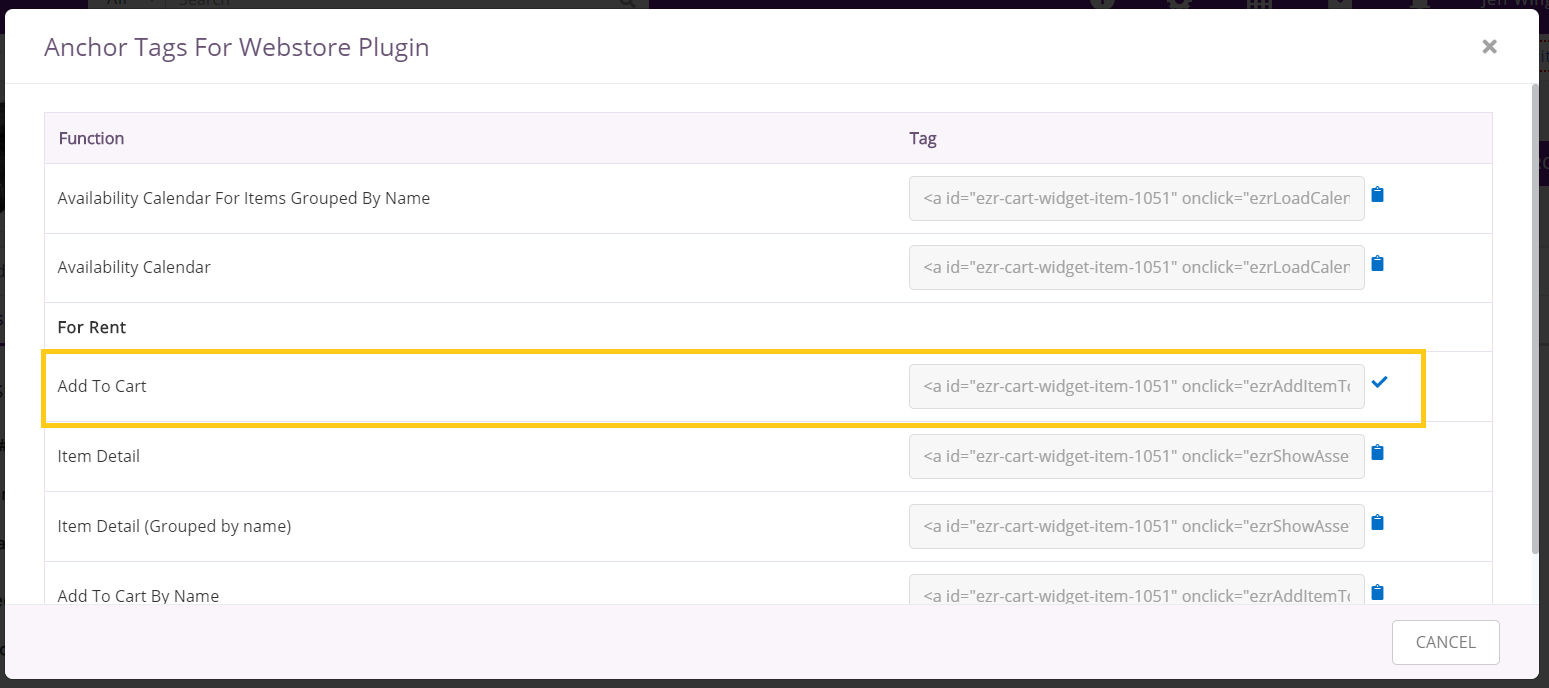 3. Copy the tag for your choice of functions.
4. Now, click on Content from the left-hand navigation bar on your Magento account. From there, go to Pages and edit one of the pages from your admin panel. Click on 'Show / Hide Editor' and paste the copied anchor tag.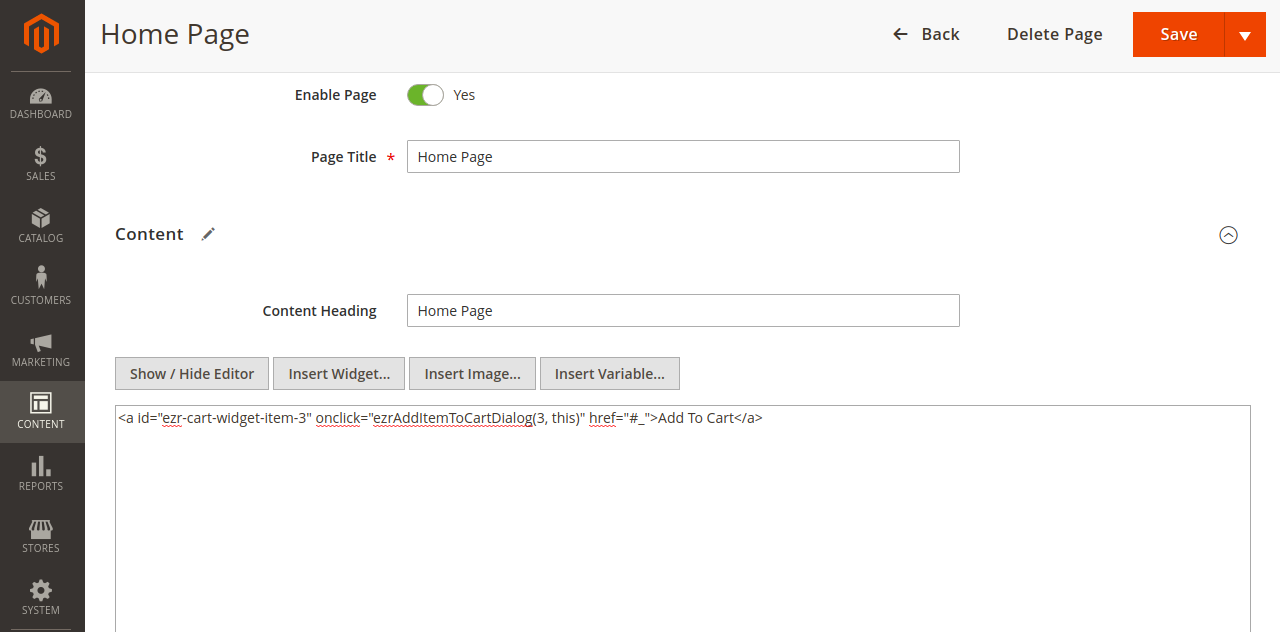 5. Click the 'Save' button once you're done.
Note: Please clear your cache if you don't see the cart widget by clicking the 'Flush Magento Cache' button in the cache management settings of Magento 2.
That's it! You can now use EZRentOut's Webstore Plugin widgets on your Magento 2 site.
Read More: Setting Up Webstore for Rentals in EZRentOut
Have any questions?
EZRentOut is the leading equipment rental software used by SMBs all over the globe. Sign up today for a free 15-day trial.
For more assistance, drop us an email at support@ezrentout.com. You can also share your ideas on our Community Forum or visit our blog for detailed support posts.