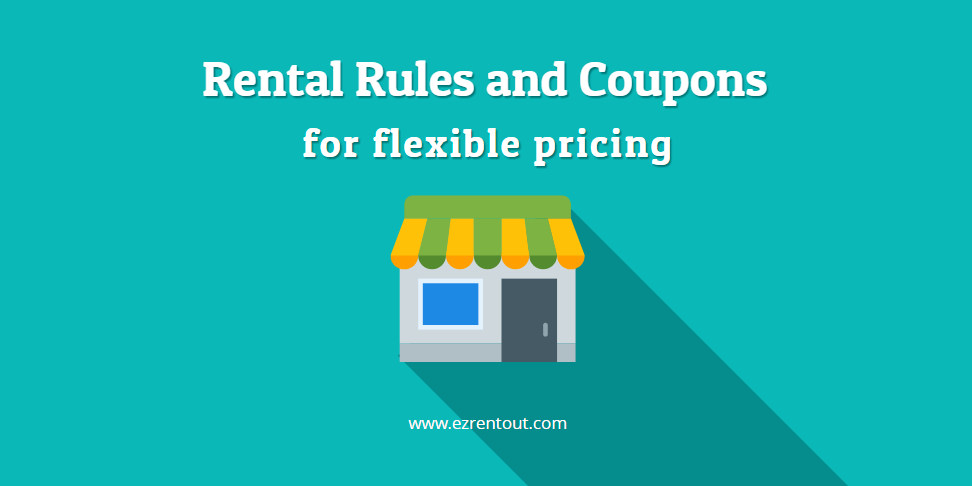 You can use our equipment rental software to create rental rules and coupons for flexible pricing. This can help you process orders with minimal effort each time. Here's an example of some of many scenarios you can tackle with our rental rules and coupons:
Offer seasonal discounts each year.
Let Premium customers add a discounted coupon to their order.
Charge extra for rush hour rentals.
Offer $30 off each order over $500.
$20 extra charge for all items currently in Baltimore.
To start off, go to More → Rules and Coupons:

What are coupons?
Coupons can be used to apply standardized discounts or charge customers extra, depending on specific customer, order, or item attributes.
To create a coupon, go to New Coupon under 'Rules and Coupons'.
To use a coupon in a specific order, you can simply click on the Apply Coupon button on the Order Details page. Simply click on the More dropdown menu and click on the Add Coupons option: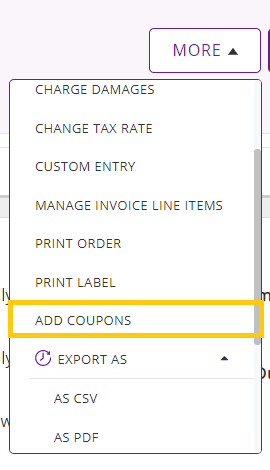 This opens up the following overlay, where you can enter the name of the coupon and you're done.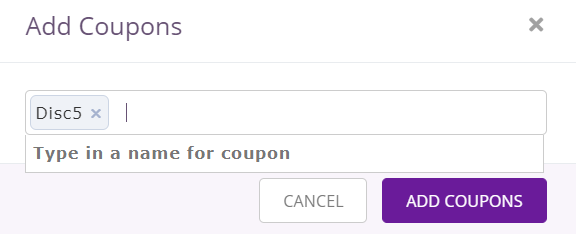 What kinds of coupons can I create?
Coupons in EZRentOut can include the following features:
A discount or charge that can either be a flat sum or a percentage value.
Unlimited coupon use, or a fixed quantity of available coupons.
The ability to set the coupon as single-use per customer.
Start and end dates for the coupons, or no expiry date at all.
As an example, we've drawn up a coupon for a 5% discount below. The system will create 500 of these coupons, with no expiry date set. In addition, each coupon will be single-use per customer.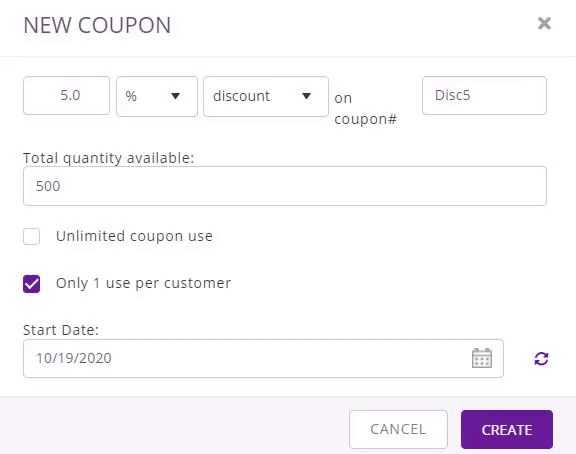 Where can I use coupons?
Users can apply the coupon codes when drafting an order, while customers can apply them when placing an order through the webstore. This can be done through online adverts or referrals, and even shared with customers manually.
How do I name coupons?
A coupon number should only contain numbers, alphabets and/or a dash symbol (-). Coupons need to be uniquely named, and must not exceed 30 characters.
More about rental rules
What are rental rules?
Rules can automatically apply coupons to an order when the right conditions are met. These conditions can be on duration, customer types, item properties, and more. You can also set up rules but have them disabled when you don't need them. Only enabled rules are applied on orders.
What kinds of rental rules can I create?
To create a rental rule using our equipment rental software, go to New Rule under 'Rules and Coupons'. You can choose from a number of attributes when creating rental rules in EZRentOut:
1) Customer category
2) Items having a specific property
3) Seasonal pricing
4) Duration of an order
5) Orders having a specific property

1) Customer category
Customer categories can be set up in EZRentOut. This is a great way of keeping track of different groups of customers and catering to their specific needs efficiently. You can also create rental rules based on these categories.
The Customer Category rental rule enables you to let customers use a specific coupon themselves, or to apply it by default if they belong to a specific category.
In the example below, we're letting customers avail the 5% discount if they belong to the 'Good' category: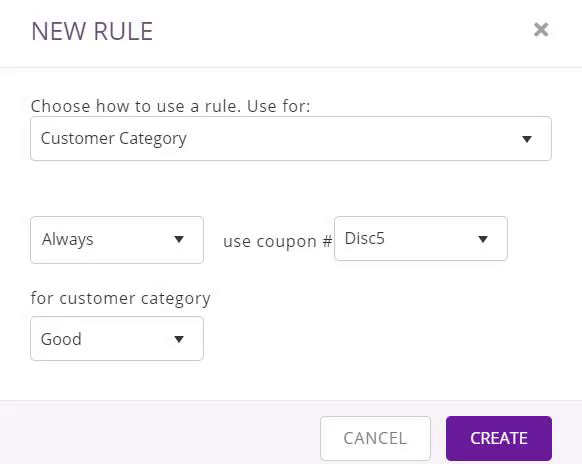 2) Items having a specific property
You can also let customers use coupons or apply those coupons directly to an order if it contains an item having specific properties. This could include the group the item belongs to, the hourly rate of the item, the location it is present in, etc.
In the example below, we're applying a 'Limited Stock' coupon when an item's net stock quantity reaches 10. This way, customers will be charged extra if the item they have requested is short in supply.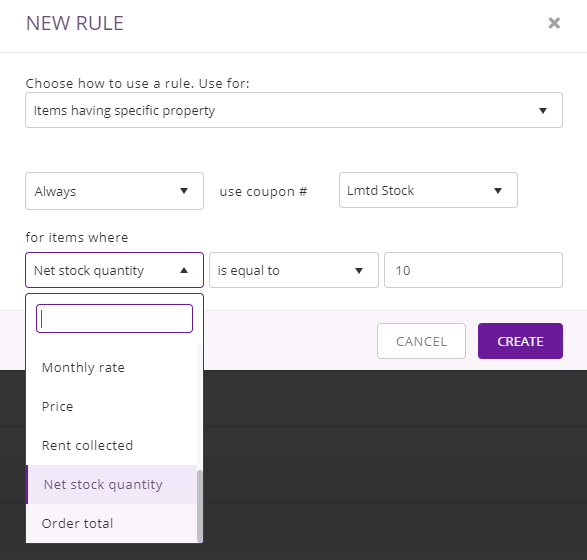 3) Seasonal pricing
Responding to seasonality is extremely crucial for rental businesses. Our equipment rental software enables you to adjust pricing during set periods by creating seasonal rental rules.
In the example below, we're repeating a 5% summer discount every year, between the months of April and July. This rule is particularly flexible, and can be used to cater to any number of season-specific rental rates.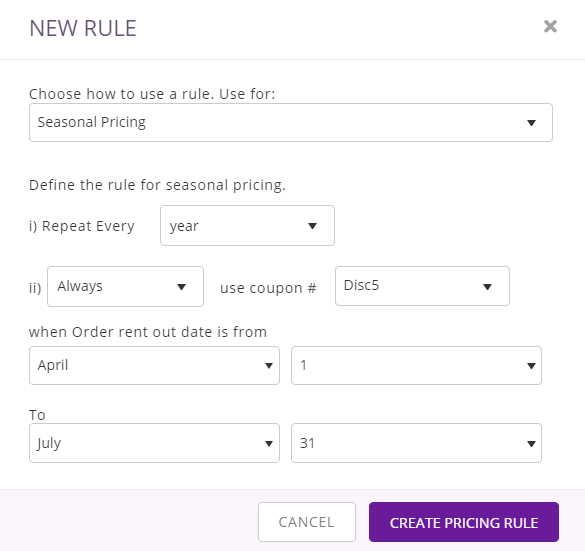 4) Duration of an order
This is one of our most popular rental rules. You can apply charge-based or discount coupons to encourage customers to rent items for a specific period of time. You might want to give a discount for longer rental durations, for example, or discourage customers from renting items out for long periods during the rush hour.
In the example below, we've applied a flat fee of $20 for any customer whose order duration is less than 24 hours.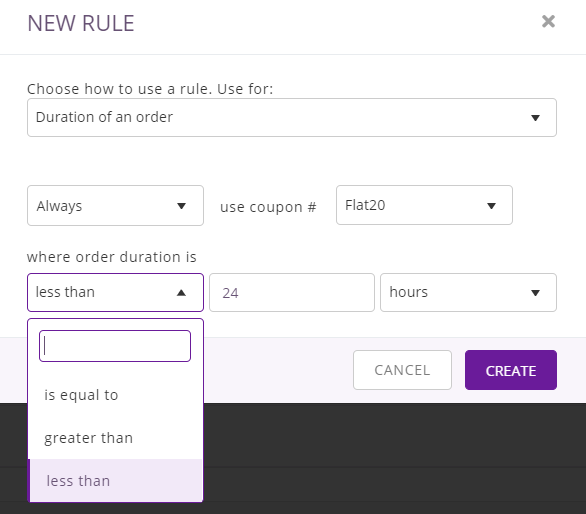 5) Orders having a specific property
You can also add coupons based on an order total. Apply discounts to encourage customers to spend more, or add a small charge for processing smaller orders.
In the example below, we're allowing customers to apply a 5% discount to any order that exceeds $500.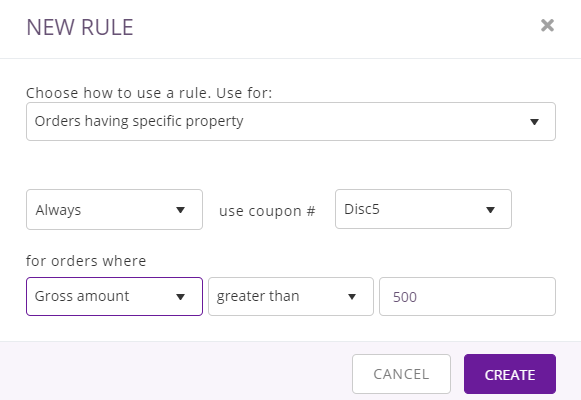 Note: In order to enable customer to use coupons on the Webstore, it is necessary to create a rental rule allowing for it as shown above. You can also allow the coupon chosen to be applied to all orders. To do this, simply define the gross amount above to be greater than 0.
Editing Rental Rules and Coupons
Now that you have your rental rules and coupons all set up, you can easily disable or enable them any time using the sliders on the left. You can edit and delete the rules and coupons using the icons shown below: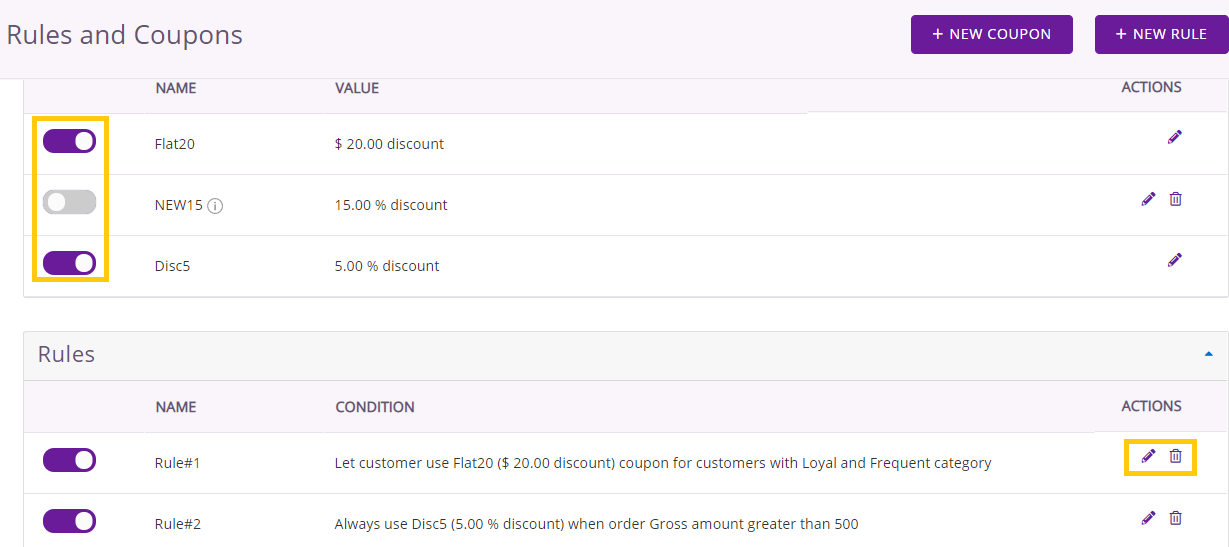 Most used Coupons
Users can also see the usage of their coupons and highlight the most popular ones. To access this information, go to More → Reports → Orders Reports → Coupons Used.
Here, you can choose columns to show and apply filters to your report. For instance which customer used Coupon 'XYZ' the most!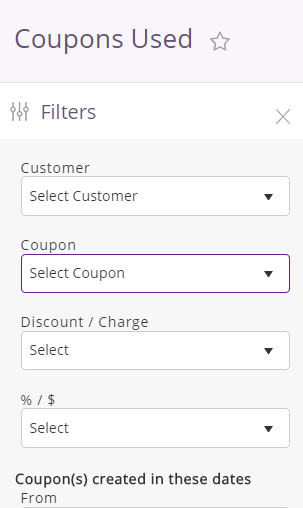 How to deal with invalid coupons?
In some cases, you may get an error for an invalid coupon code on the webstore:

Here's everything you need to go over to check if the coupon's conditions are being met:
The expected rent out date needs to be less than the pricing coupon's start date
The expected rent out date needs to be greater than the pricing coupon's end date
Make sure you have defined pricing rules
Check if the redemption limit has been reached
Have feedback for our equipment rental software?
EZRentOut is the leading online rental software used by a diverse set of rental businesses worldwide.
For more assistance, drop us an email at support@ezo.io.
Visit: Knowledge Base | Blog | FAQ
Follow/Join us: Twitter | Facebook