Bundle items together to book and rent out orders with ease and speed. These can be your rental packages, promotions or a combination of items that are regularly rented out together. For example, a Beach Photoshoot bundle can have 2 DSLR Cameras, 3 Lenses, 2 Tripods, and 6 Soda Cans. Explore bundles from your EZRentOut account.
1. When to use Bundles
Bundles are used to combine different items that are regularly rented out together. For example, if (any) 2 DSLR cameras, 2 tripods and 3 lens cleaning solutions need to be rented out for a 'beach photoshoot' engagement, then having this as a bundle will serve both as a checklist and a quick one-step process for their rent out. You need to have Inventory and Asset Stock modules enabled to add them in bundle lines. Enable both modules from Settings → Add Ons.
2. Creating a new Bundle
You can create a new bundle from More → Bundles → Add Bundle. Fill in the data fields for bundle name and description.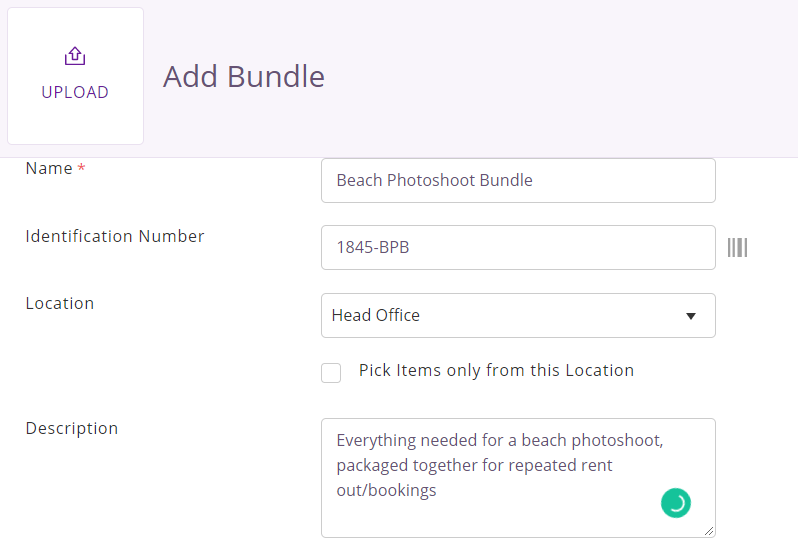 You can add a bundle level discount to it. See image below:

3. Adding Bundle Lines
A bundle can have multiple line items based on the types of items needed; based on their name, their association to a group or a number of flexible options presented in the drop-down when choosing the type of bundle line (asset, asset stock, inventory).
Let's implement the 'beach photoshoot' bundle that consists of 2 DSLR cameras, 2 tripods, and 3 lens cleaning solutions:
a. 2 DSLR cameras: We've set up our items such that there is a group called Cameras and all DSLR cameras are associated to it. We'll use the Advanced (Assets) in the type.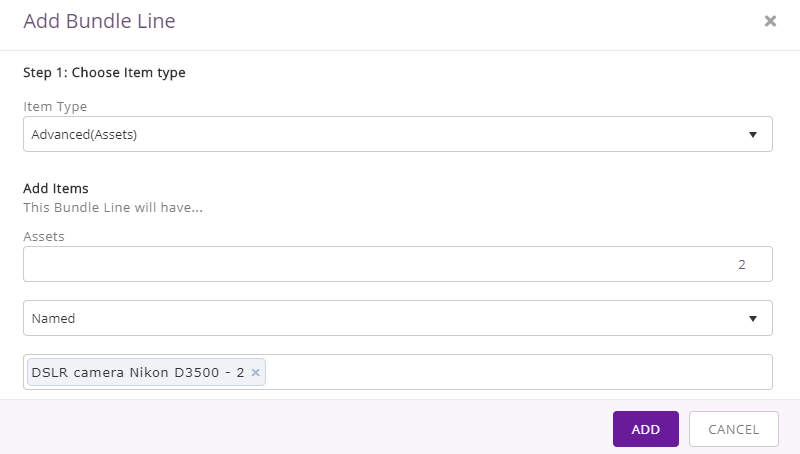 b. 2 tripods from asset stock: We'll use the 'Asset Stock' in the type: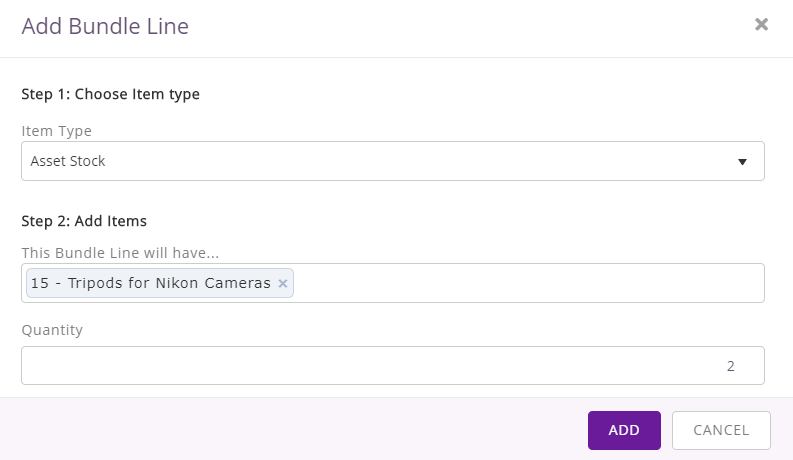 c. 3 cleaning solutions from inventory: We'll use 'Inventory' in the type: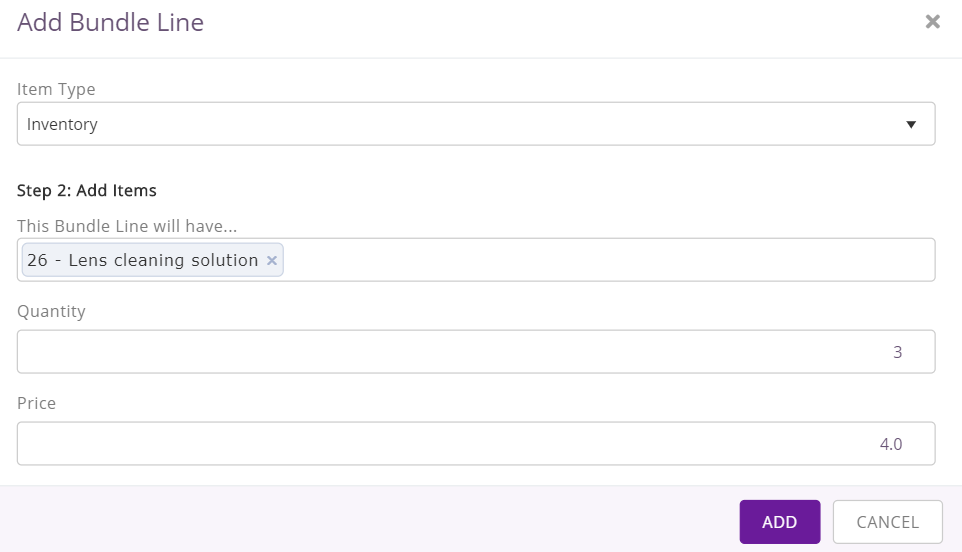 4. Adding Advanced Items to Bundles using Custom Fields
Users can also add Advanced Items to bundles through custom fields. This means that users will be able to look up items based on the custom identifiers that they've created. We have extended this functionality to single line text and number fields for items.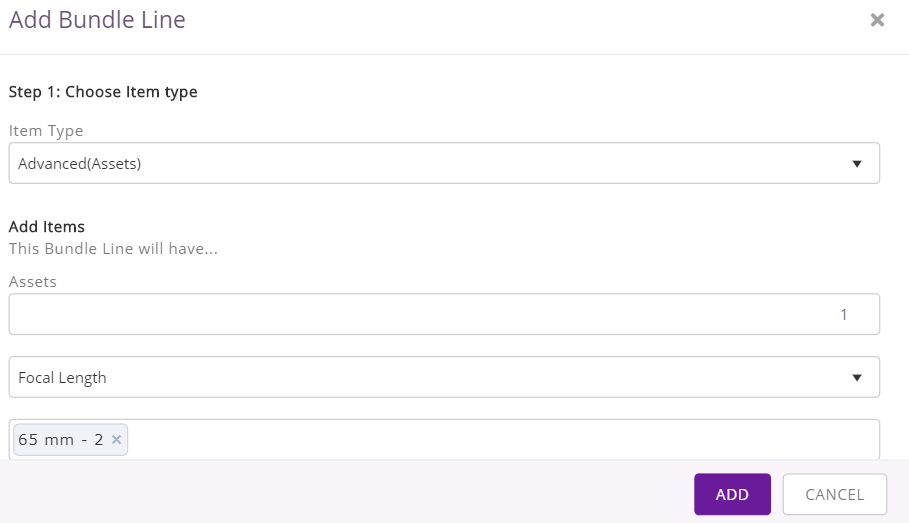 Bundle Pricing: For rental items (assets and asset stock), their actual rental rates are used. However, you can have bundle level discounts to override/adjust these rates. For example, a camera is rented out at $5 per hour and $10 per day. If there's a 5% discount set on the bundle, the rates will change to $4.75 per hour and $9.5 per day.
For sale items (inventory), you can choose a price when adding the bundle line. Say you normally sell Lens Cleaning Solutions at $5.5 per set but in a bundle, you want to sell them for $5. You'll give the $5 price when adding Lens Cleaning Solution in the bundle.
Read More: Bundle Pricing in EZRentOut – Discount and Flat Pricing
Featured Bundle: If enabled, it will be viewable as a featured bundle on your webstore. You will know more about it later in this blog.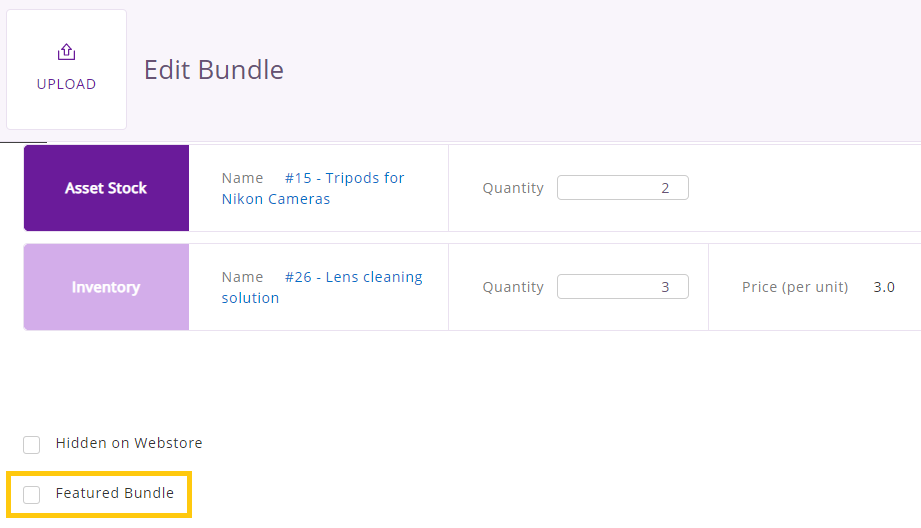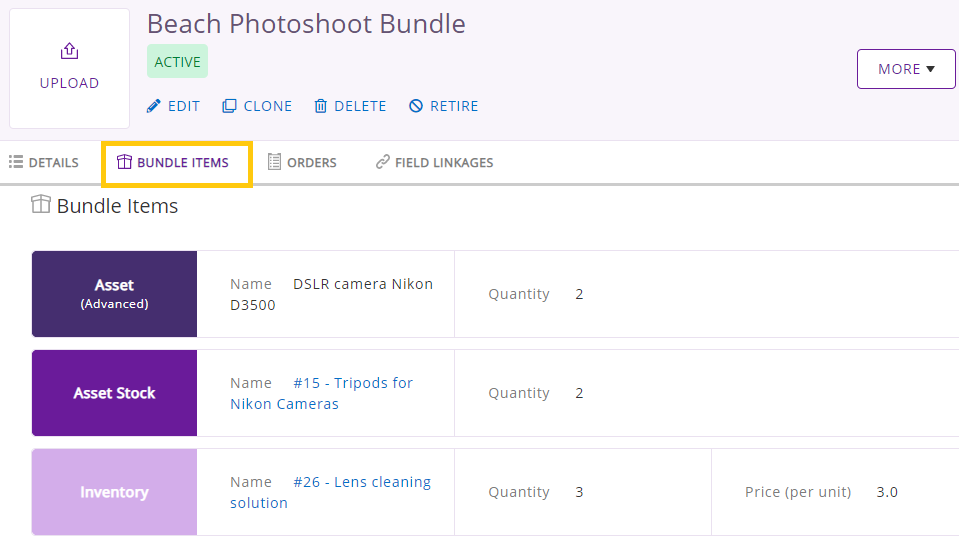 Once done, our bundle detail page shows a summary of the items in the bundle as shown below:

You can also add comments and upload documents and images to a bundle from within its detail page.
5. Editing a Bundle
You can edit a Bundle from its details page. To do this, go to Bundles → Select a Bundle you want to edit → Click the 'Edit' button.

Here, you can make changes to a Bundle. You can edit a Bundle's name, description, identification number, location, or pricing.
You can also update/add/delete bundle line items. Keep in mind that once the bundle is updated, the change will affect the active Orders/Carts too. However, these changes do not affect the Orders/Carts that are in Completed state.

You cannot add/delete line items in a Bundle after associating it to an Order. Though you can edit the rest of the Bundle details.
You can also retire, delete and clone a Bundle from its detail page. If you are associating a Bundle to an Order, the ability to delete it will not be available.
6. Comments and Mentions
You can also add comments and mention users to a bundle from within its detail page. To enable, please go to AddOns → Mentions
The user will be notified of his mention from the bell icon on the dashboard. Click on mention from the dropdown and you will be directed to the mentions listing page for further details.
7. Adding Bundle to Order
Now that the bundle has been created, we can add it to an Order from Bundle Detail Page → Click 'Add to Order' button. This action will identify the available assets, asset stock and inventory items from this bundle and add them to your order.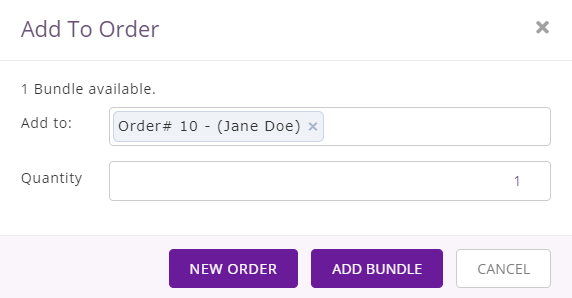 Now whenever there is a Photoshoot scheduled, simply add the bundle to the order to rent out or book bundled items. Specified quantities will be pulled up from available items with a single click to be rented out or booked for a Photoshoot:
Read More: Orders in EZRentOut
Hit the 'Add Bundle' button. You will be redirected to a summary of the Bundle.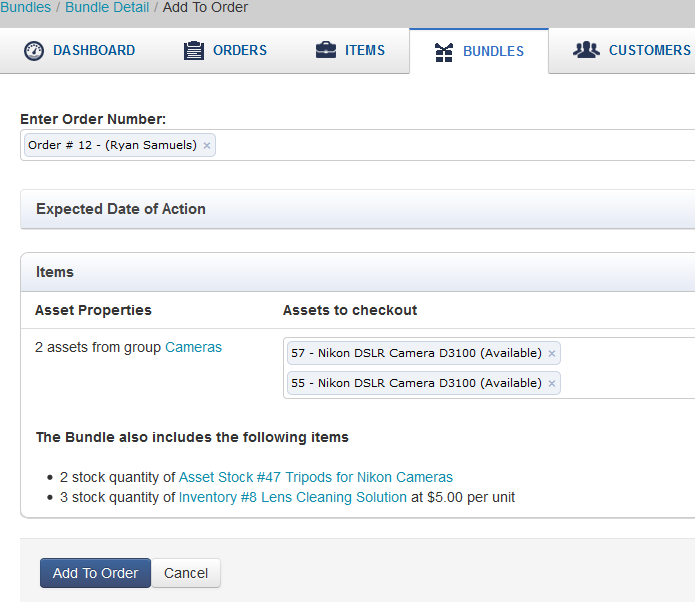 Hit the 'Add to Order' button, which will redirect you to the Order detail page, where you can either add more items or you can also increase the bundle quantity and add multiple bundles to the Order. To do so, click on the pen icon to edit the columns as shown below:

From the overlay that appears, choose the 'Duration/Quantity' field and click 'Save this view' to save the changes.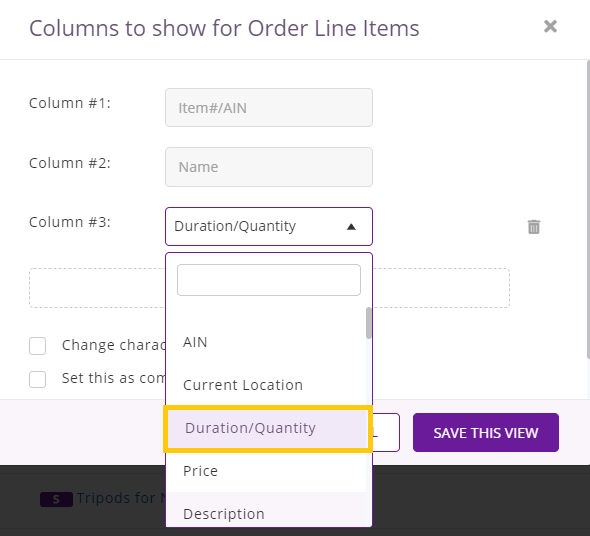 Now you can see the newly added column below. You can directly edit the quantity of bundles in the Order now, as shown:

When you increase the quantity, an overlay appears, showing you a summary of all the available items added within the Bundle. Since we have added 2 new Bundles to increase the overall quantity to 3, the overlay shows us the items being added to the other 2 Bundles. As you can see, only 1 DSLR is added to Bundle 2 instead of 2 DSLRs, because there was only 1 DSLR available: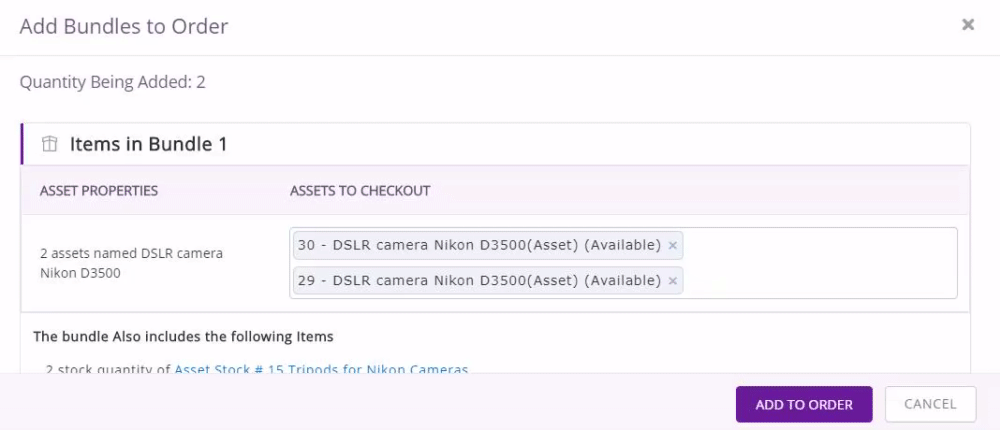 Click the 'Add to Order' button. When multiple Bundles are added, the system automatically shows all of them in a collapsed state. You can click on the " icon the expand a Bundle and view the items within that Bundle.


Once done adding items/bundles, the Order is ready for rent out or booking for a later date:

Learn More on adding Bundles with Flat Pricing to Orders
Once a Bundle is added to an Order, you can toggle between the Bundle View and the Item View.
Here's what the Bundle View looks like:

Here's what the Item View looks like: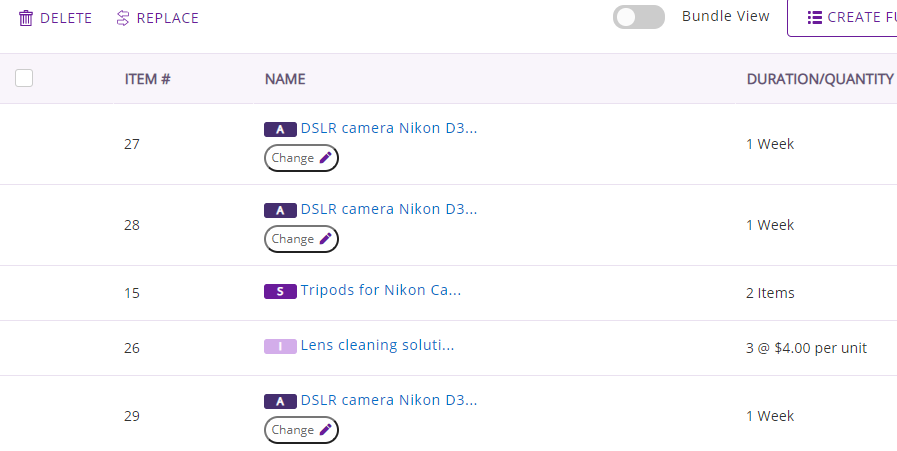 Booked orders can be edited on the fly. Items (also bundles) can be removed/added, giving businesses more control over their equipment (see image below). Enable the Bookings Module from Settings → Add Ons.
You can now book more items at the last minute and update the order. Say you booked a rental order for Ryan Samuels that consists a Nikon DSLR Camera to cover a CES exhibition but then you realized you forgot to add the tripod. Simply click on the bundle's name to get redirected to the Bundle Details page, where you can edit and add new items.
You can also enable conflict free booking from Settings → Add Ons → Bookings.
8. Editing a Bundle after it is added to an Order
You can also edit the items and prices in a Bundle after you add it to an Order. The relevant changes are applied to the Order as soon as the Bundle is updated.
Simply go to the Bundles tab and click on the relevant Bundle. From the Bundle Details page, click 'Edit', make the appropriate changes and hit 'Update'. That's it, you're done! The changes will be applied to the Order themselves.
Note: Any edits to the Bundle do not affect Orders in the Completed state.
9. Remove individual Items from a Bundle in an Order
You can also remove individual items within a Bundle after you add them to an Order.

Simply check the box and then click delete as shown below:

An overlay will appear where you can choose to click 'Delete Individual Items':

This will remove the Bundle view and you can view individual Items in an Order:

You can select any Item you would like to delete and keep other Items of the Bundle as part of an Order.

10. View Bundle history
Any changes made to the Bundle are being stored. To access the history, simply go to the Bundles tab and click on the relevant Bundle. From the Bundle Details page, click on More and then scroll to the 'History' section of the dropdown menu.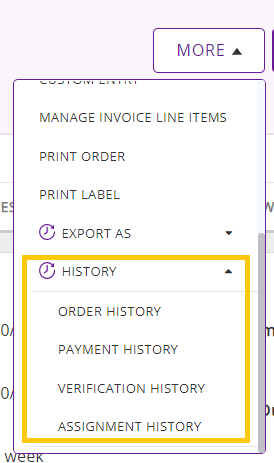 This opens up a dialog box showcasing all the actions taken on the Bundle.
11. Showcasing Bundles on Webstore
We love making the rental experience easy for EZRentOut users. You can also showcase bundles on your webstore for customers to view and add to cart.
Additionally, selected bundles can be made 'visible on webstore' or showcased as a 'featured bundle' from the Bundle's detail page. From the store settings, you can also customize information a customer views on a bundle's detail page e.g. number of available bundles, any discounts applied to them, as well as all the items contained within the bundle itself. Learn More

Note: Bundles can only be viewed as a separate tab – enabled from Settings → Store Settings → Menu Tabs. See image below how a bundle may look on your webstore:
Have more questions?
EZRentOut is the leading equipment rental software used by SMBs all over the globe. Sign up today for a free 15-day trial.
For more assistance, drop us an email at support@ezrentout.com. You can also share your ideas on our Community Forum or visit our blog for detailed support posts.
Updated: June 08, 2020