Company Overview: HealthQuest, Inc.
HealthQuest, Inc. is a California-based, family-owned home medical equipment provider. In business since 2016, their medical supply store features a comprehensive portfolio of products that cater to the medical needs of all ages – ranging from infants to seniors who require assistive devices.
As an extension of their offering, HealthQuest also maintains a rental model featuring a full range of assistive living equipment such as adjustable beds, mobility chairs, wheelchairs, and more.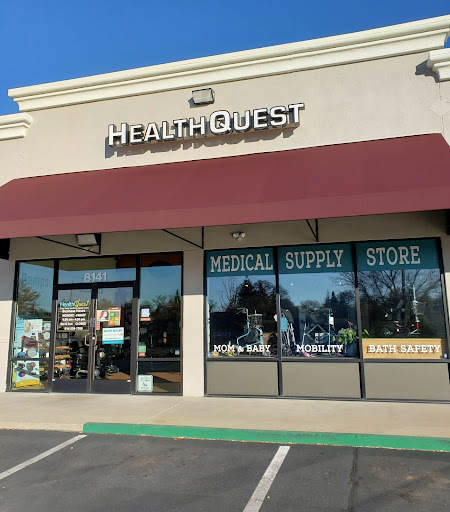 Switching to EZRentOut to automate and extend the rental model
In 2021, HealthQuest decided to replace their manual tracking system, paper binders, with a more efficient solution. This outdated system was causing multiple problems such as time-consuming manual entries, inadequate order management, and difficulty locating crucial information.
At the time, Vanessa Grenyion, business owner and manager, attended a webinar on the operational benefits of a cloud-based system for medical equipment providers. After an extensive review of multiple cloud-based tracking solutions, Vanessa decided that EZRentOut offered a comprehensive feature-rich solution that could fulfill all their rental equipment needs.
While they log inventory from their retail store in EZRentOut, their major use case is for the rental model; specifically, their rental store that is hosted on the EZRentOut platform.
Driving user adoption and rental efficiency with EZRentOut
The centralized visibility into all their rental activity has been a game-changer for HealthQuest. With EZRentOut, Vanessa can conveniently perform multiple functions such as booking and renting out Orders, by clicking just a few buttons. She also extensively uses the Dashboard to quickly view key metrics and events such as equipment checked in, checked out, or put into maintenance, and alerts for overdue payments.
She refers to the system as a "little encyclopedia" with useful in-app help panels and tooltips that offer information and assistance to guide her every step of the way. The comprehensive user guides have further helped Vanessa and her team to transition faster and increase productivity by adopting automated workflows.
"EZRentOut is like a full-time employee at a bargain rate," says Vanessa.
HealthQuest has seamlessly integrated their rentals in EZRentOut, allowing them to automate processes so they can spend more time focusing on and satisfying the needs of their customers.
Rental Webstore – an effective alternative option for customers
During the pandemic, HealthQuest experienced a significant reduction in foot traffic to the store. At this time, they decided to introduce an alternative option for their high-risk customer base – an online store that showcases rental inventory to match their needs.
Their customized EZRentOut Webstore is easy to navigate and populated with high-resolution images and detailed descriptions of their rental inventory. Customers can sign in, view inventory, book and reserve items, and even make payments online.
Even as the pandemic restrictions lifted, the Webstore continues to thrive and their rental revenue has increased. Vanessa credits EZRentOut for helping them set up the operations for this important revenue stream.
Saving time and increasing efficiency with recurrence and cloning features
According to Vanessa, their primary rental customers are seniors who need assistive equipment. Their most frequently rented out items include wheelchairs, electric homecare beds, mobility scooters, knee walkers, etc.
Since this equipment is rented out frequently, HealthQuest saves significant time by using the Recurring Order and Cloning capability in EZRentOut. Vanessa gave the example of a customer who has been renting a homecare bed from them for over two years. For long-term rental durations like these, she adds recurrences to orders as per the customers' needs. This helps her easily track periodic invoices for repeat orders.
In another use case, Vanessa explained that customers planning a trip with elderly parents whose mobility may be limited, rent out mobility scooters on a short-term basis. Vanessa finds it easier to clone such orders for customers with similar needs and duplicate the same Items into new orders to save time.
Recurrence and cloning capabilities have greatly helped HealthQuest efficiently and accurately manage growing orders.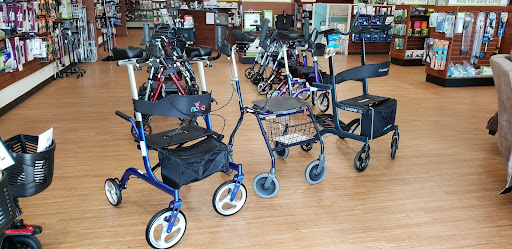 Customizing EZRentOut to align with their workflows
HealthQuest has seamlessly integrated its business model with EZRentOut. This is possible because of the customization options in the system for Asset tags, rental agreements, delivery, and more.
Asset tags
For the ease of processing Orders, Vanessa generates customized QR codes. She also prints Asset names with the accompanying AIN so she can conveniently keep track of checked out Items.
Bundled Items
HealthQuest has a special section on their Webstore for Items that are bundled together and offered at special prices. For example, they have created a bundle of electric homecare beds that can be rented out with mattress protectors and 80'' mattresses.Vanessa explained they have bundled an Asset (bed) with Inventory items like a mattress and protector (Inventory items are purchased and not rented). The overall price of the Bundle includes the rental price as well as the sale price of Inventory to create cost-effective deals for customers..
Rental agreements
Vanessa uses the customized email template to generate rental agreements. When an electronically signed copy of the agreement is received from the customer, the Items are rented out. This has expedited the order process and reduced time-consuming paperwork.
Delivery fees
HealthQuest offers delivery services only for a few heavy pieces of equipment. Most items are picked up by customers. EZRentOut has helped them streamline pickup and delivery – i.e., charge fees as per the distance from delivery to order location.
Reports for key business insights and sustainable scaling
Another key value driver for HealthQuest is the use of the reporting capability to gain key business insights. This includes running standard revenue reports to compare sales growth over the months as well as Retired Asset reports to plan asset replacement before orders are impacted.
Based on the actionable information gathered from these reports, Vanessa has scaled the rental business by adding items that are rented out frequently and have a positive impact on sales. These items included hospital beds and wheelchairs. Moreover, she has added lift chairs as a new rental item to forecast the impact on rental sales.
The future with EZRentOut
Vanessa finds the software intuitive and easy to use and was able to easily migrate asset and customer data. Concurrently she appreciates the robust ongoing support of the EZRentOut support team. Being a user-friendly software, Vanessa feels that EZRentOut is a great advantage for small businesses that operate with limited staff and technical resources.
""EZRentOut can scale your business. You can have tons of rentals, eliminate manual processes, and grow your business," concluded Vanessa. "This prevents you from switching to other softwares"