Organization Overview: Team Up! With Families – Katy's Kloset
Team up! with Families is a Wisconsin-based, volunteer-driven non-profit organization which was founded in 1995. Their mission is to promote family-centered opportunities for individuals with disabilities to connect to their community through programs, activities, and a medical equipment lending library.
Katy's Kloset, a medical equipment lending library, is a service of Team Up! With Families. They accept donations of medical equipment and supplies for children and adults which are then lent out to individuals in need, free of charge, under a signed loaned agreement. Funding for Katy's Kloset is provided by individual donors and community grants.
Transition to EZRentOut for streamlined management of growing lending inventory
Over the last decade, Katy's Kloset has grown at a rapid pace to keep up with increasing demand for medical equipment. It has doubled its warehouse space since moving to a new location in 2013 and has added various types of medical supplies to the items it accepts and lends to the community.
Lori Murphy, the Volunteer Director for order processing at Katy's Kloset and a member of the Board of Directors at Team Up! says that managing a large inventory was becoming extremely challenging as the software they were using was not able to accommodate their growth or different classifications of inventory items.
After extensive online research and multiple software trials, the evaluation team reluctantly considered taking up a contract for a custom solution to run Katy's Kloset. Mainly because finding a packaged software to meet their requirements was turning out to be a challenge.
However, after evaluating EZRentOut, it did not take long for the team to realize that EZRentOut was the perfect solution!
"We could not find anything that fit our requirements for functionality, flexibility, support – and a good, robust knowledge base until we found EZRentOut," says Lori.
Seamless remote operations with EZRentOut
Along with the rapid growth, COVID-19 provided another challenge when Katy's Kloset was forced to suspend operations in March of 2020. As the pandemic dragged on into the summer, Katy's Kloset leadership realized that the only way to begin serving the community again would be by remote order processing with drive-thru pickup. This was a drastic change from the way Katy's Kloset had previously operated where customers arrived at the warehouse on open days and orders were placed and picked up that same day.
Volunteers at Katy's Kloset were not planning to begin transitioning to EZRentOut for several months until August of 2020. However, the "restart team" realized that Katy's Kloset could not transition to remote order processing without migrating to EZRentOut first.
It provided everything Katy's Kloset needed to manage remote order processing including a strong, centralized, automated system with a powerful customer interface and multiple stages of order processing. Migration to EZRentOut was moved up so Katy's Kloset could resume operations in June 2020 and begin serving customers by remote order processing and drive-thru pickup.
"With COVID-19, if we had not already chosen EZRentOut and were not in the early stages of migration, we would not have been able to resume operations. We were not forward thinking enough to prepare for remote order processing," says Lori.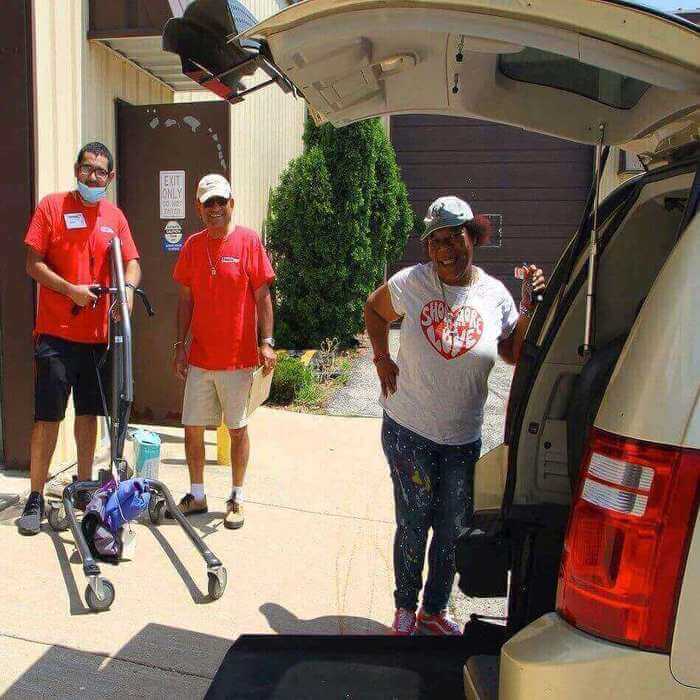 EZRentOut is cloud-based which means Katy's Kloset volunteers can easily process orders remotely by accessing a centralized record of their items anytime, from anywhere. EZRentOut has allowed Katy's Kloset to customize its inventory database to provide different levels of tracking depending on the type of item. It has also allowed Katy's Kloset to track medical supplies which the previous system did not accommodate. As Katy's Kloset does not charge for loaned equipment, they primarily use EZRentOut to process Customer orders, schedule order pickups, and track loan agreements.
Here are some key areas EZRentOut has helped Katy's Kloset gain control of their medical equipment library so they can provide a great experience for both volunteers and customers:
Powerful order tracking and real-time visibility
With a large amount of medical equipment and supplies, Katy's Kloset has multiple orders being booked every day by different volunteers in remote locations. Without the transition to EZRentOut, it would have been extremely challenging to keep a record of what was coming in and going out. Since EZRentOut maintains a centralized record of all asset movement, Lori can now easily track orders processed remotely by volunteers in their homes.
When a customer books an order, the requested items are reserved in EZRentOut. Volunteers in the warehouse use the centralized order system to prepare the required items and have them ready for the scheduled pickup time. Lori uses the Groups and Subgroups functionality to organize the items logically so the volunteers can easily find them in the system and the warehouse.
All stages of the order process can be recorded in EZRentOut and any changes can be easily tracked. The ability to check availability ensures that key items are available when the order is drafted. In this way, timely booking and dispatching through Reservations make it easier for customers to get what they want.
Taking inventory online with the Webstore
To accommodate expected continued growth in demand for Katy's Klosets services, Lori opted for a trial Webstore. Lori wanted to evaluate if the Webstore could provide a complementary option to placing orders by phone for customers who prefer to place their orders online. The Webstore would provide customers with a showcase of all of Katy's Kloset's equipment along with an easy-to-use order interface. The Webstore is something Lori is hoping to implement in the future as Katy's Kloset volunteers continue to streamline operations for remote order processing.
Custom Fields to document order details
All orders for equipment and supplies include specifications such as height and weight of the user so the correct equipment can be selected. To incorporate these details into the main order page, Lori uses Custom Fields. Each order has multiple Custom Fields depicting the specific requirements attached to that order. This clarity within each order is a great advantage when there are multiple pieces of equipment to choose from.
"If somebody says I need a shower chair, but my bathtub is so tiny, I need the smallest one you have, I can put this information in the Custom Field to let volunteers know when they are choosing the equipment for the order, " says Lori.
Lori explains that Katy's Kloset relies on community grants to help fund their operations and this is another area where Custom Fields are useful.
"Different (donors) want to know the demographics of the users of our equipment that they are providing funding for. I find it easier to document this information in the details in the orders, so it is easily available and exported for whatever reports I need." explains Lori.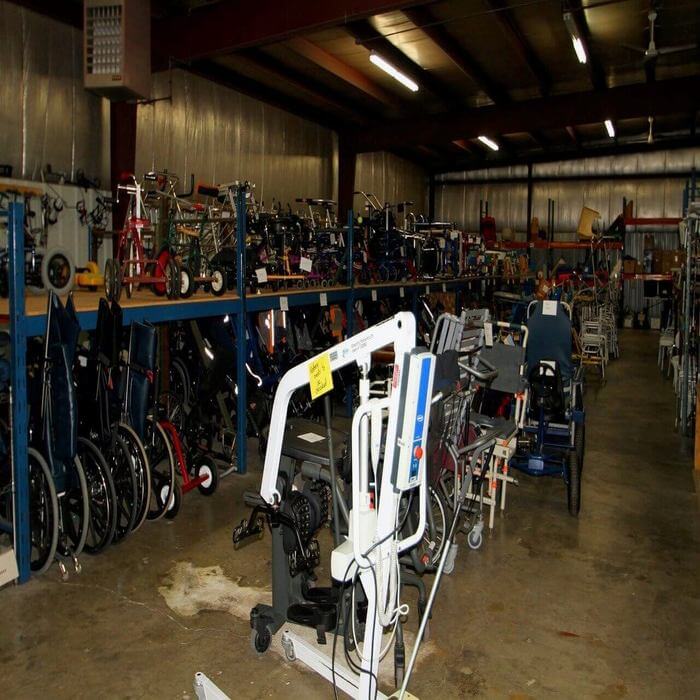 Report analytics for order review and processing
Volunteers use EZRentOut to run multiple types of reports to ensure that orders are processed correctly. The reports help to ensure the information needed to complete the processing of the order is provided and that each step runs smoothly for their volunteers and customers.
Having order, item, and customer information available in an exported report enables Lori to quickly sift through the orders and find missing information and have it completed before documentation is finalized. EZRentOut reporting provides a tool that helps volunteers effectively manage remote orders by saving customer and volunteer time by catching errors or incomplete information before orders are processed.
Continual enhancements with EZRentOut in the Future
Katy's Kloset volunteers have been using EZRentOut to provide remote order processing for their customers for almost a year and are pleased with the functionality and ease of use of the software. EZRentOut continues to provide enhancements such as Delivery Scheduling that have allowed Katy's Kloset to continue to streamline and improve its order processing operations without additional resources. EZRentOut has affirmed the evaluation team's desire to find a commercially available solution as opposed to developing a custom solution as Katy's Kloset benefits from the continual product enhancements that EZRentOut provides.
Being a user-friendly software, Lori feels that EZRentOut is a great advantage for non-profits like Katy's Kloset that operate with limited staff and technical resources. Their team of volunteers find the software intuitive and easy to use. Volunteers were able to easily migrate asset and customer data to EZRentOut and appreciate the robust ongoing support of the EZRentOut support team.
"I try to figure out things when I am able and appreciate the great support when I can't," concludes Lori. "The team has been so responsive. I trust them to get me the best answers when I need them."