Yellow Iron Rentals is a heavy equipment rental business located in Centerville, Utah. Originally, the company was a landscaping business that had 120+ pieces of heavy equipment, mainly Caterpillar equipment.
It is managed by an experienced professional from the tool rental industry. They brought in the manager to plan and strategize the company's equipment rental business and make it profitable. With extensive experience working in the tool rental industry, the manager had the right skill set to take Yellow Iron Rentals in the right direction.
He added the EZRentOut rental software to the mix, and since then Yellow Iron Rentals has doubled its revenue.
By early 2023, after testing out 6 different rental software, Yellow Iron Rentals decided to try out EZRentOut.
Yellow Iron Rentals struggles in tracking rental assets and maintenance
The Centerville-based heavy equipment rental business Yellow Iron Rentals had the right assets to kickstart their business. The only thing they lacked was rental software and a manager who would take care of every aspect of the rental business. The manager at Yellow Iron Rentals came into the picture with years of experience in tool rental at Home Depot.
Managing 120+ heavy equipment
To kickstart Yellow Iron Rentals, they felt the need to integrate powerful and easy equipment rental software. The assets, including 120+ heavy equipment like Caterpillar wheel loaders, skid steers, excavators, trailers, etc. were being tracked, managed, and rented out from a spreadsheets-based system.
Inconsistent asset utilization via spreadsheets
Yellow Iron Rentals relied on calling and texting individuals who rented out their equipment to track and locate their assets. This took too much time and money. The manual process involved entering information into spreadsheets saved on isolated computers with no one being able to access the information quickly, easily, and from anywhere.
Losses due to lack of asset tracking and maintenance
The business had assets that were not being utilized properly or enough. Low-utilization assets were taking up valuable space, and high-utilization assets were not being made available on time for another rental. Since there was no way of tracking equipment maintenance and servicing, some equipment would go beyond the safe maintenance limit. Unfortunately, they witnessed regular equipment breakdowns due to inconsistent tracking and the resulting late maintenance further hampered their profitability
All this changed after Yellow Iron Rentals opted for EZRentOut.
Yellow Iron Rentals chose EZRentOut over five competitors
The manager tells us that Yellow Iron Rentals tried and tested 6 different rental software before making the final decision in favor of EZRentOut. There were different parameters that needed to be met by the rental software.
Here are the checkboxes that EZRentOut ticked for Yellow Iron Rentals:
Integration with QuickBooks Online
Integration with Stripe
Asset availability/unavailability on the calendar
An extensive dashboard
Visibility into asset utilization
Ability to track missed rentals
Justification of adding new assets via missed rentals
Ability to retire and sell out low-utilization assets
Overdue assets are highlighted in the calendar
Visibility into assets that need to be rented out on a specific day
EZRentOut pricing
Easy and intuitive onboarding process
Proactive support till EZRentOut was up and running for Yellow Iron Rentals
How EZRentOut optimizes the day-to-day at Yellow Iron Rentals
Yellow Iron Rentals is happy to tell us that EZRentOut has optimized its day-to-day processes. At the start of the day, they open up EZRentOut for a quick scan of the dashboard. The insights from the dashboard enable the manager to plan the day ahead.
Meaningful insights help plan the day
Some of the widgets on the dashboard that help Yellow Iron Rentals daily include overall stats from the business, orders that are due, equipment that will be returning that day, and more. When we talked to the manager, his dashboard showed 33 orders in progress.
Tracking asset availability and maintenance
Yellow Iron Rentals used to find out whether a rental was returning that day or if that equipment needed to be rented for longer through a quick call to the customer – now they can simply do it through EZRentOut.
The dashboard also gives insights into which heavy equipment is reaching the mandated 100 hours and is due for servicing. If it requires maintenance, it is made unavailable, serviced thoroughly, and then marked as available again.
Crucial KPIs front and center in the dashboard
Some of the important KPIs from the EZRentOut dashboard used at Yellow Iron Rentals are 'Top Revenue Items', 'Overall Stats', and 'Top Customers by Revenue'. These play an important role in their weekly Tuesday meetings where they plan roadmaps for the coming weeks and months.
Yellow Iron Rentals reduces costs by 50%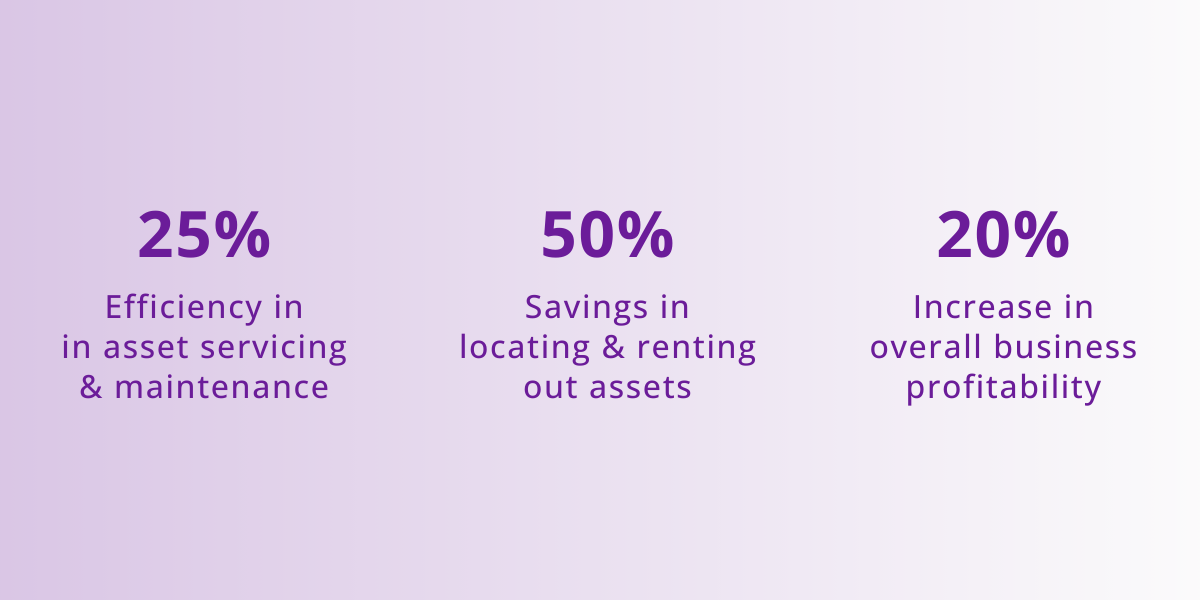 25% more efficiency in asset maintenance
With EZRentOut, Yellow Iron Rentals has made asset maintenance and heavy equipment servicing 25% more trackable and efficient.
They send in heavy equipment for servicing every 100 hours. The work order in EZRentOut lets the manager keep a paper trail of every maintenance check and equipment service. Before EZRentOut, equipment that required servicing after 500 hours would go untracked and unserviced for 1,000+ hours!
Now, EZRentOut lets them stay on top of servicing and maintenance of all 50+ Caterpillar heavy equipment, reducing equipment downtime and failure.
"[EZRentOut] decreases the amount of rework, chasing down the equipment, and knowing whether or not we've done the maintenance"
50% reduction in costs in locating and renting out assets
The manager estimates that Yellow Iron Rentals reduced their costs with EZRentOut in locating assets and then renting them out. Using locations in EZRentOut, they are now aware of where the specific equipment is used and how long it is rented for. This streamlines booking for future customers as all tentative dates and locations are visible on the dashboard.
With information on the locations of current and future bookings, Yellow Iron Rentals also saves significantly on trucking the equipment to customers. Instead of bringing it back to the Centerville warehouse, they truck it directly to customers who are close by.
Before integrating EZRentOut with their business, Yellow Iron Rentals tracked their assets via phone calls, texts, and personal communication. Since their heavy equipment was in the field, the loud noise made it hard to reach the customer.
Chasing down the customer and tracking where the assets were was a challenge. It automatically delayed the availability and booking of that equipment for future rentals.
"[EZRentOut] increased our productivity by about 50% in the renting out process or locating the equipment"
20% increase in overall business profitability
Yellow Iron Rentals is a unique heavy equipment rental business as it mainly supplies to internal customers. The manager claims that they have witnessed a 20% increase in their overall business profitability since they started using EZRentOut. The main area where EZRentOut has saved them significant money is in maintaining and servicing assets on time.
This, in turn, has increased their profitability as it has reduced equipment breakdown and increased getting the equipment ready for the next rental booking.
"[EZRentOut] has increased profitability by 15 to 20%"
The future with EZRentOut
Yellow Iron Rentals states that EZRentOut is a 'very powerful software with a lot of good functions and integrations.' They are eager to learn how to use more features and how to utilize all the capabilities within the rental management software.
Yellow Iron Rentals rated EZRentOut's customer service A+ because we are always happy to help our customers achieve the best results with our rental software.
"It's a very value-adding software!"