You can pull up a list of Customers subscribed to Email Alerts by generating a report in EZRentOut. Head over to More → Reports → Customer Reports → All Customers.

You can apply a host of different filters in this report.
To get the full list of subscribed customers, click on the 'Subscribed to Emails' filter and choose 'Yes'. You can also set a period in 'Created in these dates' to pull up Customer details within this period. Hit 'Update' when done.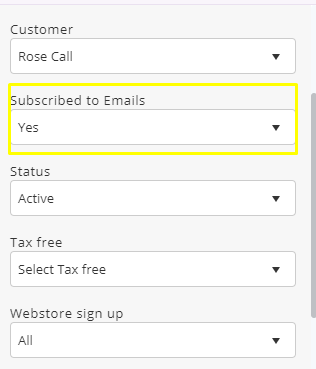 You can also pull up a list of Customers not subscribed to the email alerts. Choose 'No' in the Subscribed to Emails filter to generate such a report.
Customers receive email alerts for different activities related to their Orders. You can enable this setting in the Customer Details page. On this page, select the 'Send customer email alerts' checkbox.
Learn more about the different types of Customer alerts.