The United States construction industry is expected to grow by 8% this year due to increased spending in the housing market as well as a hike in federal spending on infrastructure projects. This means a rise in demand for construction rental equipment as your customers look to rent everything from heavy machinery to tools and supplies.
To compete and win in this market, you need to offer a diverse portfolio of the latest products with updated technology and improved safety. This is important not just to meet customers' needs, but also to establish your business as adaptable and responsive to changing and evolving requirements.
However, efficient procurement is not an easy task. You need to consider multiple factors to ensure you are spending your money wisely and adding value to the inventory you purchase.
Here are some useful tips that can guide you in the right direction.
1. Consider your market and customer profile
It all starts with knowing what your rental customer needs/wants. Conduct market research and base the procurement of construction rental equipment on these findings.
You can conduct surveys of your in-store and online customers to find out what kind of equipment they want and if they need any specific types of machines for their projects.The survey results can help you procure equipment per customer demand.
Let's say a key segment of your customers are interested in renting equipment that can perform multiple functions. Based on your research, you know that a backhoe loader is a great choice since it combines two machines in one – an excavator and a loader – both of which are used for various applications.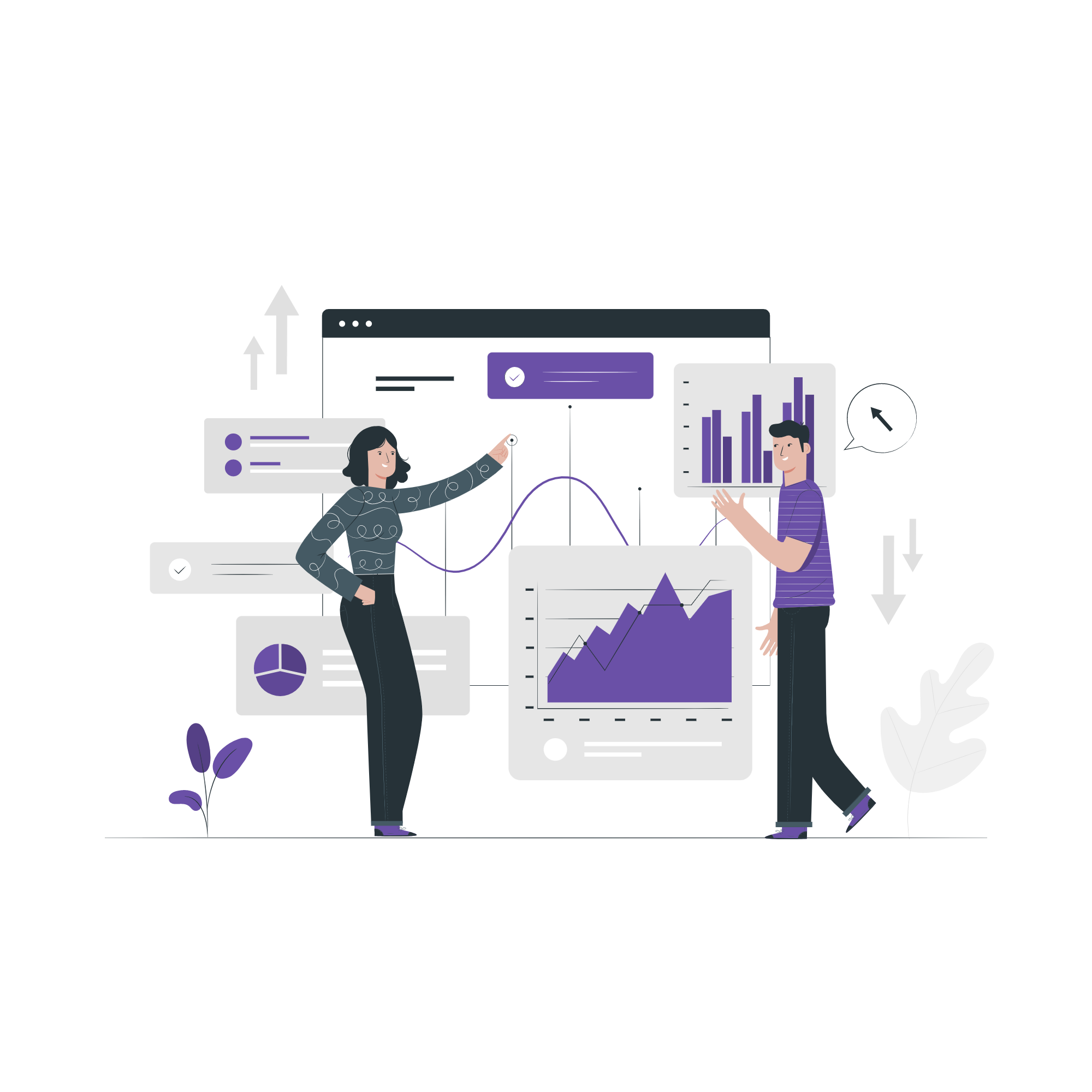 As a pragmatic business owner, you can budget for in-demand equipment in minimum viable quantities. Then you can look at which construction rental equipment is the most popular and profitable, and buy more of that equipment. This helps in inventory optimization because it is easier and less expensive to buy more equipment later rather than get rid of excess out-of-demand equipment.
2. Budget planning and analysis
Every construction rental business has a fixed budget and they need to ensure that the money is spent wisely.
You can start by preparing a list of equipment divided into two categories:
List of essential equipment that are must-haves for operations. These can include forklifts, excavators, bulldozers etc.

List of equipment that can help your business but are not mandatory. Then you can assess the costs of these items and prioritize the ones that are within your budget.
Once you've finalized the list of equipment to procure, you can assess whether to buy new or used equipment. You might end up with a good deal at a reasonable price if you opt for gently used equipment that is in good working condition. Visiting auctions, liquidation and garage sales, or online sites are all good places to find used equipment at reasonable prices.
3. Choose quality over price
Price is an important consideration but the quality of the equipment and the value it will add to your business should take precedence.
When buying a new product or model take the time to do your research. Check customer feedback on features and performance. Retail sites are a great forum to read reviews from customers who have used the equipment. This can assist you in selecting the best option based on its adaptability to job site conditions.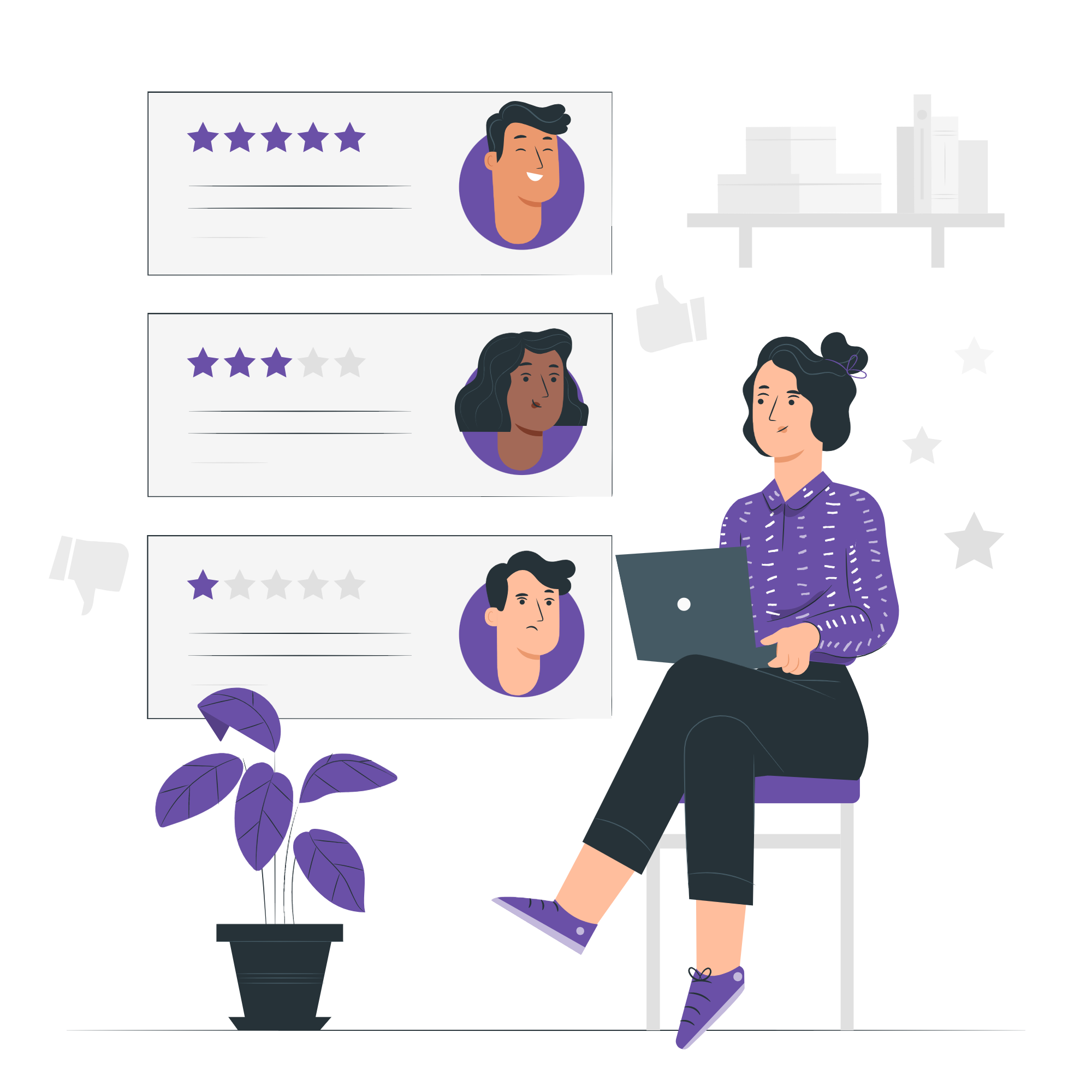 For example if you're looking for a forklift to use in extreme weather, you'll want to make sure the hydraulic hoses are properly installed and free of cracks so they can withstand the cold. You can look for specific reviews of forklift being used in the winter and how well it performed.
Feedback on equipment is beneficial, but a self-test run can ensure performance at the time of purchase. The goal is to ensure that the equipment is in good working order and that it meets all of the requirements.
4. Availability of spare parts
When you make an expensive purchase, ensure that you will be able to easily procure spare parts if needed. This is essential for achieving high levels of productivity. Having spare parts readily available allows you to meet maintenance requirements and ensure on-time delivery of construction rental equipment. 
You can inquire about spare part availability and its delivery process when purchasing the equipment. When spare parts are delivered right away, they can help reduce equipment downtime and speed up maintenance.
5. Vendor analysis
As you consider quality and cost, don't underestimate the importance of buying from a reputable vendor with whom you can build a long-term relationship.
How can you make sure the vendor is reliable?
Go to industry trade shows and collect vendor catalogs. Analyze a number of vendors and choose the ones that have a good reputation in the market and can provide you with high-quality equipment that meets your requirements.
You can send equipment-related questions to the vendors you've shortlisted and see if their responses offer a viable solution. For example, you can inquire that they have enough capacity to handle your company's requirements.
Reliable vendors can help grow your business by consistently supplying quality equipment at the required time.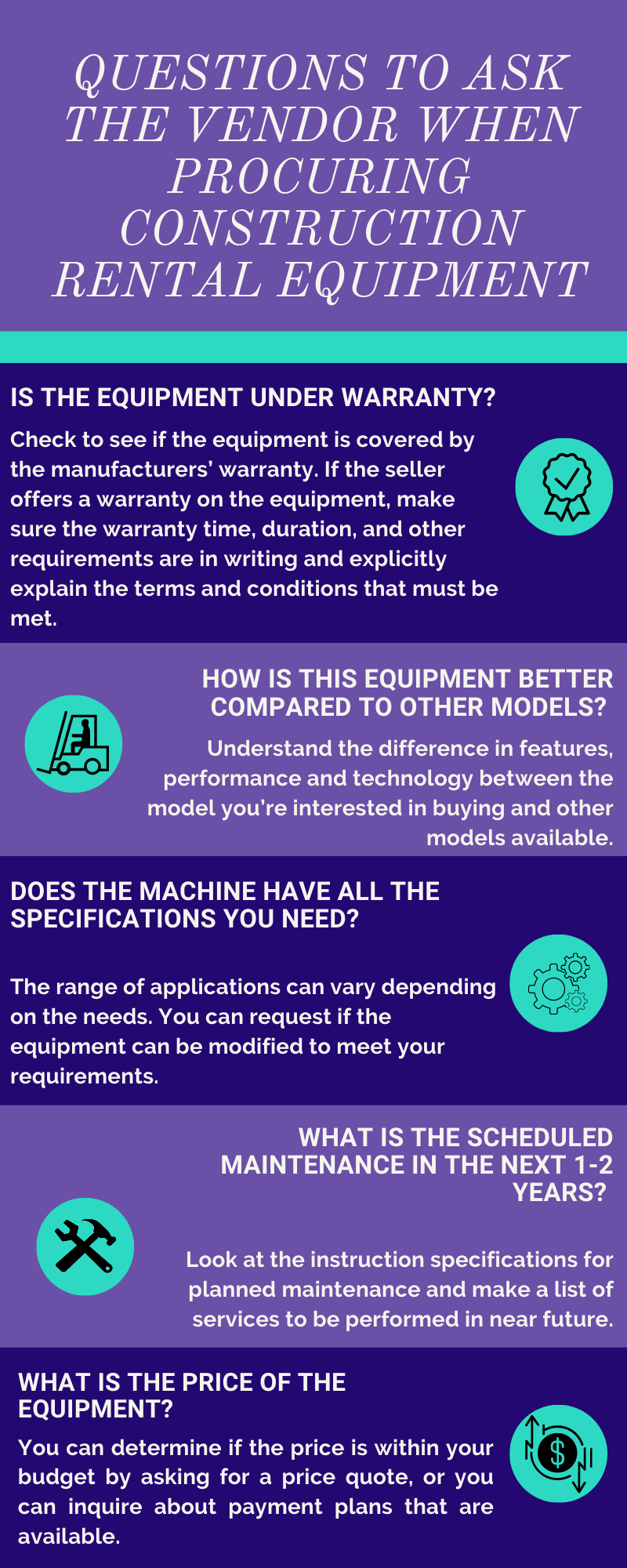 6. Decision to buy or lease
Once you have finalized a deal from a reliable vendor, you have the option to pay upfront or lease the construction rental equipment.
If you choose to lease the equipment, you will be able to pay in installments and avoid a hefty upfront fee. However, depending on the lease plan and inflation adjustments to installments, the overall installment plan may be more expensive than the upfront payment plan.
Procuring construction rental equipment upfront is a long-term investment but the business will also be responsible for maintenance and other costs tied to the equipment.
Business owners who prefer to save working capital to meet operating expenses may turn to leasing the equipment to maintain positive cash flow for their business when needed.
How a construction equipment rental software can help to assess data
Procuring new and improved construction rental equipment means keeping track of a larger inventory, which can be difficult if you are doing it manually. EZRentOut, a construction equipment rental software can help track your equipment in real time, optimize inventory management and streamline rental operations.
You can also run various reports, such as analyzing equipment productivity and determining whether it requires immediate maintenance, or rented out reports, which provide a list of equipment that is frequently rented out and can aid in the upkeep and procurement of the same.
About EZRentOut
EZRentOut, a cloud-based equipment rental software can help. EZRentOut offers companies in numerous industries seamless rental management along with a host of other features. You can integrate your website with our EZR plug to keep track of all your rental Assets and operations. Try us out today!