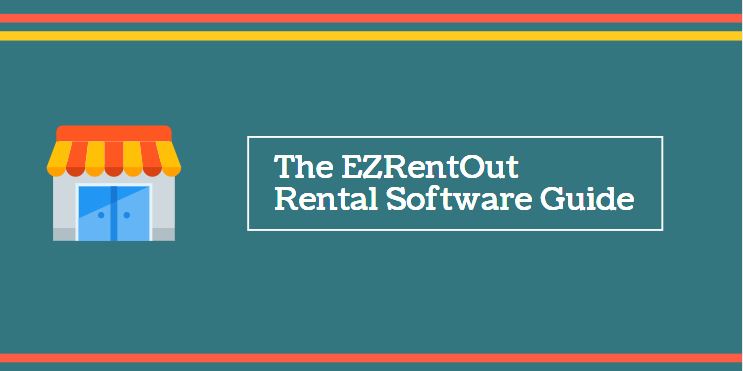 The landscape of rental companies is continuously shifting. This means your rental company should be able to react and adapt instantly to an ever-changing environment. Rental operations must be managed with precision every step of the way.
Small or mid-sized, all rental companies require solutions that solve common underlying business challenges. These can be problems related to the availability of rental inventory, poor customer ratings, and motivation issues with their staff. This is where the rental software steps in, offering you the agility required to become a market leader.
What is Rental Software?
The main aim of business technology is to improve upon outdated processes. The same can be said for rental software. It can pitch in as an effective tool for both small and mid-sized business, helping them optimize their rental operations. It lets you make reservations, schedule tasks, track orders, instantly look up information, and so much more!
The great thing is that mobile technology is now able to extend and amplify what rental companies are already focused on – offering quality services to their customers. Equipment rental apps mean that your rental information can now be accessed from anywhere, using any mobile device.
Your team can make use of:
in-depth reports

powerful dashboards

job management modules

electronic signatures

rental schedules 

and much, much more
where ever they are! Changes made to the schedule, payments made by customers, or tasks assigned to employees, all these can be viewed in real-time. This results in seamless workflows, with little to no disruptions in your day-to-day operations.
If you want to propel your business ahead of your competitors, you need efficient processes that offer critical information just when you need it.
The speed at which you respond and the accuracy of the information you have access to will lead to stronger business management on your part. In essence, having access to the right information at the right time makes you a better business owner.
Luckily for you, with all its features and functionalities, you can easily align rental software with your business plans for growth and profitability. In the next section, we discuss exactly how to go about doing this.
How Rental Software Helps Your Business Succeed
Whether you are scheduling a task or looking into a customer inquiry, instant access to your data is key. You need to have details on the items available for future bookings, items in stock, items that need to be repaired, and items pending return. You also require reports, a good degree of customization, and easier payment and accounting methods.
Rental software allows you to streamline every stage of the rental process, helping you deliver on your promises with ease. This includes optimizing the rental process, improving customer experience, enhancing staff satisfaction, and streamlining rental equipment management. We'll go through each of these in turn.
Optimizing the Rental Process and Increasing ROI
If you really want your customers to convert, you need to keep your booking process quick and easy. Having precise data at hand is the key to making things run smoothly. If you don't know how many orders have been made for a certain item, or when it is available next, things could get difficult. Here are four main features that help rental software optimize your rental process and increase ROI.
Availability Calendar: 


View the availability of all your rental items, even weeks into the future. It is good practice to see this information before making procurement decisions, renting out items, or confirming bookings. At a single glance, you can find out which items are available, which ones are booked, and when they will be available for future bookings.

Order and Payment Tracking: 


One of the primary features of rental software is the ability to keep track of orders and payments. The order is tracked from the moment it is booked, all the way up until it is returned. Reach out to customers and send them alerts anytime in between. Payment can also be tracked with ease, and financial reports drawn up any time.

Bookings: 


You cannot escape bookings when stuck with a large pile of orders. Rental software simplifies the booking process, even allowing customers to book orders online if you have a Webstore. Whatever the medium, these bookings help make better use of rental assets, and map out complex booking schedules – all with no effort on your part! 

Online Webstore: 


Rental businesses around the world benefit from a diversified customer base. Make the most of it by allowing customers to browse and rent items online and keep your margins high. You can also customize the amount of information to feature on your Webstore, double up branding efforts, and allow your customers to make online payments with ease.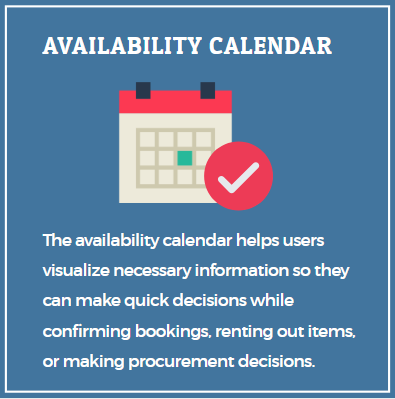 Making the Customer Experience More Rewarding for Clients
Your customers are your lifeline. Unluckily for you, new and existing customers are constantly being bombarded with promotional pitches from all your competitors. They will only stick by you if you create an outstanding customer experience for them. 
The good news is that you can boost customer loyalty using some of the more people-pleasing aspects of rental software.
Dynamic Customer Logs: 


When your customers make reservations, they provide information including their name and contact details. The rental software stores, protects and organizes this information in the form of customer logs. You can use current or previous customer data to do follow-ups or create hyper-targeted ads based on a customer's previous likes.

Bundles and Promotions: 


Generate discounts and coupons for new and existing customers to help lift up your business during off seasons, and even win old customers back by sending them a 'come back' coupon code. You can also offer customers discounted bundles by combining popular items together. This is especially useful if you bundle popular items with items that otherwise aren't rented out a lot!

Rental Rules: 


Every rental business has some rules unique to its business model. You can define these rules and let the rental software apply them to specific orders at the right time. For instance, you can offer a flat 5% off on orders of $500 or more, or a small $5 discount if an item is returned early.

Online Customer Portal: 


Customer portals streamline the rental process for mobile performance, enabling renters to reserve, browse, schedule, and pay for an item using any internet-enabled mobile device in one go. Since this portal is integrated into your online store, it lets customers view your catalog, check stock availability, and even compare prices.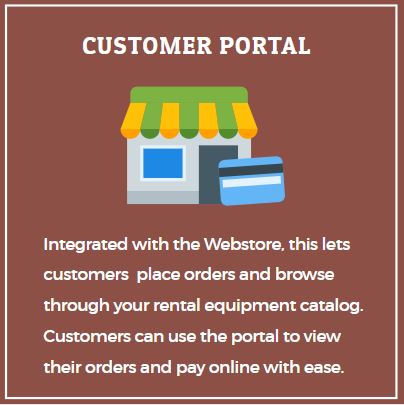 Enabling Employees to be More Efficient and Accountable
When you have overwhelming data organized in the form of charts, graphs, and reports, your employees can work more efficiently and take calculated decisions.
The real-time statistics not only show you how your business is performing but also provide insight into how your staff is getting on. Both idle inventory and idle staff are costly – make your employees more accountable and help them be better at their jobs with rental software.
Staff Performance: 


You need to optimize staff performance if you want your customers to have a holistic renting experience. With rental software, you can calculate how much revenue an individual staff member brings in by running analytics for different time spans. You can then compare their performance and right-size your staff based on this insight.

Reports and Analytics: 


A dashboard of instant statistics highlights your best sellers, lets you gauge business performance, and displays the number of pending orders for the day. Use easy-to-understand, at-a-glance data, to create offers your customers look forward to, populate your catalog with in-demand items, and steadily grow your business.

Accounting Integrations: 
Equipment rental software takes care of all your back-office accounting needs by integrating with top accounting software. Sync transactions to apps like QuickBooks or Xero, and draw financial reports with ease. No more manually duplicating entries or exporting data across multiple systems – it's all in one place!
Mobile Apps:
The biggest benefit of rental apps is that they can be accessed from any mobile device. This means that you can take your rental business anywhere with you. You can also use the app as a POS system to place in-store orders and to track the maintenance cycles of your rental items. You can even scan Barcodes and QR Codes right from your barcode tracking rental app!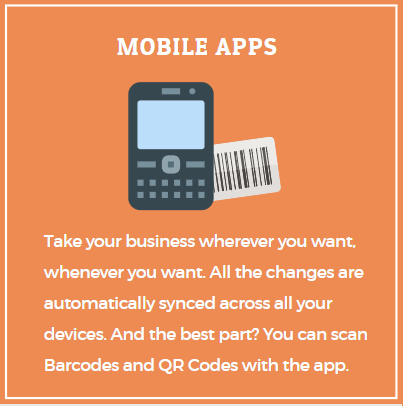 Tracking and Monitoring the Rental Asset Lifecycle
Equipment rental software can help you track each piece of equipment you own, from its initial purchase to its ultimate retirement. You can have an in-depth view of your key rental inventory, equipment maintenance statistics, key performance indicators, and reservation schedules, helping you move your equipment to the right place at the right time.
Asset Tracking: 
Tag and track all your rental assets and stay on top of your stock levels at all times. Employees can view what equipment is available for future date ranges just at a glance. You can also keep track of which location each of your rental items is in. This helps to find the most efficient routes between delivery spots, warehouses, and stores.
Procurement Management: 
Use real-time reports to help you decide which items you need to purchase, in what quantity, and from which vendor. This type of careful planning can help prevent unwanted additional costs. You can even set low stock alerts so that you know exactly when to buy more consumable inventory. This ensures you're never low on important items customers want to rent out. 
Services and Maintenance: 


Simply move items on or off their repair status to allow for repairs, cleaning, inspections and other services that might be needed before the inventory is made available for renting or booking. Rental reports can even enable you to see if your equipment is not profitable anymore, and so you can easily write it off.

GPS Location: 


An interactive map in the scan report lets you see the geo-location of every place your asset was scanned. This allows you to quickly identify lost or misplaced items since each scan is tracked alongside details such as IP address, custodian, and other important data. This is great news in the long-run, as it increases accountability and lowers the chances of theft.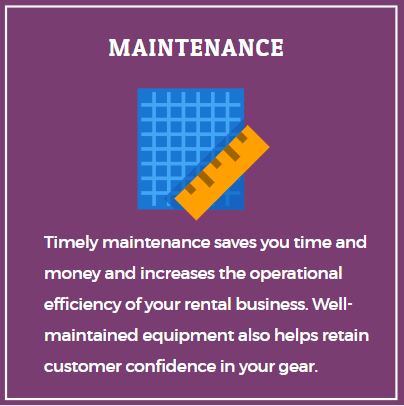 The Benefits of Rental Software
Renting out your items without a tracking system in place is definitely going to put you at risk of losing a lot of money. With automated rental software, you can easily manage all your customers, contracts, and reservations from one place. In this section, we'll take you through some of the major benefits of using a rental management software:
Lower Operational and Storage Costs: 
Rental software supports all the accounting, scheduling, payment, and booking processes required for your business. When most of your tasks are automated, you need less labor which means your costs are automatically lowered.
Moreover, the dashboards and reporting tools enable you to quickly identify your underperforming rental inventory. You can consider the costs to maintain specific assets, and find out if the overall ROI is positive. You can also check out rental trends and figure out whether it makes more sense to transfer, dispose of or sell a rental item. These robust features let you keep your costs to a minimum.
Increased Accountability of Employees: 
When your staff knows that they are being patrolled, they work more efficiently. To this end, managers can schedule different jobs to team members and let them know when they are due to be completed.
Supervisors can also send alerts and notifications to them to remind them about specific tasks. This helps decrease operational inefficiencies and allows you to increase staff accountability in your organization.
To check out the performance of each individual, you can even run analytics and see how they have performed during a specific time period.
Less Time Taken to Process Rental Equipment: 
Greater efficiency for everyone means saving a huge amount of your precious time. For instance, when an item is delivered by a driver to a customer's house, the information can be recorded in real-time on the rental platform.
This allows the next delivery to be that much more efficient, as you can decide which customer to deliver to next to optimize your route. Employees can make changes to bookings on-the-go, and can even draw up equipment condition reports as an when they're needed. They don't have to wait to be at the office to do this, and that's what makes the process that much more efficient.
Enabling Better Business Decisions: 
Using online rental software, rental companies are able to find ways to work smarter in order to keep their margins intact. Simply analyze history in the form of reports to better predict future trends, and make sure you have the right rental inventory for your customers at the right time and at the lowest cost possible.
With charts and graphs, you can easily understand and make sense of large amounts of data. You will know your stats related to equipment usage, current trends, and customer preferences, helping you predict future opportunities and make the right decisions.
Optimizing Inventory Management: 
Put an end to all your guesswork, because managing your rental inventory well is the key to a successful rental business. You can use software to easily take a look at what items are available for upcoming orders, which customers have custody of your rental items, which items are out for maintenance or service.
Additionally, low stock warnings and custom alerts can help ensure you're neither over-stocked or under-stocked, but are operating in as lean a manner as possible! This can really do wonders for your business, allowing you to run a tighter but ultimately more profitable ship.
Conclusion
Running a rental business can be expensive work. The right combination of knowledge and technology can allow you to better manage and grow your rental business.
A robust rental software solution enables companies to manage inventory levels and costs, which eventually helps them improve customer service and meet their expectations much more effectively. Moreover, they become more agile in delivering rental items to the right place and at the right time on the basis of constantly changing customer needs.
Streamlined rental management is the way to go. Use the software to successfully manage your rental company's need for precision, flexibility, and consistency with centralized day-to-day rental operations!
About EZRentOut
We're EZRentOut, a rental software used to manage customers, orders, and payments from one centralized location.
You can try us out by signing up today for a free 15-day trial. For more assistance, drop us an email at support@ezrentout.com