Two-Factor Authentication is an added layer of security to your EZRentOut account that restricts third-party access. This protects your valuable account information by preventing your account from unauthorized log-ins.
Here's how you can enable Two-Factor Authentication:
Go to

Company

Settings→ Authentication→ Select Email and Password → Choose Two-Factor Authentication

In order to check if Two-Factor Authentication is enabled, sign in to your

EZRentOut

account using your registered email and password

After you have entered your login credentials, an overlay shown below will appear. It will send a six-digit One-Time Password (OTP) to your registered email address. This OTP received on the email is valid for 3 minutes.

If you are unable to enter the

OTP within 1 minute, you can click Resend One-Time Password to receive another OTP on your registered email address

Enter the One-Time password received on your email address and successfully log in to your EZRentOut account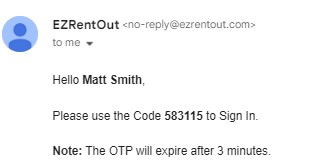 What if I am unable to access One Time Password?
In case you have lost access to your registered email address or have forgotten your password you can follow these steps:
Ask your administrator to disable the Two-Factor Authentication for you using their account.

They can do so by clicking on

More→Users→Selecting the User name → Click Temporarily Disable Two Factor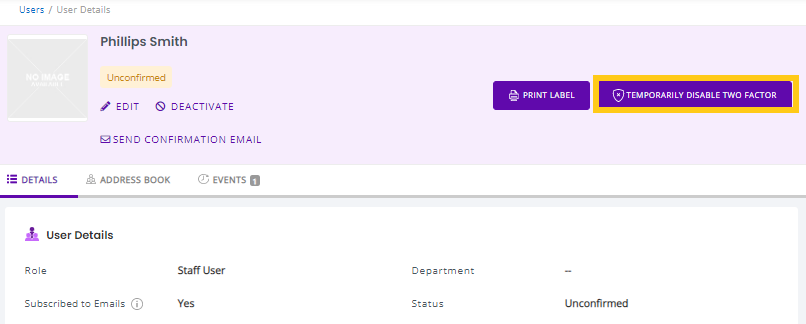 This will temporarily disable the Two-Factor Authentication feature for you for 30 minutes. Now you can access your account easily.
Please note Two-Factor Authentication can only be enabled for Account Owners and User accounts.