The overpaid Orders in EZRentOut cause major discrepancies in QuickBooks Online i.e. the additional amount is transferred to the Customer's credit. This results in a change in Payment amounts in QuickBooks as well as EZRentOut.
For the same reason, such invoices in EZRentOut are not automatically synced with QuickBooks Online. However, a User can manually sync these invoices with QuickBooks Online. We'll explain the process later in this article.
Say, you have an Order with a payable amount of $417.31. When Synced with QuickBooks Online, it shows an open Invoice of the same amount. See image below: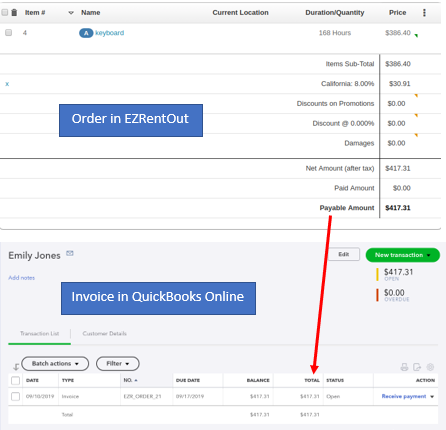 So when the Customer makes full payment for that same Order, it's automatically synced with QuickBooks Online. See the image below: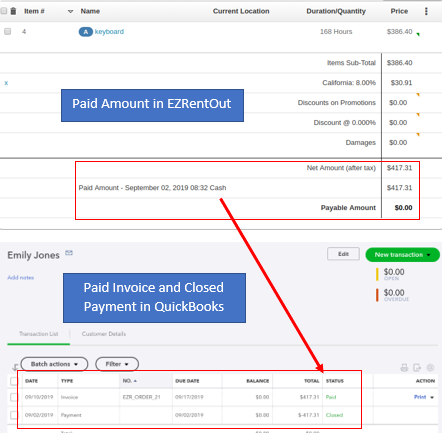 However, there can be scenarios when a Customer updates the Order and the payable amount is less than the already paid amount. In such cases, you will see a negative payable amount in the Order details page. See image below: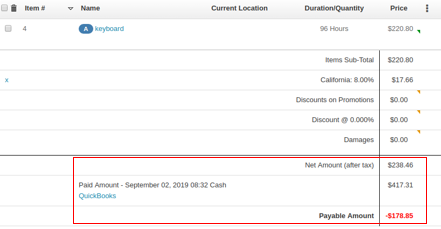 As mentioned above, negative or overpaid invoices are not accepted in QuickBooks Online. Therefore, they are not automatically synced with QuickBooks Online as well. But you can manually sync these updated Invoices with QuickBooks Online.
Please note that manually syncing the negative or overpaid Invoices with QuickBooks Online can cause data discrepancies. Be sure if you want to proceed with this action.
Here's how you can do it!
1. From the Order details page, click 'Sync Invoice with QuickBooks'. This will pop up a warning message. Hit 'Sync with QuickBooks' to proceed and manually sync the updated Invoice with QuickBooks Online.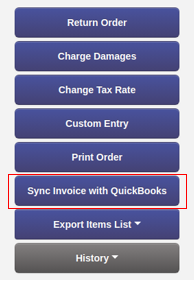 2. Go to your QuickBooks Online Account and see Customer Invoices.
3. Say the Customer made a payment of $417.31 for an Invoice and later updated the Order. Now the amount payable would be $238.46. The negative or overpaid amount, in this case, would be the remaining balance i.e. $173.85. When manually synced with QuickBooks Online, the negative or overpaid amount will show on the payment, not on the invoice. See image below: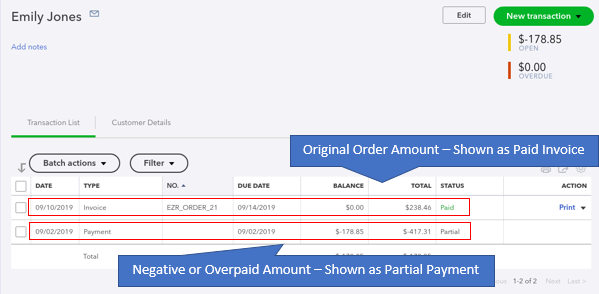 What happens to the Negative or Overpaid Amount in QuickBooks Online?
The negative/overpaid amount of an Order will be added as a credit to your Customer details in QuickBooks Online. This, however, will cause data discrepancies.