As consumers increasingly start their buyer's journey online, you can grow your customer base and boost earnings with effective digital advertising. Use the internet to your advantage and promote your business to a target audience via search engines, websites, and social media platforms.
With business operations evolving for the new normal and rental industries continuing to lean into the latest technology, it is important to implement versatile advertising strategies.
Here are some effective digital advertising methods that your rental business can use:
1. Contextual advertising based on keyword and topic targeting
One of the most effective digital advertising strategies is to place advertisements on a webpage based on the content of that page. Both keyword and topic targeting help in designing appropriate advertisements relevant to the content on the webpage. Google analyzes each display network webpage and matches your ad with the most relevant content. If your keyword and topics are in the same ad group then Google will consider your ad to be shown on the webpage.
For example, an equipment rental business can create ad groups with keywords "efficient equipment rental service" or "best equipment rental". With the help of contextual targeting, your ad can display on web pages that match your keywords. This is an affordable way to advertise your brand and get visitors to your website.
2. Mobile advertising
According to IABs 2020 report, mobile advertising revenues increased by 24% between the years 2018 and 2019. While the opportunity is huge, so is the competition. In order to create impactful mobile advertisements, remember to start by clearly defining your objectives. For example, one objective of mobile advertising can be to generate X number of signups for your rental online store. Once goals are set, start with identifying your target audience. This can be done through surveys, social media, and text messages.
Some types of mobile advertising include:
i. Banner advertising
A graphic text or image is embedded on a webpage to grab the attention of customers. The use of vibrant colors, quality graphics, and "Call to Action" tabs make banner ads appealing and popular. The better the visual appeal, the higher the customer reaction.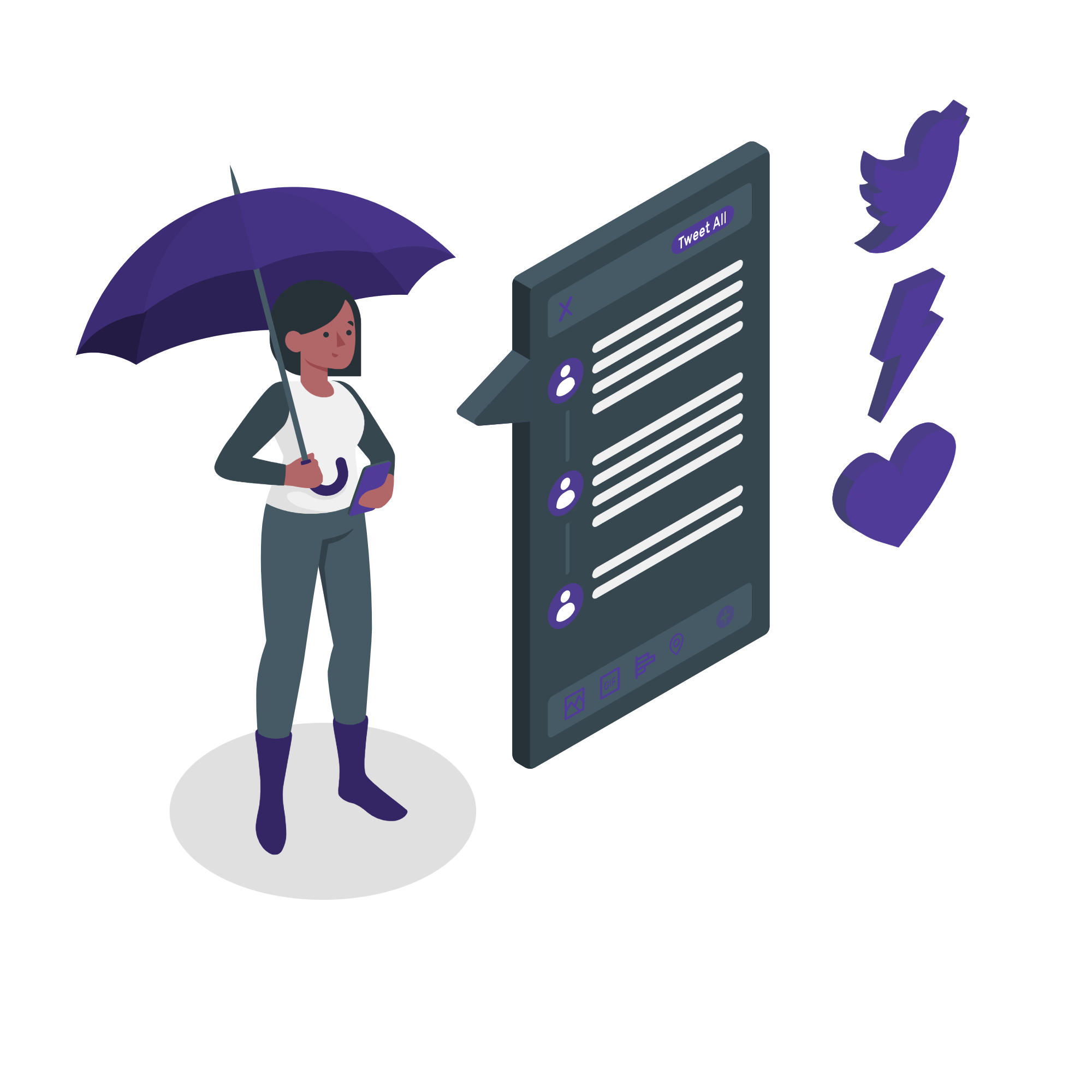 ii. Video advertising
Product videos are extremely helpful for customers when they are in a decision-making process. Videos can effectively deliver a complete visual experience, which helps the users to get a closer feel of the products/services being offered.
iii. In-app advertising
In-app advertising is another effective mobile advertising to capture customer's attention. With sophisticated data tracking and user targeting, in-app advertising can reach customers with pinpoint accuracy. Mobile devices are often used by one person so apps downloaded are closely connected to personal life and daily life habits. This makes the in-app environment an ideal place for effective and personal advertising touchpoints.
3. Targeted Social Media Advertising
Just as with any marketing effort, a social media advertising strategy also starts with the needs of your rental customers. A focused social media strategy informs and educates customers about your rental products and steers them towards buying.
It is also important to target potential customers at the right time and right place. Schedule your post to appear on appropriate social media platforms during peak traffic times to maximize the likelihood of being read by the target audience. These ads can be used to bring leads back to a high conversion landing page or grab attention by offering seasonal discounts and limited offers etc.
Finding the right mix of social media content, platform and timings are essential to successfully create a social media advertising strategy and attract potential customers.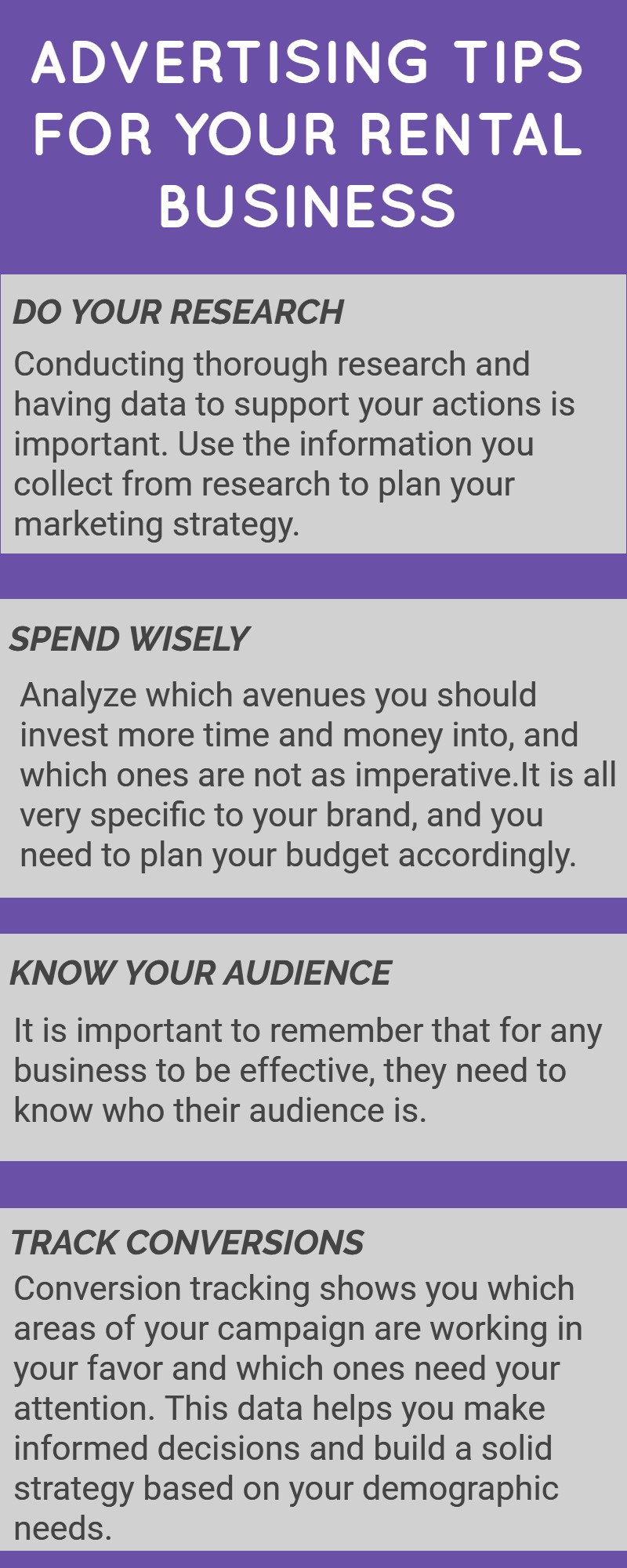 4. Reach your targeted audience with Influencer marketing
Influencer marketing is a digital advertising strategy that businesses use to promote their products and services by partnering with popular social media users or bloggers. 89% of marketers say that ROI from influencer marketing is comparable to other marketing channels.
Let's say you own a party rental business and are looking to advertise your brand. Influencers can promote your rental business by describing their positive experience of renting from you and also announce special discounts or promotions.
Increasing your customer base through influencer marketing can be more economical than paid advertising. You need to research and filter influencers based on engagement from organic followers. A loyal fan following trusts the influencer with their content so any promotional message is taken as social proof. They are inclined to use your rental services because they see someone they trust and admire using them and sharing positive reviews.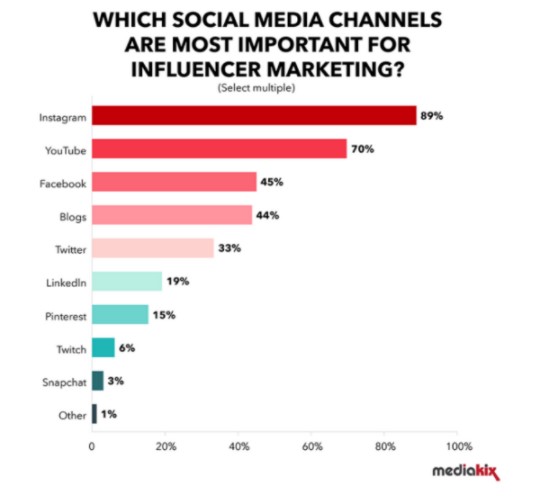 5. Personalized Email Advertising
Internet advertising strategies help you reach leads who you can convert into customers via personalized email advertising. Use subscriber data and send personalized emails with relevant information and offers. Ensure that the communication is useful and provides a positive experience.
An effective email advertising campaign can be a subtle reminder of your brand value to your leads in their decision-making process. A well-focused and relevant email can help to build customer's interest in your rental product/services. It can convey the right value they are looking for and help in generating rental orders for your business.
Some types of email advertising include:
i. Email newsletters
One of the simplest and most effective ways to introduce current and potential customers to your company, products, and any new offers and releases. Encourage visitors to sign up for a newsletter, and create more awareness about your rental business.
ii. Lead nurture emails
Lead nurture emails are personalized emails tailored to each of your individual customers. You can set emails based on actions taken on your website and avoid sending the same emails to an entire group of subscribers. This is an effective way to guide your customers on the next step of their rental process.
6. Location-based geo-targeted advertising
This advertising campaign is based around the geographical locations of your audience. Using this method, you can limit the audience you are trying to reach within a certain area.
Let's say you own a boat rental store near Alameda county. Any customer coming within a certain radius of your store can be geo-targeted. In paid search, this method is often used to target a local audience so you are not wasting money reaching people who are not likely to convert. This method helps you optimize the use of your marketing budget so you are only focused on an audience where there is a maximum chance of a conversion.
7. Programmatic advertising
We live in a complex multi-screen world and programmatic advertising makes it easier for you to keep up with today's consumers. How? Use software to automate the purchase of digital ads and reach your target audience more effectively.
Programmatic advertising, a digital advertising method that is still in its infancy but gaining traction fast, connects vendors who have ad space to sell with those seeking to advertise. An algorithmic software handles the sale and placement of advertisements based on the chosen audience and requirements of the seller.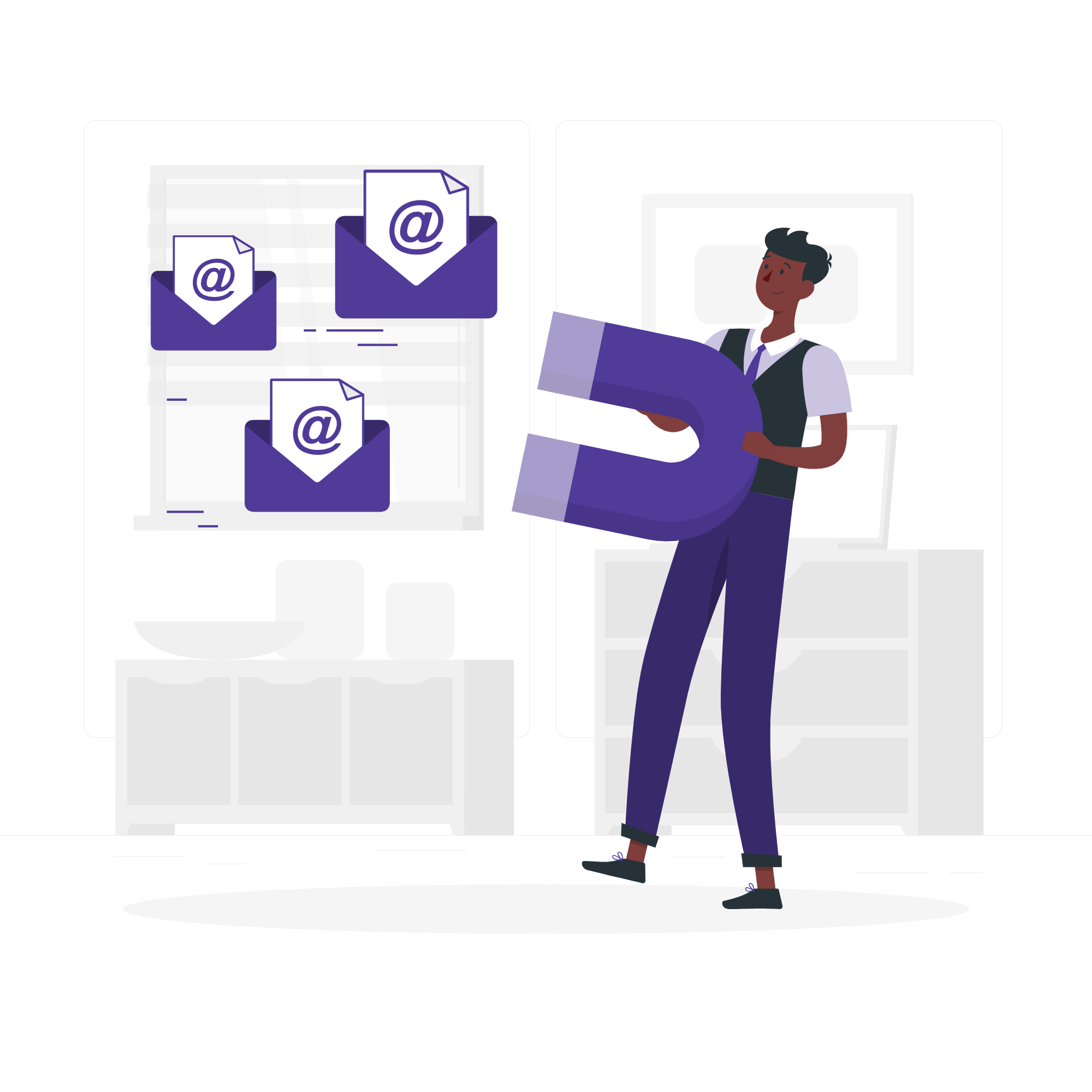 There are around 2 billion websites and more than 4.66 billion people in the world consuming the internet across tablets, computers, phones, and TVs. The advertising possibilities are endless. Automation and technology can help you target, segment, and reach your audience in a more effective way.
With programmatic advertising, you don't need to reach out to a dozen different websites to set up buying. Also, easily customize your advertising strategy as every consumer interaction with your ads is tracked and data is available instantly to make adjustments to your campaigns in real-time.
About EZRentOut
EZRentOut, a cloud-based equipment rental software can help. EZRentOut offers companies in numerous industries seamless rental management along with a host of other features. You can integrate your website with our EZR plug to keep track of all your rental Assets and operations. Try us out today!