Home gyms have been gaining popularity for the past decade and the pandemic significantly accelerated this trend. As COVID-19 presented new and unique challenges including shutdowns of physical locations, the gym and fitness industry pivoted their business model by offering online classes and renting out gym equipment.
Buying fitness equipment for a home workout is not cheap, and currently, it is further complicated by long delivery delays and limited supply. The fitness industry has filled this gap for gym equipment rental which is a great way to increase revenue and grow business.
The boom in rentals of home gym equipment is a notable opportunity for business owners. Whether you were always working with a rental model or have recently transitioned, keeping track of expensive equipment that is being shipped to multiple locations can be a significant challenge.
Here is how gym equipment rental software can help you seamlessly meet the rising demand and grow your business.
1. Automated equipment maintenance
When your treadmill makes loud noises and your elliptical machine slows down due to debris accumulation, it's time to get your gym equipment serviced. To prevent operational issues that can result in costly repairs, you can automate such routine maintenance with the help of gym equipment rental software. 
Routine maintenance of your gym equipment is essential to extend the life of the machine so it can function properly. Weekly dusting and vacuuming debris out of the gym machines and quarterly checking belts for lubrication is an ongoing servicing process for gym equipment owners.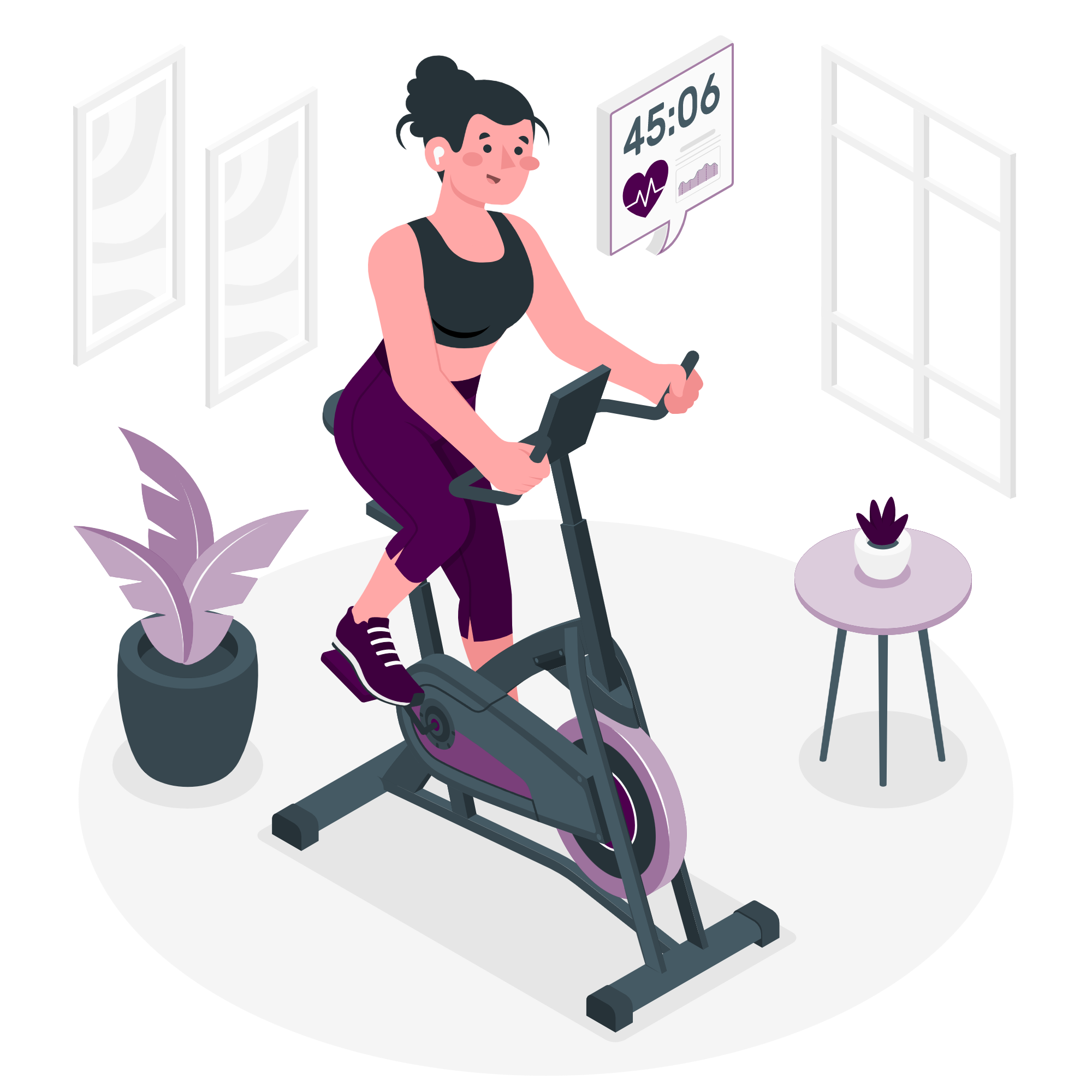 Timely servicing can improve your gym equipment performance. By automating maintenance management with a rental software, you can remain vigilant about the condition of your equipment. 
You can easily set recurring services for gym equipment weekly, quarterly, or as needed. You can set how often you want to service your equipment and establish start and end dates for maintenance and even mark equipment as unavailable during this time. 
2. Maintain optimal stock levels to meet demand
A gym equipment rental business typically stocks several pieces of the same equipment so efficient inventory tracking software is necessary to maintain optimal inventory levels. You need to be aware of how often your equipment is rented so you can keep pace and cater to rental demands. With gym inventory tracking software, you can keep an accurate record of inventory and manage them from a centralized platform. Real-time inventory tracking helps in making informed decisions about accurate stock levels.
Gym equipment is expensive and needs large warehouse spaces therefore controlled inventory management can streamline warehouse operations and keep costs low by maintaining a stock balance and designating picking patterns and layouts for the warehouse.
Offer flexible pricing and customized gym equipment rental rates
Your rental customers likely have highly personalized exercise regimens and use a customized combination of equipment. You can create special offers and discounts to cater to such customer requirements by offering bundled items. For example, a bundle that includes a treadmill, dumbbells, and a yoga mat can be offered at discounted rental rates to entice customers to rent them out together.
You can also create rules about frequently rented out orders, specific days of the week, or order totals. For example, any gym equipment rental orders greater than $100 will be given special discounts. This can encourage customers to rent out items for more hours to avail discounts.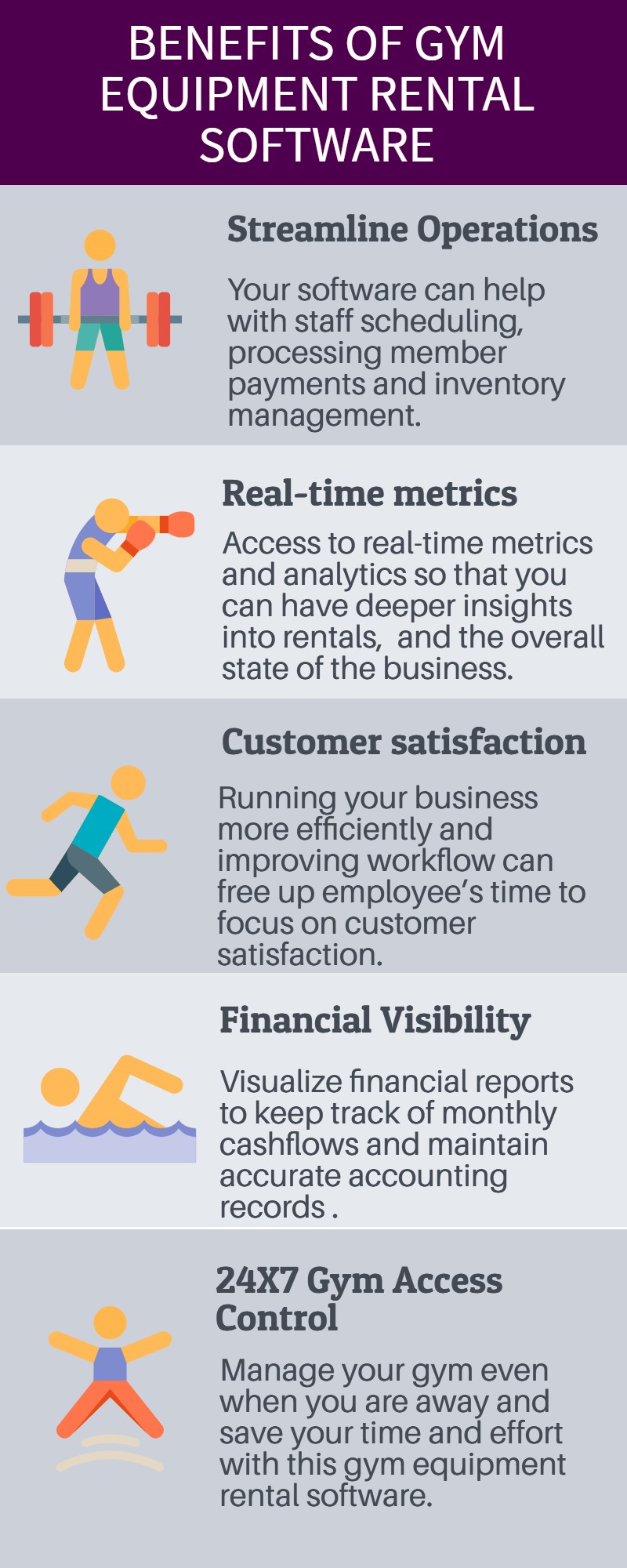 4. Showcase your gym equipment rental online
With more people buying and renting online and moving towards contactless payments, it is imperative for rental businesses to have an online presence for their customers to view equipment before renting out.
A gym equipment rental webstore is an accessible and convenient online platform for renting. It allows customers to view all types of gym equipment with rental rates, models, and availability. They can easily choose between different types of equipment and set rental dates and times per their convenience. Once they place an order, they can either choose a slot to pick it up from your store or simply have it delivered.
In order to increase sales on your webstore, you can update display pictures and promote deals of the week on the front page. With greater feature space online, you can display as much gym equipment as you want. This can help increase brand outreach and add greater value to the customer's experience.
5. Run reports for valuable business insights
Use the data in your software to run business reports that provide useful insights about sales, profit, and growth. You can analyze and strategize your business performance based on trends shown in reports. A gym equipment rental software enables you to run standard or customized reports for better business decision-making and planning.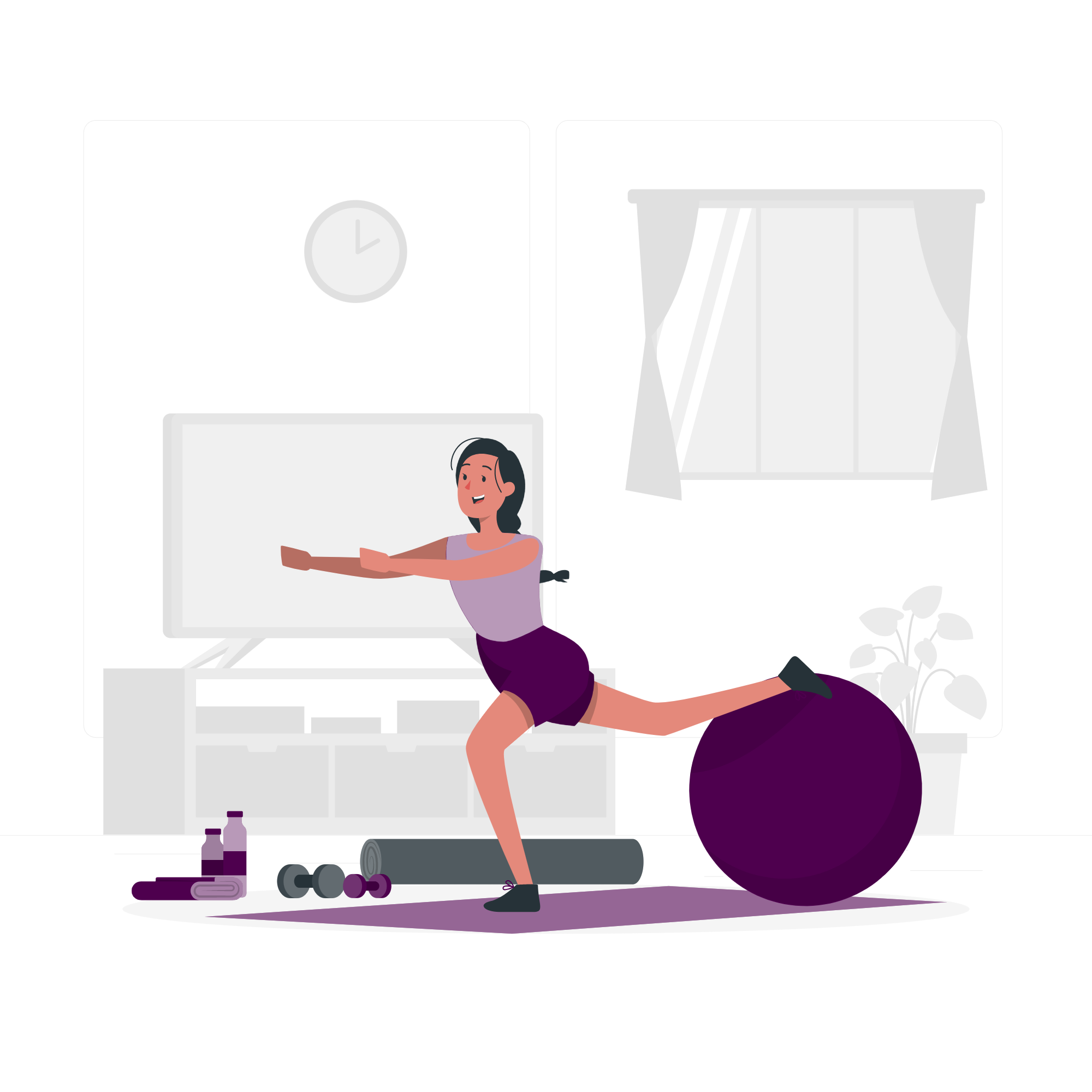 Let's say your customers are renting out treadmills frequently and you want to know its average usage then asset utilization reports can help you analyze utilization trends. Based on reports analysis, you can set maintenance when it's due and rent out treadmills in the optimal state. You can also generate customized reports as per your rental needs such as you can generate most rented out gym equipment. Based on the trends, you can create bundles and offer bundled prices to attract more rentals.
About EZRentOut
EZRentOut, a cloud-based equipment rental software can help. EZRentOut offers companies in numerous industries seamless rental management along with a host of other features. You can integrate your website with our EZR plug to keep track of all your rental Assets and operations. Try us out today!