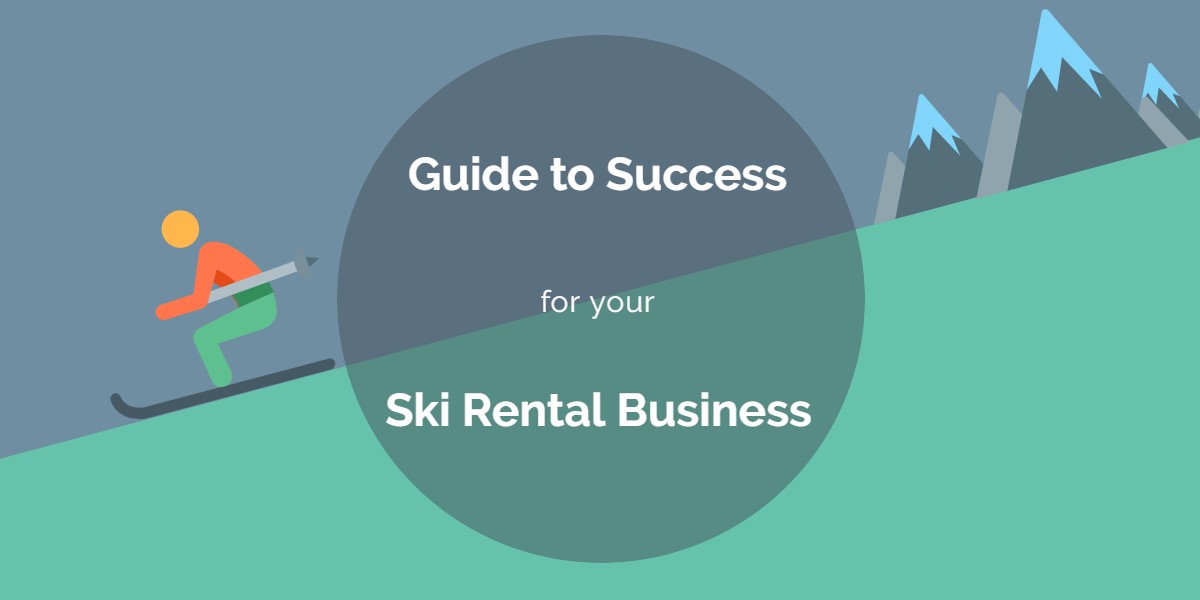 Once upon a time, only beginners rented skis. However, with rapid improvements in skiing equipment and the rising cost of winter vacations, even the most professional skiers now choose to rent on site.
As a result of this shift from buying to renting, the ski rental industry in the US has consistently been growing at an annual rate of 0.5%. So if you're looking for a start-up and are passionate about skiing, a ski rental business is the one for you.
Of course, launching a ski rental business is nothing short of skiing over a mountain of snow! That is why we have an extensive guide to help you at each step of the way, from finding your target audience to finalizing your rental agreement.
Let's get you skiing on the icy road to success!
1. Identify your target audience
A common mistake most companies make is either identifying the wrong target market or thinking they can target everyone. No company, no matter how well-established, can afford to target everyone. Nor can you afford to market to the wrong audience if you want to survive in this economy.
The only way a start-up can effectively compete with larger businesses is by targeting the right niche market. The right target audience greatly simplifies everything. It gives you a clear direction to focus your marketing efforts. Additionally, it is also a much more affordable and efficient method of reaching potential customers.
Identifying your target audience consists of several steps. The easiest way to find the right one is to go out and talk to people. This gives you an idea of what sort of people are more likely to rent your equipment. You get a starting base that you can further narrow down.
Here are a few pointers you need to consider while refining your target market:
Who are your competitors targeting?
Is there a niche your competitors are missing out on?
What sort of people benefit from the solution you're providing?
What are the demographics of people who are most likely to rent your equipment?
What are the psychographics of your target audience? These include the following characteristics: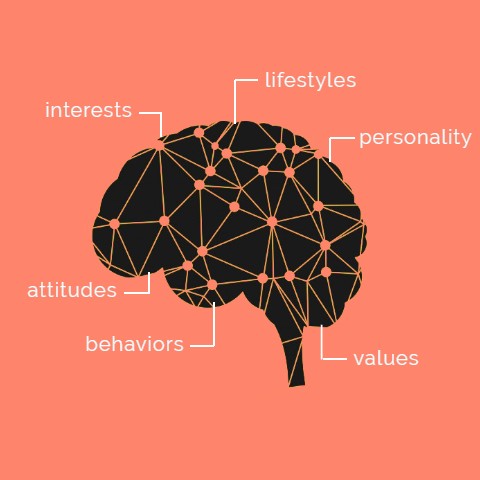 Once you have decided on your target audience, evaluate your decision to be sure you've made the right choice.
2. Calculate your expenses
As a ski rental business, your biggest expense is going to be the equipment, related accessories and rental space. However, there are several other things that require an outlay of money too. To help you figure out your basic costs, here's a list so you don't leave anything out:
Fee for creating a Limited Liability Company (LLC)
Cost of buying or renting a store space
Cost of your ski rental inventory
Maintenance and cleaning expenses of equipment
Employee salaries
Advertising expenses
Different types of insurance
Tax expenses
Cost of implementing proper ski rental software
Additional expenditures (discounts and promotions)
In addition to all these expenses, don't forget to start saving for a rainy (or snowy) day.
3. Secure capital for your ski rental business
Now that you have a clear idea about the cost of launching your startup, you can start pitching it to venture capitalists and startup incubators.
Incubators are always looking to invest in passionate people who show promise. That is exactly what you have to do – show them the potential of your startup. To do so, create a well-researched and extensive business plan. Here's how to go about it:
a) Name your business
You can't submit a business plan without giving your ski rental business a proper name first! Choosing the right name is an important step – it's going to be something your customers will always associate you with.
The name needs to highlight what your business is. Moreover, you get brownie points if the name explains what makes the business so special, whether it's your skiing expertise, low rental rates or high-end equipment.
b) Create a business plan
Predict what the investors are going to ask you. Then answer all those questions in your business plan.
Here are the 8 crucial steps to include in your business plan to cover all the basics: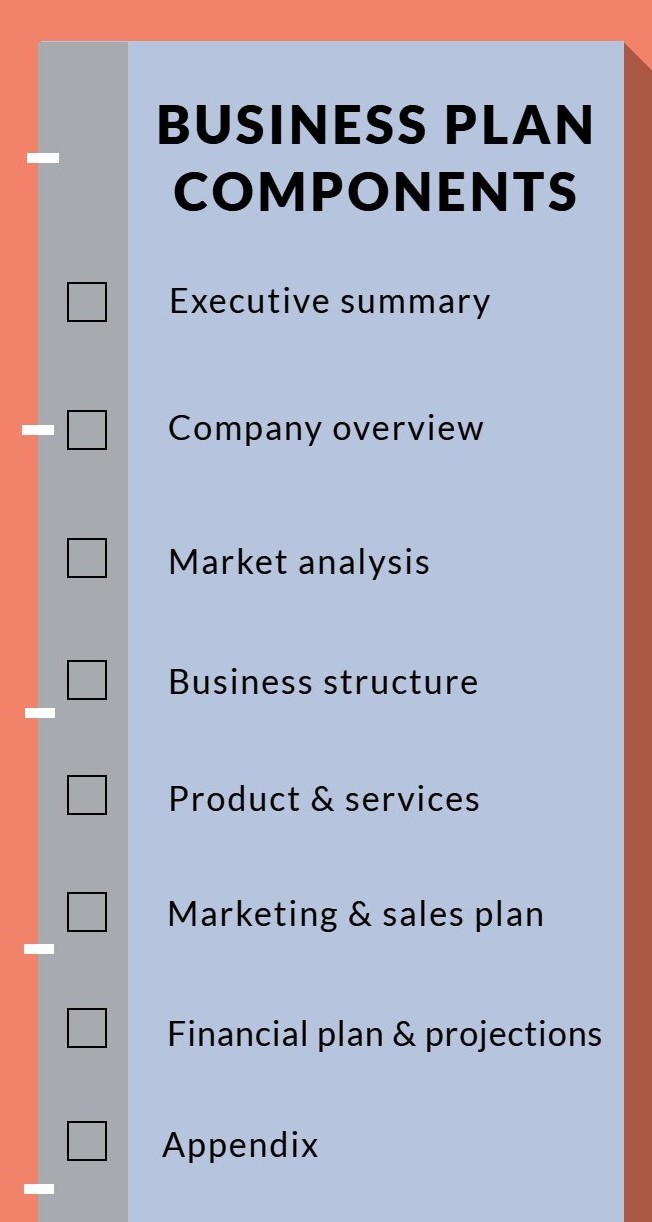 Remember to add sufficient statistics and figures in there to add credibility to everything you write.
c) Apply for a business loan if necessary
If you don't have any luck at incubators or investors, then visiting the bank is your next best shot. Present your case, highlight its potential for growth, and file for a small business loan to help you get started.
4. Create a Limited Liability Company
The next step is to make things official! It doesn't sound exciting enough, but your company won't exist without this crucial step.
To create a legal entity fit for your ski rental business, opt for a Limited Liability Company (LLC). The reason for this is because an LLC limits your liability in case of a lawsuit. This makes it perfect for rental startups.
To create an LLC, you have to file the relevant paperwork. In this case, you'll file the Articles of Organization. To find these articles, visit your State's commercial-services department.
5. Register for taxes
Before you can file for your taxes, your ski rental business needs a tax ID. This is called an Employer Identification Number (EIN) and you can apply for one at the Internal Revenue Service site. You can't open a business bank account or file taxes without an EIN.
Once that's done, it's time to get down to your taxes. Your startup needs to register for several State and Federal taxes, which may differ across states and counties. So depending on where your business is, the tax rates will vary.
There are two important things to remember about taxes:
Rental items are most commonly taxed as sales.
Most LLCs have a "pass-through" taxation structure. This means only your personal income is taxed.
6. Open a business bank account
Now that you have your financials in order, it's time to finally open a bank account for your ski rental business. If you're thinking of simply using your personal account instead – don't! Here's why:
It results in inefficient bookkeeping.
You'll create a complex web of personal and business transactions that will be hard to detangle when you have to file for business taxes.
It shows that you're only pursuing the startup as a hobby and nothing serious. This puts you at a disadvantage when applying for business loans.
7. Choose the right store location
Finding the right location is one of the most important steps. You can do everything right and still have your business fail if you don't pick the right location. Since ski rentals are more in demand near ski resorts, that narrows down your search for the ideal store space. A location nearby a popular resort is also convenient for tourists to visit.
You don't want to pick a store that's too far from the mountain because you won't attract any customers.
You can also consider opening your store near busy shopping areas in the last town before a ski resort. Since it's the last town, many tourists stop there to stock up for the resort. Having a store there guarantees a lot of foot traffic from tourists.
Other things to consider when choosing the right store location include:
Ample storage space
Easy-to-navigate floor plan
Plenty of display racks
Read More: 25 Key Rental Business Lessons for Owners
8. Stock up on skiing equipment
With things now falling into place, it's finally time you stock up! But don't get too excited and buy too much. That's a common mistake that most owners make. As a startup, you won't sell all your equipment so early on. And all that unsold equipment will just sit in your storage, thereby increasing your storage expenses as well.
So start off small! Once you have an established customer base, you can top up your stock with more inventory.
Another mistake that most business owners make is to buy the most expensive equipment possible. This is because they think the more it costs, the better it is. But did you stop for a minute and think what if your customers aren't looking for expensive equipment? All that money in high-end items will go down the drain.
For this reason, it's important that you talk to your customers first. Try figuring out what they're looking for. Do they want high-quality equipment or are they looking for cheaper alternatives? Also, look for famous brands that produce good quality skiing equipment that customers will be attracted to. It also helps to look at what other competitors are stocking to get a better idea of what sells. Here's what you can do:
a) Types of skiing equipment
Let's look at all possible skiing equipment and accessories you will have to stock up on:
Skis

Non-sidecut
Parabolic
Twin-tip
Powder

Snowboards
Boots
Bindings
Poles
Helmets
Ski suits
Goggles
Gloves
Neckwarmers
Ski socks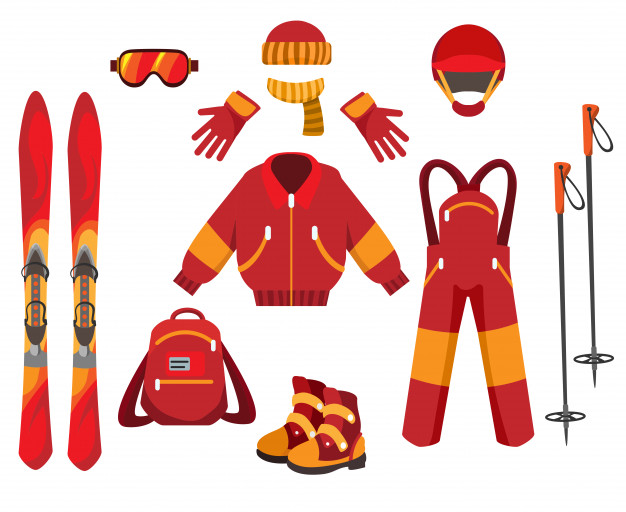 b) Bundling equipment
A great way to attract customers is to bundle together items that customers frequently rent out together. For example, you'll have customers that rent out all of the above items, from skis and poles to socks and gloves. So it makes sense for you to create a bundle containing all such items.
This helps customers easily rent out items in one easy step, instead of browsing through numerous items to find the ones they want. You can also choose to package items that customers generally rent out together.
9. Implement proper ski rental software
After you stock up on your equipment, you'll have a large inventory to keep track of and maintain. This isn't an easy feat, especially if you're doing it all manually. So it's time for you to adopt dedicated ski rental software and manage your inventory in the most efficient way possible.
Such software can help track when your equipment is being rented out, returned, overdue and more. Moreover, it will make maintenance much easier by setting up recurring service sessions whenever a rental item is returned. This way, you won't have to worry about your skis breaking down and resulting in more expenses.
Additionally, where you once would have hired an employee to keep track of all invoices, you can now automate such processes. In the long run, implementing ski rental software will save you time and bring down unnecessary expenses.
Read More: 7 Ways Rental Business Software Benefits Your Rental Business
10. Establish a maintenance schedule
You spend hundreds of dollars on your ski equipment. Therefore, it's important that you preserve that investment by sticking to a proper maintenance schedule. Maintenance may vary from everyday servicing to weekly maintenance sessions.
Daily maintenance includes drying your skis off with a soft cloth so the metal edges don't rust. Next, you have to wax the skis. Waxing repels water, thereby protecting the base of your skis.
It's important that you come up with a schedule for such maintenance schedules. Without a schedule, things will be haphazard. You can miss out on maintaining all your equipment. Consequently, the lack of maintenance will lead to increased equipment unavailability and breakdown.
11. Define your rental rates
Apart from your rental rates, there are several other things for you to figure out. These include discounts and promotions, and damages and late fee charges. So let's get started!
a) Rental rates
The first decision is whether you're going to charge a flat or a variable rental rate. You need to have a system that dictates your rental rates. Usually, rental rates vary between $40-80 per day. Then again, it also depends on the type of equipment you're offering and whether it's high-end or not.
What most companies do to calculate their rental rate is subtract the residual value from the current value.
The residual value is an estimate of what the equipment will be worth after a customer returns it. Once you estimate the residual value, calculate the difference between the two values. Then simply divide it from the number of days the equipment was rented out for. The resultant value is your daily rental rate!
Keep in mind that rental rates for adult skiing equipment will differ from the rates for children. This is because skiing equipment for kids costs less. Therefore it makes sense for such equipment to have lower rental rates.
b) Discounts and promotions
Ski rentals are in demand the greatest during the winter holidays. You can also offer promotions if you wish to create demand before and after the holiday season.
For customers visiting during the peak season, you can offer several types of discounts. For example, discounts for groups renting out skis in bulk. You can even partner up with the ski lifts to offer your customers bundle packages as well. Here are a few examples of how that could work: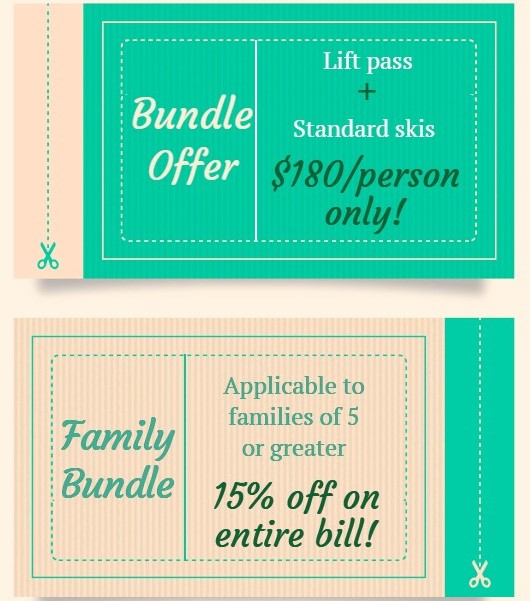 These sorts of discounts and promotions also give you a competitive advantage over any other ski rental business that may exist nearby.
c) Late return and damages fee
In order to dissuade customers from returning their equipment late, start charging them a late return fee. If you don't charge them for late returns, they will start taking the return policies lightly. This, in turn, may negatively impact your business because it will increase equipment unavailability.
Next, come the damages. Your customers aren't always going to return your equipment in the same condition they got them. And it isn't fair if you have to bear the expense of their negligence. Therefore, you can charge them a fee for any damages they incur.
12. Draft thorough rental agreements
The next step before you're ready to take your first few orders is to finalize your rental agreements. The agreement should be clear and answer all possible questions the customers might have. Here's a rough overview to help you understand what to include in the rental agreement: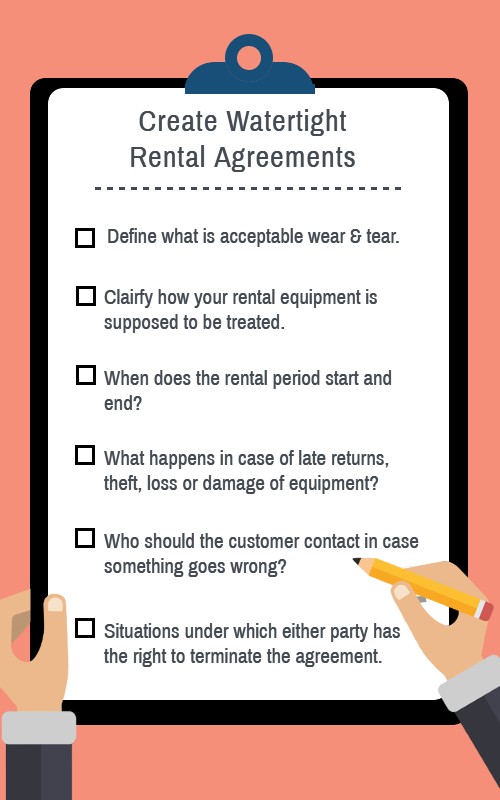 Time to ski to success!
A ski rental business is one of the most exciting businesses you can venture into. You get to run a business about something you're passionate about! But that doesn't mean you take things too lightly. Running a business is still hard work, so you need to keep all the important aspects discussed above in mind.
Start off with the most important aspect of your ski rental business – the skiing equipment itself. Ski equipment needs proper maintenance and should be returned on time. Moreover, you also need a customer base, otherwise, your business will cease to exist. To make sure nothing of that sort happens, stick to the guide above and you're good to go!
With tourists flocking to the ski hills all year round, your ski rental business has the capacity to break-even in the first few years. But only if you manage it properly. So remember to use our tips to ensure smooth skiing and a constant inflow of profits!
About EZRentOut
We are a cloud based costume rental system that offers costume rental businesses seamless rental management. It also comes with a host of other features like asset tracking, maintenance management, a customized webstore, and much more. Try us out today!