1. For EZRentOut Web App
To choose which options to make available to Customers, go to Settings → Company Settings → Advanced Settings → Receiving and Returning Items of an Order. Enable Customers to receive items either from the store (Pick-up Location) or have them shipped to their address. Similarly, enable Customers to return items by dropping them off at your store or by having you pick them up from their address.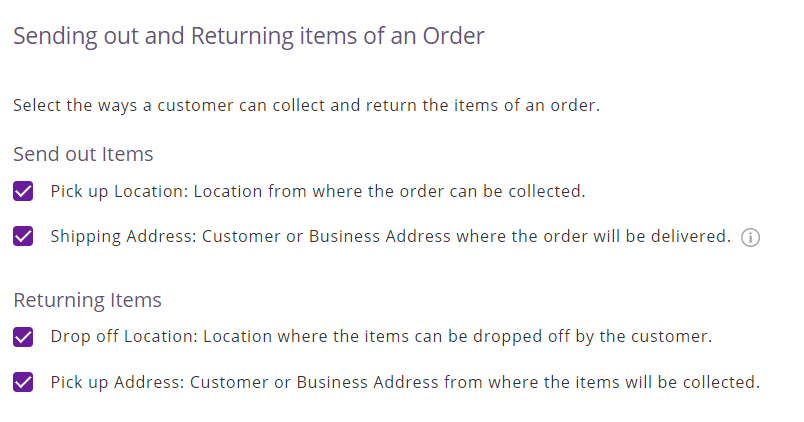 If all four checkboxes are enabled, Customers will be able to choose between having items delivered to their doorstep and picking them up. They will also be able to specify how they'd like to return the Order, either by having the company pick it up or by Customers themselves dropping it off at the store location. You will be able to record these preferences when you're drafting or editing an Order in EZRentOut.

For receiving items, Customers can easily toggle between whether they want the Order to be delivered or not. If they choose 'Yes', then they can add a shipping address. However, if they choose 'No', they'll have to add a pickup location instead. Similarly, when returning items, if customers select 'Yes' for pick up, they specify the pickup address. If not, they have to add the drop off location.
Note: Order states that allow you to edit the above preferences include Drafted, Booked, Booked Web Order, and Rented Out.
2. For EZRentOut Webstore
You can also enable these options for the Webstore from Settings → Store Settings → Receiving and Returning Items of an Order.
Once enabled, Customers will be able to specify how they'd like to receive and return items when placing Web Orders depending on your Settings.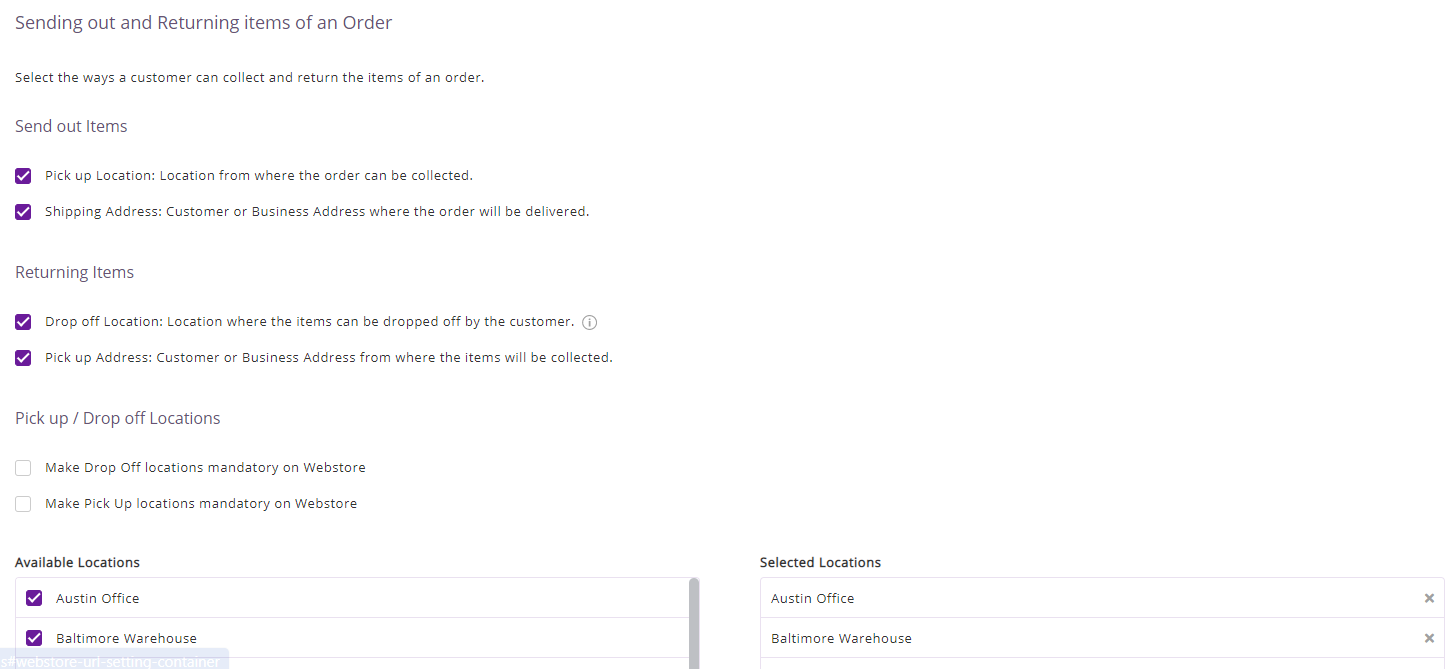 If you don't make providing drop-off or pick-up locations mandatory, Customers can also choose to leave these preferences blank when placing Web Orders. Making it mandatory, however, will mean that Customers will have to specify these locations in order to place their Orders. You can do this under Pick up/Drop off Locations in Store Settings.
You can also specify Locations for in-store pick-up or drop-off. Simply move the desired locations from the Available Locations column to the Selected Locations column and save the changes.
Customers will be able to choose from these selected locations as per their convenience. Alternatively, they can provide a shipping address/delivery location so you can ship items to them or retrieve them after the duration of the rental is over. Here are the preferences in the Webstore.

Receive Items:
Customer opts for Delivery Location to provide their address.
Customer opts for Pick Up Location and selects one of the Selected Locations to pick the items from.
Return Items:
Customer opts for Pick Up Address to provide their address so the company can retrieve the items.
Customer opts for Drop Off Location and selects a location from Selected Locations to drop the items in-store.