Financial transactions and exchange of goods have been drastically revolutionized ever since big brands like Amazon, Ebay and PayPal have stepped into the market. People are increasingly relying on ways to shop and pay online. There is hardly any industry or business that is still stuck to the old ways and has not yet moved online. The rental industry is no exception, looking for an efficient equipment rental software that has it all. 
The revenues of the equipment rental industry are growing four times faster than the general economy over the past few years and are anticipated to grow even more. As per Forrester, over the next five years, the growth of e-commerce is expected to outpace sales growth at brick and mortar stores. Businesses might find it hard to sustain with no stable online presence. This is why rental businesses are resorting to online rental systems to reach increased accessibility and transparency.
Benefits of having an Online Storefront with Equipment Rental Software
Let's delve into how moving to an online storefront can help your equipment rental business elevate.

Amplified digital presence:  An online storefront overcomes the geographical boundaries that are associated with brick and mortar stores; you can get customers even from far off locations! Having a cyber presence on its own can't add to the SEO of your company substantially, but optimizing your web store for the search engine certainly can! The best online rental software would come with options to tweak title tags, keywords, and meta descriptions, improving your web store's visibility on search engines. This gets you more 'street' traffic and drives actual customers who end up being a cause of lead and revenue generation. Research shows that 5.18% of mobile searches lead to a sale within a day. With enough publicity and effective marketing, you can drive a significant number of people to your store in this way!

Effortless cataloging: With physical stores, you have to make piles of catalogs of all the items available and add their details. There is no way customers can easily swipe through all available items, items' details and condition. With online web stores, you can arrange items into groups to better organize the catalog and make it media rich by adding pictures. You can make changes in a matter of minutes like pricing or color change, and instantly share them on your webstore. A robust filtering system enables you to screen items by pricing, location, availability and other predefined categories – streamlining the browsing experience for you.

Continuous real-time inventory updates: Running a rental business, the need to continuously update inventory is crucial – from keeping track of stock availability to whether an equipment will be available during a certain time span. With an online store baked in an equipment rental software, there is no need to worry about continuous inventory updates. Once you have established your inventory and added all the available items, it gets automatically updated whenever a sale is made. Say if you have 1000 kgs of concrete available in your stock and a customer books 100 kgs of concrete, the inventory will be updated automatically to 900 kgs on 100kgs of concrete being sold.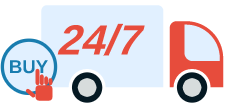 Error-free bookings: The beauty of having storefronts within an online rental software is that all the bookings can be done online. You can easily check if a certain item is available or has been booked already, you can still choose to go with conflict-free booking. Having an online store means a 24/7 open store where customers can request bookings anytime they like, be it 2am or 2pm. But that's not all! You can also set business hours for staff users and customers if you with a specific set of order timings. Let your customers know when you will confirm the orders!

Flexible payment options: Approximately 58% of consumers say they find mobile commerce more convenient than traditional platforms, which implies that you are sure to gain customers' satisfaction with reference to mobile payment methods. An online storefront enables you to incorporate multiple payment options so the customers can pay seamlessly. A robust online rental software integrates with various payment providers like Stripe, Authorize.net, and Paypal – making transactions as convenient as possible for your customers.

Customizable webstore: Every business has different demands; the same webstore design cannot meet everyone's requirement. For example, a construction company might want to craft their webstore differently from that of an AV rental. This is why a webstore that is designed to be as customizable as possible will bring great definition to your business. You can change the colors, themes, listing views and make it appear just as you like it. Add your company logo or have your own custom URL. Set it up in the way which reflects the personality of your business.

Increased customer satisfaction: The convenience an online storefront offers over a physical store is evident. Let's say if a customer intends to buy something from a brick and mortar store. For that, they'd have to get dressed up, drive to the store, park their car and then locate the items they need. While in case of an online storefront, they can book anything right from their computers while sitting in pyjamas at 2 a.m. It is estimated that e-commerce is growing at a rate of 10% in the US, as customers find it time-efficient, and can easily do price and variety comparisons. They can see categorized catalogs, apply pricing filters and check the availability of items they need.
With already a robust equipment rental software, EZRentout offers a webstore with all the above-mentioned features and more – helping you increase your reach, boost ROIs and make the entire renting process smoother.
MORE
Sign up for a 15 day trial today here
For more assistance, drop us an email at support@ezrentout.com. Visit our blog for more support posts on our equipment rental software.