Roles in EZO CMMS are designed to facilitate your maintenance workflows to achieve daily targets and improve productivity. Each role has well defined responsibilities and is set up to expedite work orders with minimal disruptions.
By assigning tasks to appropriate roles, EZO CMMS facilitates a balanced workflow that ensures work will be completed by authorized users and any roadblocks highlighted along the way. Let's take a look at the different roles being offered in EZO CMMS:
Manager
Managers are mainly responsible for coordination in the maintenance department and liaisons across other departments. Apart from this, managers also lead administrative decisions such as hiring, team allocation and team performance. They are also in charge of settings and tracking maintenance KPIs across organizations. The key workflows for managers in the maintenance department include:
Ensure efficiency of the maintenance workflows
Exercise control over approved budget
Ensure compliance of preventive maintenance plans
Review and approve all purchase requests of maintenance department
Review project plans
Review resource utilization
Retire obsolete, unutilized assets
Based on the objectives of the manager, EZO CMMS provides them with a centralized platform with maintenance insights including key KPIs. It also enables managers to supervise team progress and assign tasks in a timely manner.
Supervisor
Dedicated to oversee and plan maintenance of machines at assigned sites, supervisors report directly to the managers. Their key responsibilities include:
Plan daily/weekly job schedules as per Work Requests received, Work Orders planned and Preventive maintenance plans
Work out material & manpower requirement for jobs
Identify & troubleshoot recurring problems
Review work done by Technicians
Justify budget expenditures
Ensure availability of tools & spare parts
With the help of EZO CMMS, supervisors can keep records of all maintenance events in the company and easily allocate work orders to technicians. They can keep a track of all inventory and costs associated with a certain work order. A central work command center makes it easy to retrieve progress on a task, add timely feedback and track critical KPIs all at one place.
Technician
Primarily defined as the main resources for carrying out hands-on maintenance on the field. Technicians report directly to the supervisor and are expected to highlight any shortage of inventory and other unusual instances out on the field. Their main workflows include:
Takes instructions from maintenance supervisor regarding assigned Work Orders
Get the required items issued from warehouse
Update Work Order status
Keep supervisor updated regarding availability of spare tool parts / items
Consult manuals / instruction related to machinery before carrying out maintenance
Fill in maintenance checklists
Technicians can be easily informed about their assigned jobs through the central work command center in EZO CMMS. They can generate a request for inventory required and easily update the status of assigned work orders. With simple review forms, technicians can update the completion form and add feedback quickly from the field to update supervisors.
Requestor
A requestor is someone who puts in a request for work without too much involvement in the software. They are also able to coordinate on revisions, updates and progress of the work request. The key workflows for a requestor include:
Submitting work requests for maintenance, repairs, or replacements of equipment or machinery malfunctions
Reporting any safety hazards or issues in the facility to the appropriate personnel
Requesting assistance from maintenance technicians or other personnel for tasks that are outside their scope of expertise
Requesting approval for any non-routine work that needs to be performed or any changes that need to be made to existing processes or procedures.
EZO CMMS enables requestors to create work requests through simplified forms whenever a maintenance service is required. 
Work Order Flow For Roles
A typical work order flow for a CMMS team looks like this: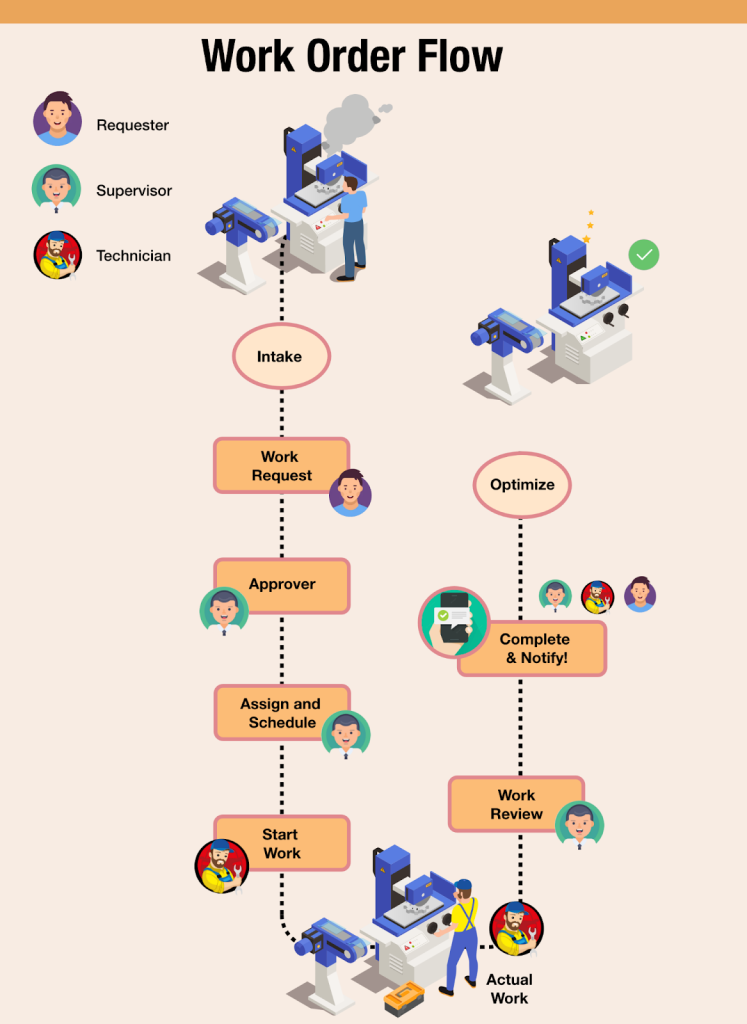 The graphic shows the start of the work order when a requestor creates a work request for any maintenance or service related incident. Next the work request is passed on to the approver, to filter Work Request and pass acknowledgment to Requestor upon approval.Once a Work Request is approved, it converts into a Work Order. The Supervisor assigns and schedules the Work Order to available Technicians for necessary action.After carrying out the work, Technician submits the work order for review to the Supervisor. Supervisor reviews the work order and upon completion, the Work Order status is updated and everyone involved is notified.Managers and Supervisors can also track KPIs and optimize the performance of their maintenance department right from their dashboard.
Roles Dashboard
Each role in EZO CMMS has its own customized dashboard. This provides users the ability to track relevant KPIs to their role. Here is what the different dashboards look like:
Supervisor Dashboard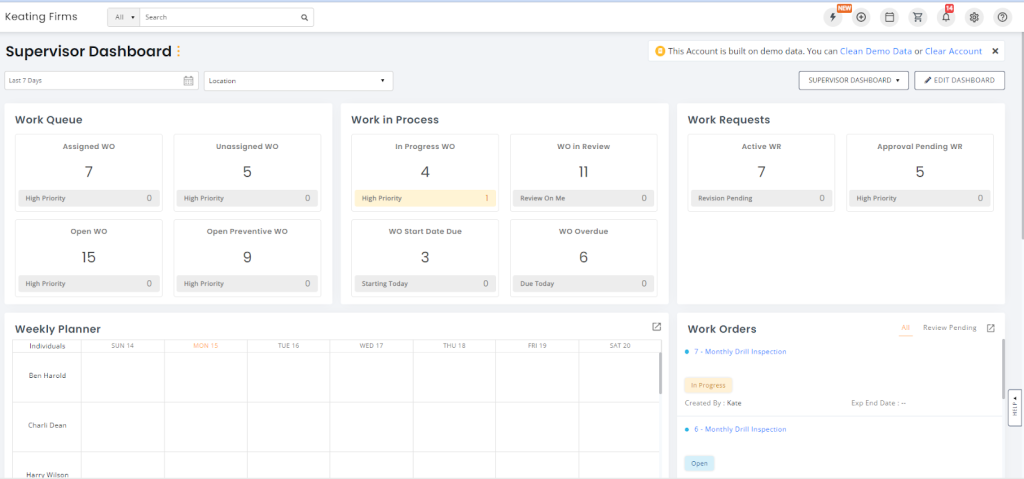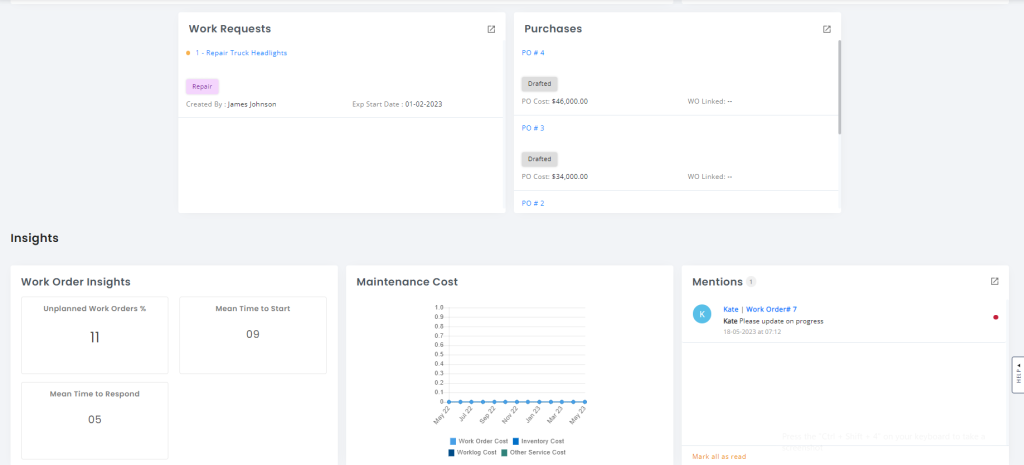 Technician Dashboard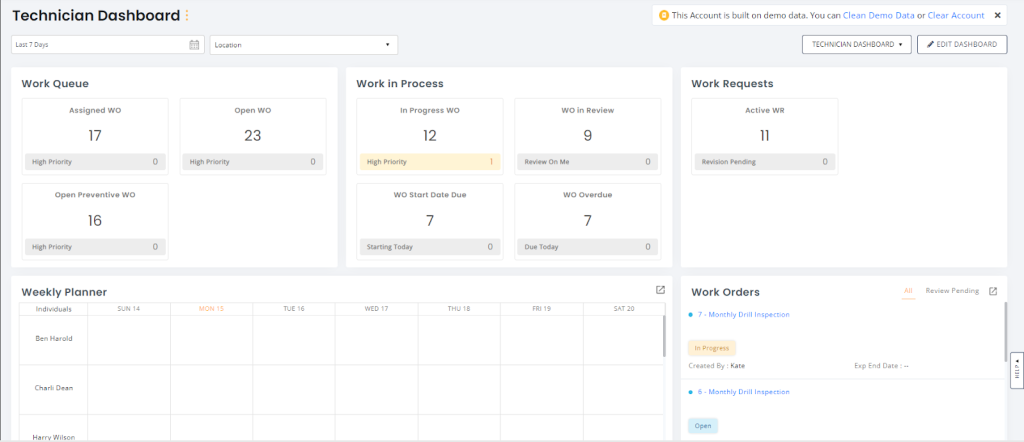 Staff Dashboard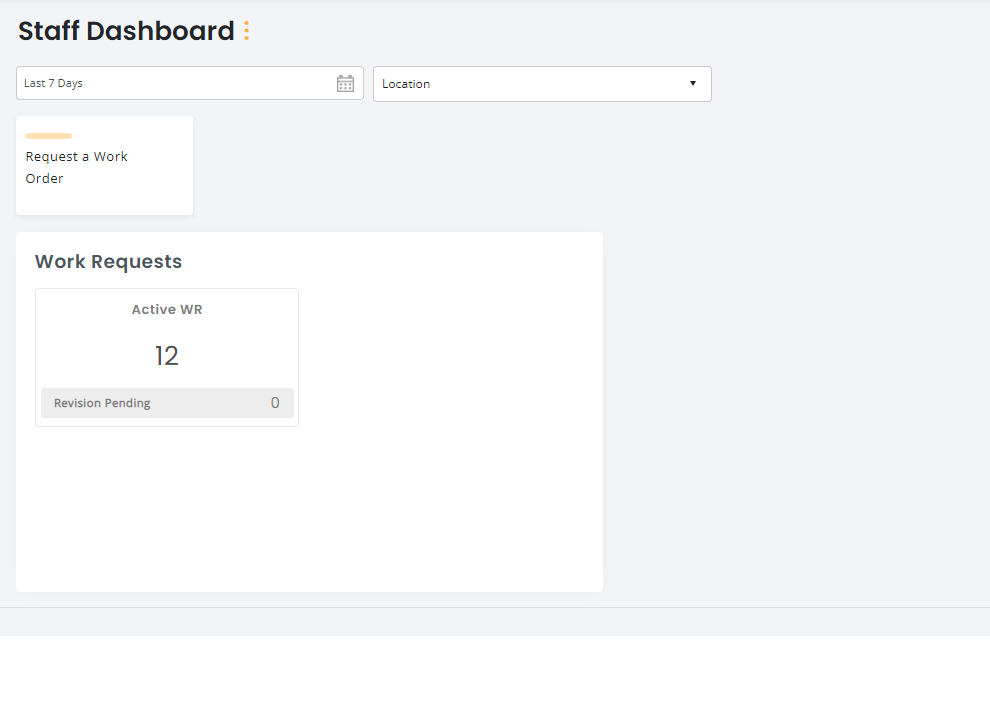 Roles and permissions
| | | | |
| --- | --- | --- | --- |
| Managers | Supervisor | Technician | Requestor |
| View and Manage work for all | Create, update, route and execute work orders | Request, do work and send for review | Request work and see updates regarding work orders. |
Learn more https://ezo.io/ezo-cmms/blog/types-of-members/
To set custom permissions for your roles, refer to this blog.