The Planner in EZO CMMS is designed to improve efficiency through quick delegation of work. As a calendar for daily and weekly activities, the Planner aims to improve coordination between teams. With the help of the Planner, Work Supervisors can easily plan and schedule work orders by looking at the availability of technicians.
Whereas, technicians can also view their schedules in the planner, which helps them get organized and informed about work. 
Both Work Supervisors and Technicians have their customized planners. The Work Supervisor will have access to view and assign unplanned Work Orders to expedite projects all at one place. Let's look at how to use the Planner to make your maintenance Work Orders:
From the main Navigation Menu go to 'Planner'. Here is what you will see: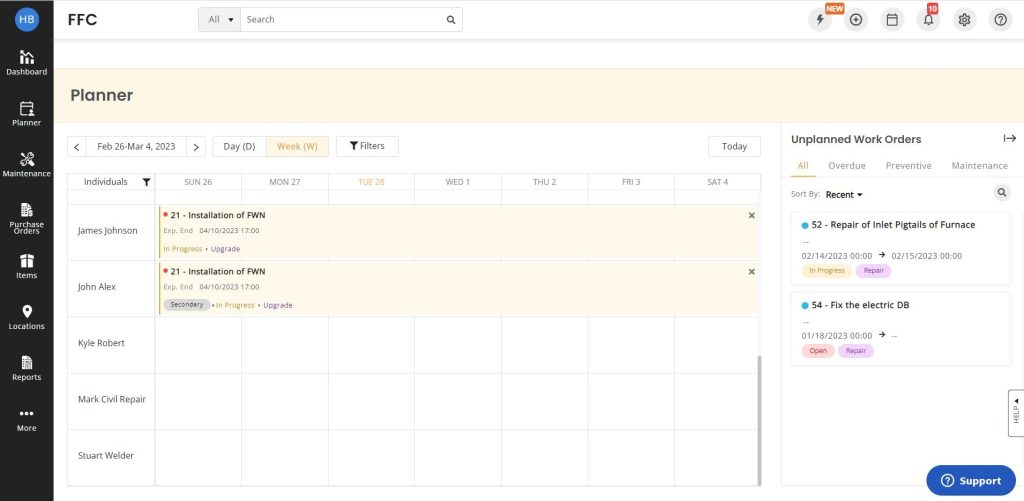 At the very top corner, you can filter out what you want to see in your Planner. You can either select the Daily or Weekly View as per your work requirements and filter out Work Orders to be displayed according to different states as shown below: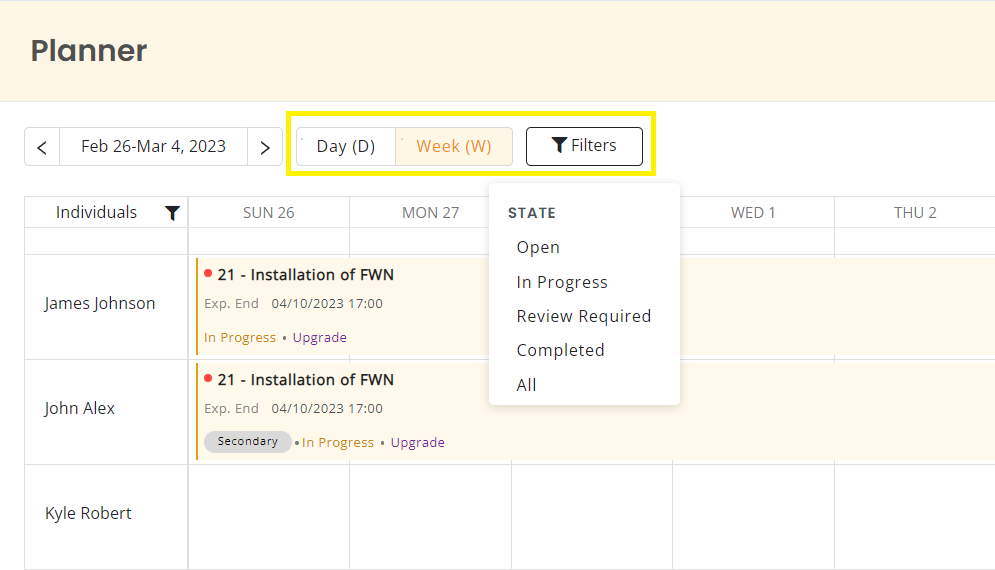 As a Work Supervisor you can select the Members you want to view the Planner for. Go to the Individuals dropdown and select the relevant Member: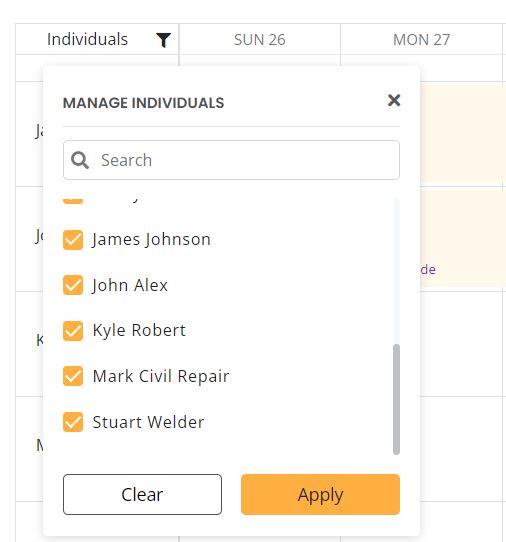 Note: As a technician you will only be able to see your own Planner.
For each Member, a maximum of three Work Orders is displayed against their name. In order to view the full list, click on View More
To see what your Members are working on, you can click on Work Orders assigned to each individual member and see its progress. With the Quick View Pane functionality, you can see a pop displaying Work Order details in the same window without opening a new tab. You will be able to see associated costs, how much work is completed, and the Assets involved: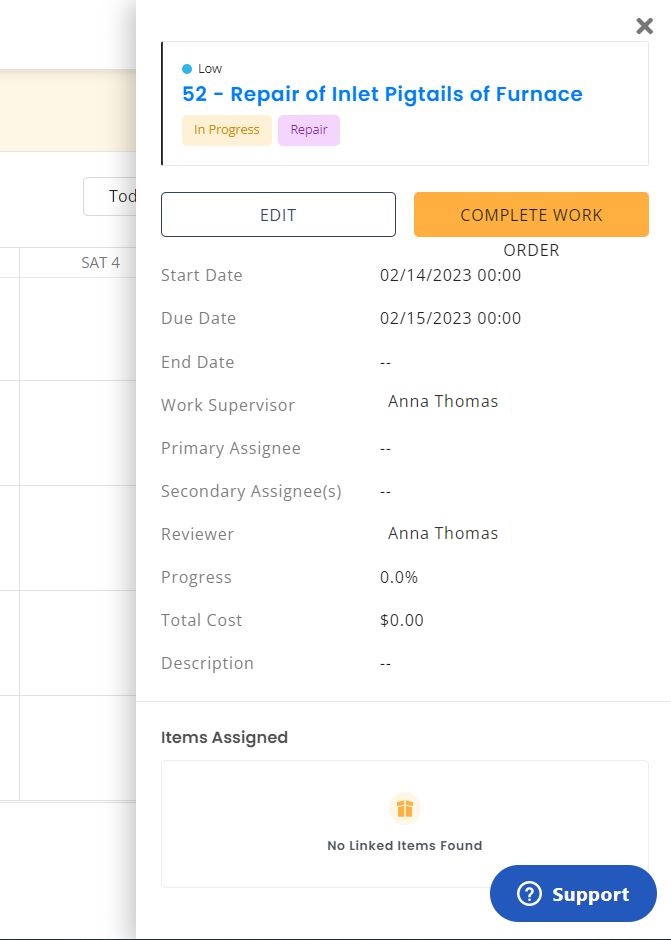 From here you can take two actions for a Work Order in progress: Edit and Complete Work Order. You will be able to add the Due date, and a secondary assignee if you choose to edit a Work Order: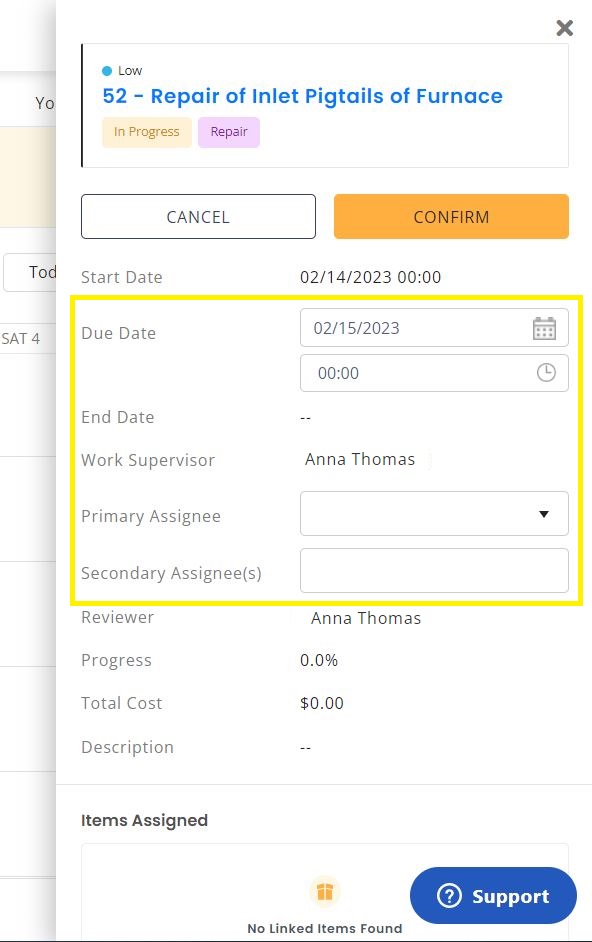 On the Right side, you will be able to see all unplanned Work Orders:
Click on the relevant Work Order to Edit, Start or Complete it. You can add a primary assignee and secondary assignee for each of these unplanned Work Orders to accelerate and track progress. Secondary assignees are essential for Work Orders taken up by teams and help accelerate progress.
About EZO CMMS
EZO CMMS is the next generation maintenance management software. It does more than just simple maintenance, it empowers your teams with a central command center to assign and complete work orders to achieve optimal productivity. We offer a free 15-day trial – no credit card required!