The AV Industry: An Introduction
The AV industry is projected to grow 5% annually till 2022. This signifies the need for a systematic AV management strategy for everything, be it equipment, employees, or even procurement and maintenance schedules. A cloud-based AV equipment checkout software can offer all these features to production managers so they can run flawless work operations – from anywhere, at any time.
So, what is the AV industry all about? Comprised of a variety of companies, the AV industry consists of agents using media as the main platform through which messages to the general public are conveyed. A few examples could be YouTube channels, production houses, and photography studios.

These companies need to deliver high quality displays of selected content, and for that they require a lot of different types of AV equipment. Some of the most frequently used equipment in the AV industry is:
Projectors

Camcorders and Tripods

Projector accessories/lenses

Video playback and record decks

Video switchers

Audio playback and record accessories

Computer monitors and HDTVs

Audio racks and microphones

Networking routers

Podiums and lighting
While this gives a general idea of the equipment used to carry out production processes in the AV industry, companies in this industry are typified by their specialized equipment as well. Depending upon your budget allocation, you can always opt for customized options to boost the audiovisual experience for your customers.
Within this industry, a production manager is usually tasked with the supervision of all the physical aspects of a production. Dealing with various types of equipment all serving a specific function can be quite challenging for these managers. Since the AV industry is an asset intensive workplace, it is almost impossible to head a project if you don't have sufficient detail about all your equipment. In order to make daily tasks much more streamlined for all employees, you would need to have a good deal of data around personnel, technology, equipment, scheduling and budgeting.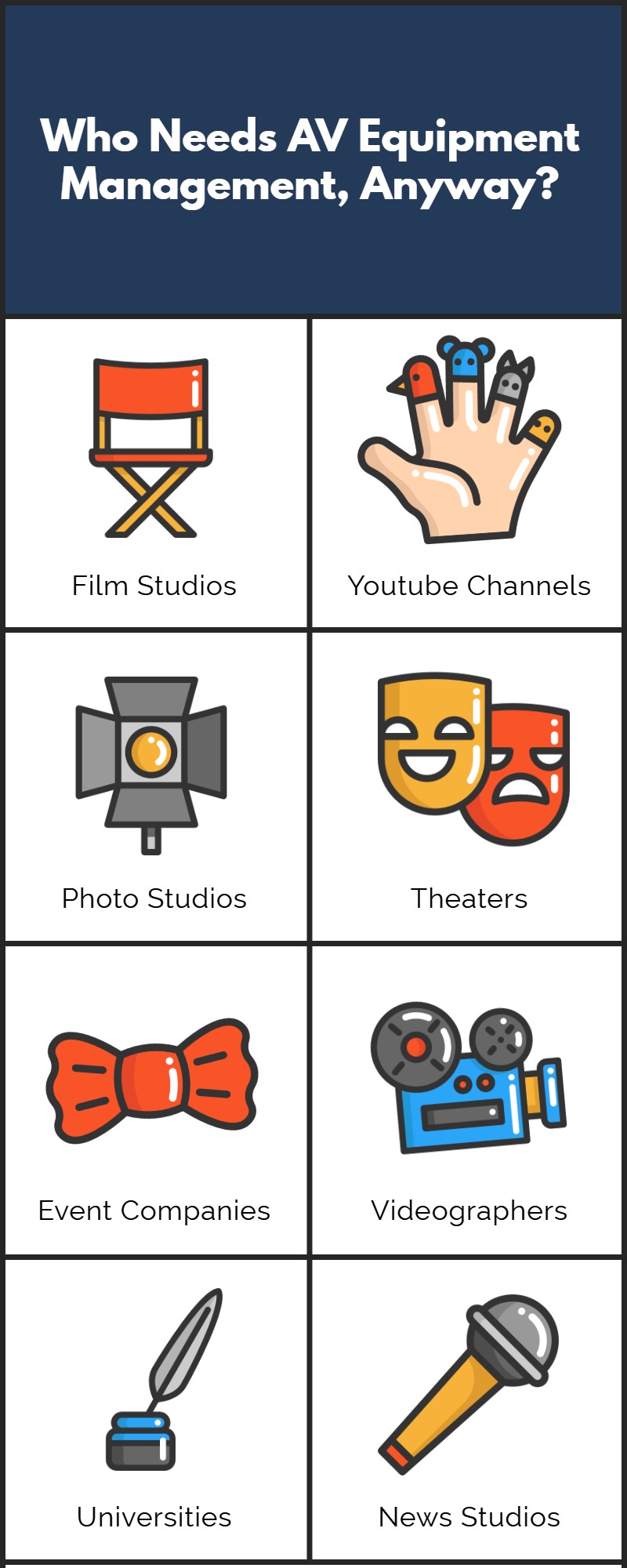 In addition, not every institution can afford to have its own AV assets. Some equipment can run up to thousands of dollars! To cater to this market, AV companies often stock up on rental items. With high value tools in circulation across different shoots and locations, an AV equipment checkout software is therefore crucial in helping you shed light on asset utilization, custodianship, and status.
What are some of the challenges faced by the AV industry?
The path to progress in any industry is to tackle the most hampering challenges within it. Companies which wish to increase the longevity of and returns on their AV equipment must devise strategies to overcome the following common hurdles faced by this industry:
1) Budget constraints: With the increasing trend of IT and AV convergence, the cost of equipment is also rising. However, that does not mean you should compromise on your content. Trying to maintain quality while keeping budgets low can become quite overwhelming. The best way to go about this would be to list down your priorities. For example, if you are a recording studio you're always in the market for cutting edge studio interfaces. In order to budget effectively, you would need to run financial reports to make better business decisions. This in turn requires greater visibility into all your assets, procurement histories, and so on.
2) A lack of process: Pulling off successful projects can put quite a lot of pressure on AV company employees, especially if they lack the proper processes and resources to do so. The visual production industry is involved in handling a sizeable number of videos and recordings every day. Say for instance a journalist has to report on an event at noon for a news channel. Equipment related problems – such as failure to make the required equipment bookings or obsolete recording software – can shut down the report altogether. To avoid last minute disruptions, it is advisable to have the desired equipment ready before time. This can only be possible if you have systems in place that guide you through the asset management process from the get go.
3) Poor equipment management: A substantial amount of a visual production agency's budget goes into equipment procurement. The cost of building a multi-purpose conference room for such a business can be between $25K to $60K. For example, you would need to purchase specific projectors and screens depending on the size of the room, sophisticated lighting set ups, and a bandwidth to support video conferencing if necessary. All these tools don't come cheap, which is why they should be under constant supervision by the company. To that end, you would need to maintain transparency on all daily activities.
4) Difficulty meeting deadlines: Deadlines are tough to stick to. Businesses within the AV industry are often time-sensitive – think news reporters, or movie sets which need to shoot during a certain time of day for lighting. These businesses also often need to move AV equipment across locations, which is why last-minute plans don't always work out. Planning is therefore incredibly important for AV companies. Since a lot of third-parties are involved in shooting a video, for example, video gear must be procured and vetted well in advance. This way you would know of the status of all assets, and rent replacements if need be.
Despite these challenges, this industry has been amazingly stable over the last few years. This is why there is a huge demand to make their processes more streamlined, cost-effective, and scalable. AV equipment checkout software can help your AV business do just that.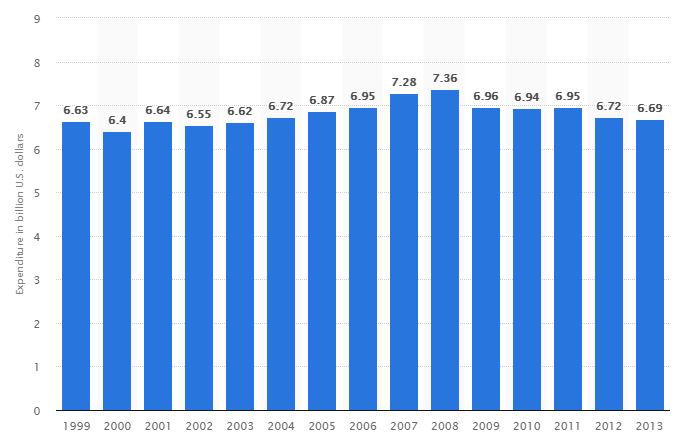 Consumer expenditure on photo studios in the US between '99 and '13
AV Equipment Checkout Software: What It Is and How It Helps Your Business
The ongoing integration of IT and AV requires media production companies to follow robust standards and techniques. These are further bolstered by observing best practices in AV asset management.
One way to do this is to invest in an AV equipment checkout solution. This software is designed specifically for production and media agencies, regardless of size, to handle everything from procurement to distribution of AV accessories. It also offers 'on the go' accessibility with the help of mobile apps, cloud-based data storage, and real-time updates. This is extremely helpful for reporters, photographers, and media personnel who tend to travel a lot for work and want a way to access information from anywhere, at any time.
Thus, a product like this can guide you towards making decisions that comply with industry best practices. Let's discover what these are!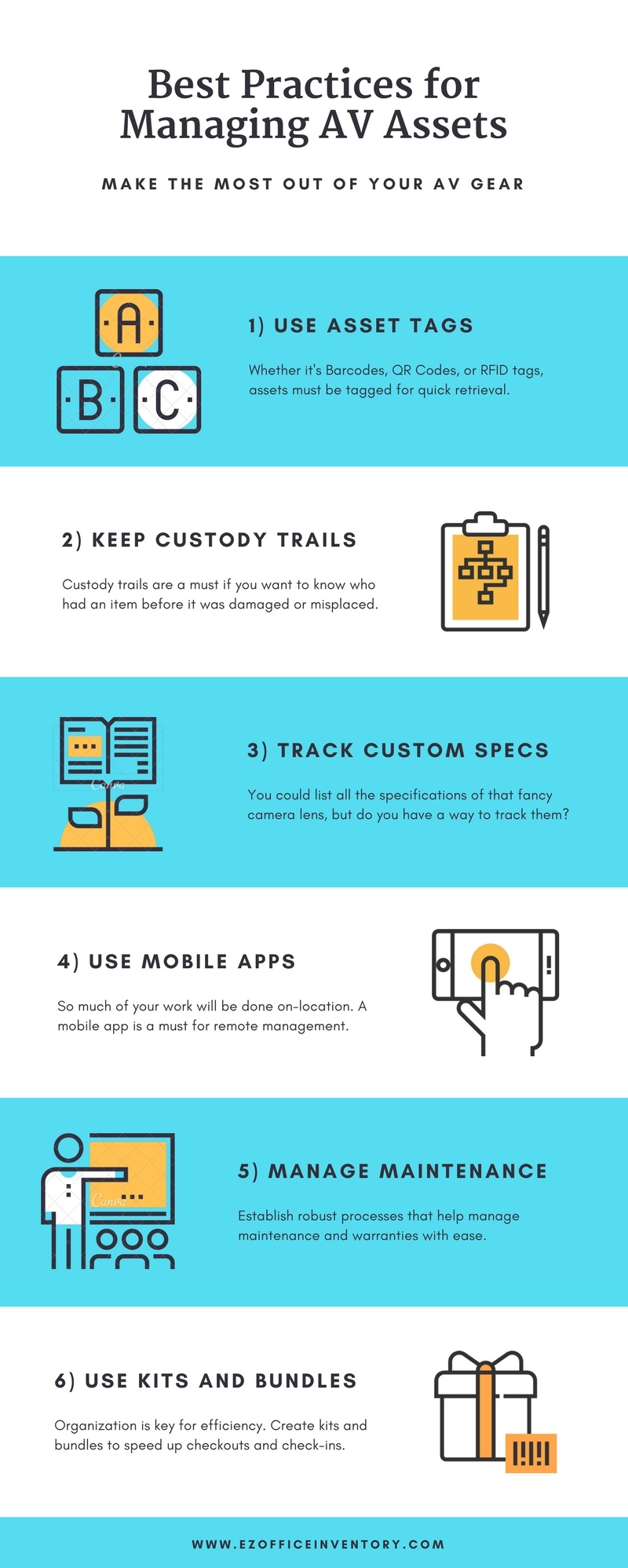 1) Improve efficiency with asset tag tracking: Companies working in the AV industry deal with a huge variety of tools for different tasks. To prepare for lighting for the theatre, for example, there are numerous types of intricate specifications and details you must not overlook. Supervision becomes challenging when you have equipment changing hands every day. Misplacement of expensive tools and machines is quite difficult to compensate, as production houses operate on limited finances. To keep workflows streamlined, AV managers often affix customized asset labels to items and then scan them using a mobile app. Doing this allows you to tighten security wherever extensive usage of assets is involved.This can be especially useful when tagging smaller tools like microphones and headphones – which are a lot more likely to get lost or misplaced. An av asset management software can help you organize this effort. You can choose from multiple types of Barcode or QR Code labels depending on equipment type, surface, and the environment it will mostly be in. You can then take actions on these labels, giving you a lot of useful insights. When you have comprehensive data on how and where your AV equipment is being used, you will be able to raise overall efficiency and productivity as well.
2) Bolster transparency by tracking custody trails: Every business makes it a priority to keep its equipment safe and secure. In case of damaged equipment, implementing a tracking mechanism lets you trace the trail back to whoever was responsible. Whether you own your own tools or are a rental company, the first step towards asset insurance should be to log details relating to ownership and transfer of these assets. With the help of an AV inventory management software, you can organize audits to keep a check on the condition of your assets. If you find out a projector or a lighting rig was broken during a particular event, you should be able to pinpoint exactly who the culprit was. By making use of data available through asset checkouts, your company can enhance transparency of work operations and equipment utilization.
3) Store asset specifications for quick reference: AV equipment comes with a lot of spare parts and additional accessories which need to be entered into the system for an optimized workflow. Say for instance a news channel has a few cameras which come with specific types of lenses, batteries and tripods. Each asset has its own serial number and is designated for a particular use. Some may be bought for work in harsh weather conditions whereas others would be best suited to cover an indoor conference. Employees might take ages to find the required tools without the help of a classifying software.To make things much more organized, an AV software allows you to add custom details to all your assets. Such features let you differentiate between different camera lenses, projector screen sizes, and battery wattage. Tailor-made data files also allow your staff to quickly retrieve the equipment they desire for any particular event. A quick way to reference all your assets therefore allows you to speed up checkouts to a great extent.
4) Use mobile application for successful time management: Current trends of the AV industry point towards a high occurrence of off-site media production events. Working outside a premise requires your employees to have some sort of a mobile mechanism which enables them to work on the go. A cloud-based AV equipment tracking software would come bundled with a mobile app that can be installed on your smartphones and used when you travel to far-off locations for shoots or contracts. Instant updates regarding asset locations and availability times make it much simpler for employees to check out equipment. This means you don't need to carry bulky scanners with you wherever you go! Mobile applications also let you document asset whereabouts as soon as possible to keep the production managers notified on time, all the time.
5) Prolong equipment lifetime with maintenance: Frequent usage of AV equipment tends to wear it down quite drastically. The unexpected breakdown of an AV integrator during a public conference, for example, can disrupt your livestream and pull down your ratings. Such situations can be easily avoided if you regularly service all your tools and AV assets. As soon as you check in a new instrument, you can schedule its maintenance directly through the software, or receive alerts when previously scheduled services are due to start. With a list of service vendors available to choose from, you can also configure recurring repairs for routinely-used equipment. Automated service sessions let you keep track of warranties and expiration dates too. Timely maintenance therefore lets you cut down on overhead costs involved in last minute replacement and repairs – and there's nothing better than that!
6) Create toolkits for speedy checkouts: If your media company commonly executes certain kinds of projects – such as indoor, night-time, or outdoor shoots – chances are you have different sets of tools and equipment for each of these projects. For example, you might be tasked with organizing the AV requirements for an outdoor corporate function taking place at night. Considering the time and venue of the occasion, you would have to decide on the lighting and shooting equipment you would want to send out to the location. The ideal option would be to prepare toolkits specifically for night shoots or corporate affairs. You would then just send over these pre-defined kits to the event, saving both time as well as a great deal of administrative overheads.
Conclusion
One of the toughest decisions for an AV company revolves around allocating a budget for various tools and equipment. Once that is done, the next step is to devise a management strategy to supervise how your assets are being used. Doing this is important because it lets you maintain transparency and cut down on inefficient practices. You would then need to draw up actionable reports based on the data logged on the software, such as checkout reports, or those dealing with custodianship.
Designed to cater to different types of firms in the industry, an AV inventory software allows you to monitor all workflows from a single point of access. Readily available information speeds up operational processes and improves efficiency levels, enabling you to have a smooth ride with your AV assets across the board.

Want to know more about us?
EZOfficeInventory is an AV equipment checkout software with supercharged features to help production managers with asset allocation, maintenance, and reports. We've worked with scores of companies in the AV industry, and have helped them lower costs, optimize workflows, and improve transparency from one centralized location.