As a system Admin, you likely spend a lot of time managing various incidents that come up in the form of issues to your ServiceDesk. At the same time, you also need full visibility into your asset landscape so you can instantly know which Items need maintenance, checkouts, return, or disposal.
EZOfficeInventory's ServiceDesk Alerts feature is designed to facilitate your work and streamline your problem identification and incident management processes.
Create issues within Jira Cloud against selected EZOfficeInventory alerts. Set Assignees and Priority Levels for Alerts within Jira for quick and effective resolution of issues. Delegate issues to team members, expedite issues, follow up on them, and monitor their progress.
Here is how to get started:
1. Enabling the Jira Integration
Before you implement the ServiceDesk Alerts and create issues in Jira, make sure that your EZOfficeInventory account is integrated with your Jira ServiceDesk account.
To do so, go to Settings → Add Ons → Jira Integration → Jira Cloud → Connect to Jira Cloud.

To learn more about how to enable the Jira Cloud integration in EZOfficeInventory, click here.
Select your preferred email as the 'Jira Alert Requester' and then save settings.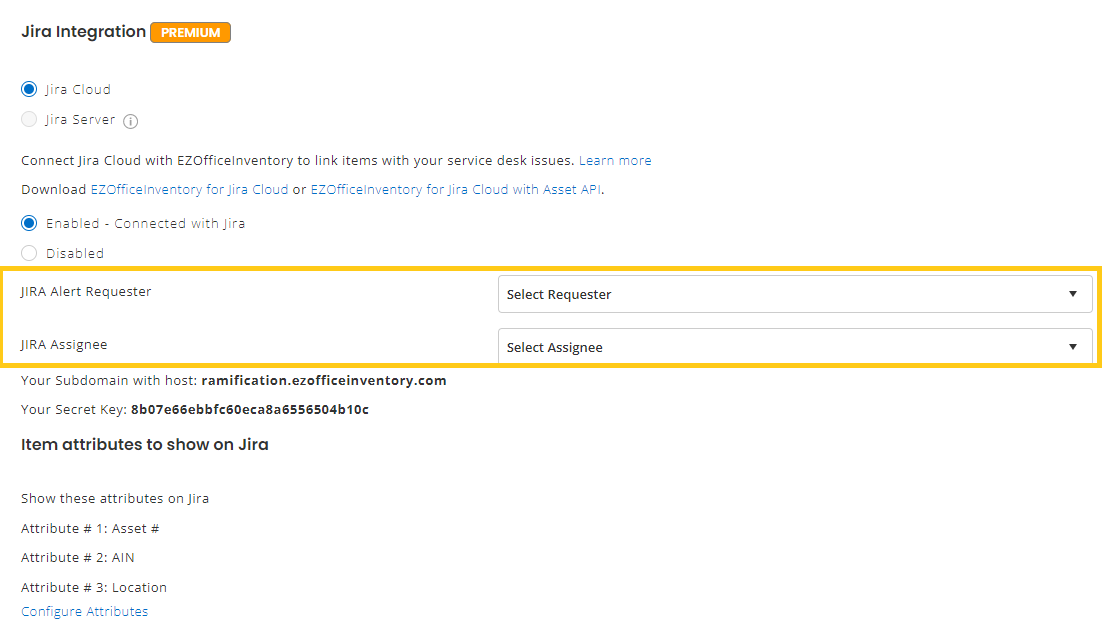 You must specify the two fields below:
Jira Alert Requester:

Email address of the person you want to make the default Requester of every Jira issue that is created against an EZOfficeInventory ServiceDesk alert.
Jira Assignee:

Email address of the default assignee for every Jira issue that is created against the EZOfficeInventory ServiceDesk alert.
Note: To take full advantage of the EZOfficeInventory's Jira Integration, please ensure that all your users in Jira are also added in your EZOfficeInventory account.
2. Select the ServiceDesk Alerts of your preference
Once you have enabled the integration, a tab labelled 'ServiceDesk Alerts' should appear on your Alerts page. To access this tab, from the left Navigation Bar, go to More → Alerts.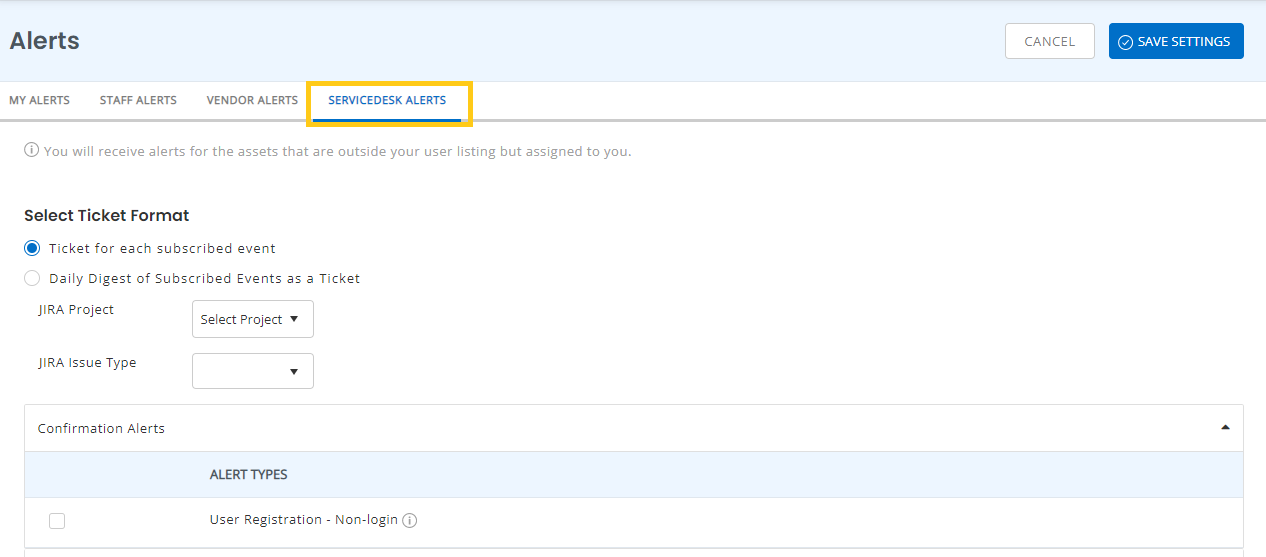 On this page, you are able to select Alerts against which you want to create issues in your Jira Helpdesk. You can then pick your project and issue type:
Jira Project: Lets you choose the project in which you want to have these new issues created. You can save time and confusion by creating issues against alerts into a specific projects.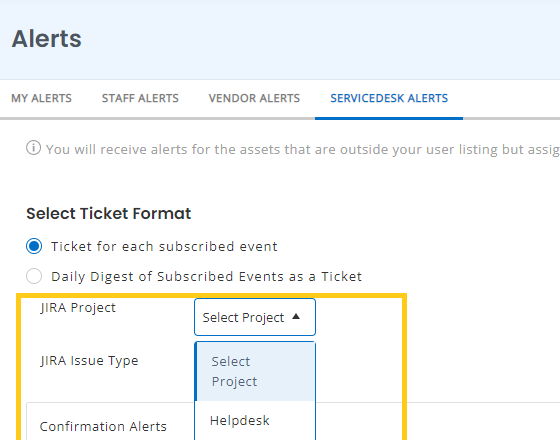 Jira Issue Type: The dropdown menu lets you choose the default issue type for all the issues that are created against these alerts, allowing for better organization.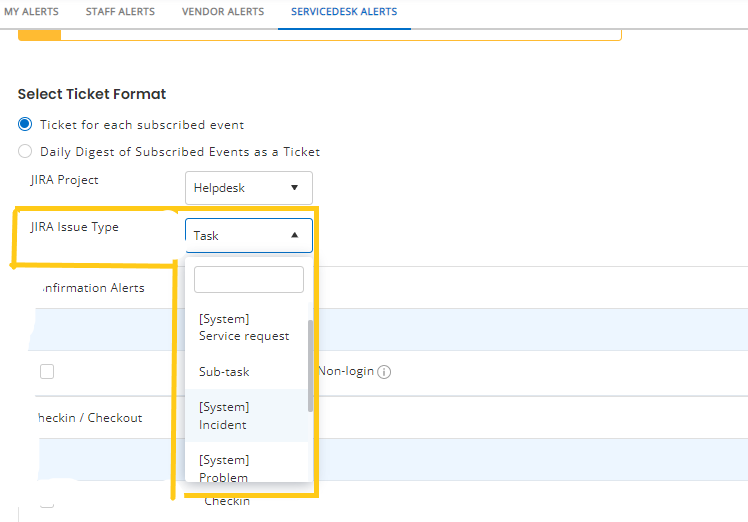 Let's say that as an Administrator, you want to automate and oversee the service management process of your assets. You can select the alerts shown below, and press 'Save Settings'.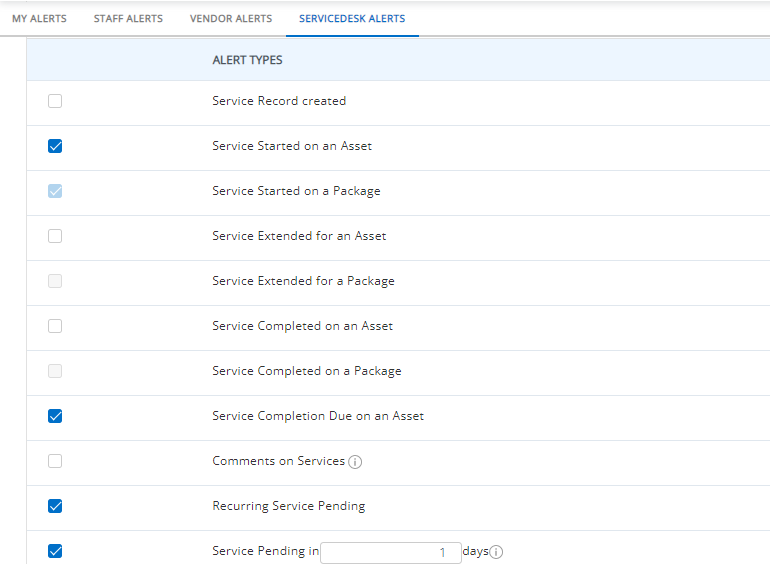 This means that whenever you'll receive an EZOfficeInventory alert for the selected actions, the following actions:
Service started on an Asset

Service completion due on an Asset

Recurring Service pending

Service pending in ____ days
EZOfficeInventory will automatically create an issue in Jira for the Alerts corresponding to these actions.
You can also select Alerts for other modules so Jira issues can be created against them.
3. Automated Issue Creation in Jira Cloud
Let us now see how this works in your Jira Helpdesk.
Suppose an asset in the custody of a member is faulty and needs servicing. You "start" service on it from the Asset Details Page.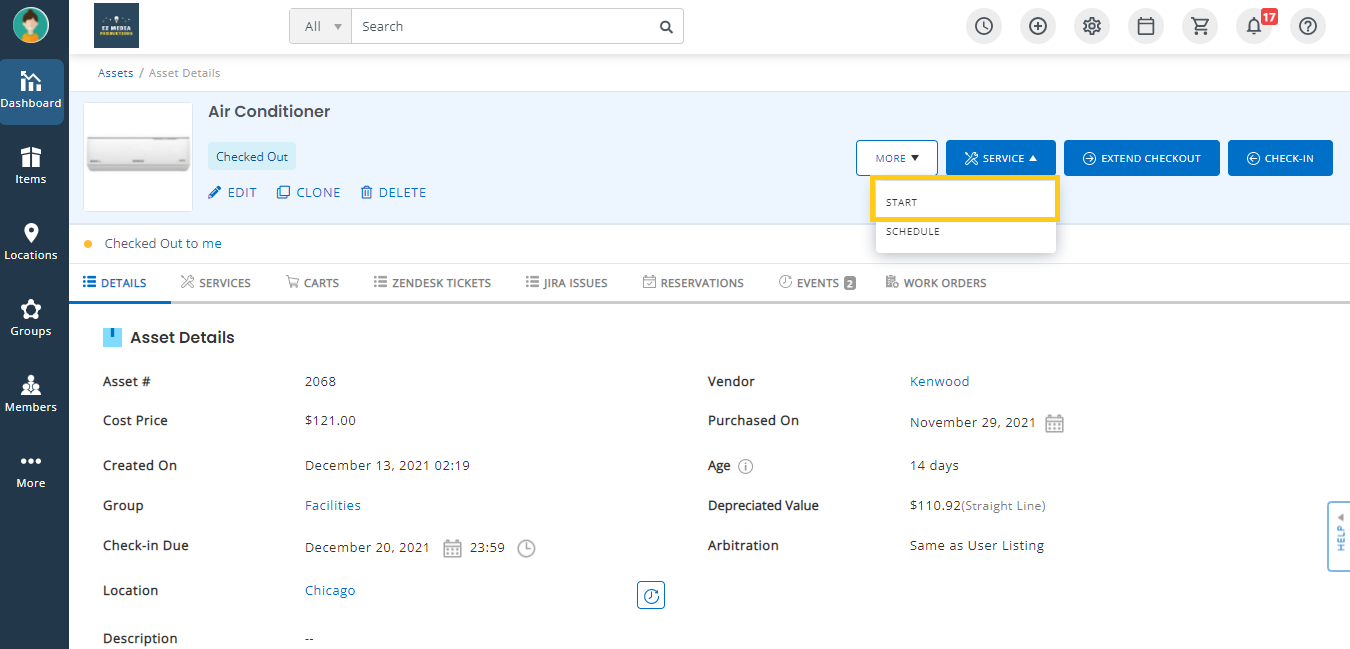 Add details to the 'Service Assets' dialogue -box and press 'Create Service. This will create a ServiceDesk Alert in Jira shown below and notifies the Jira administrator so they can take appropriate action.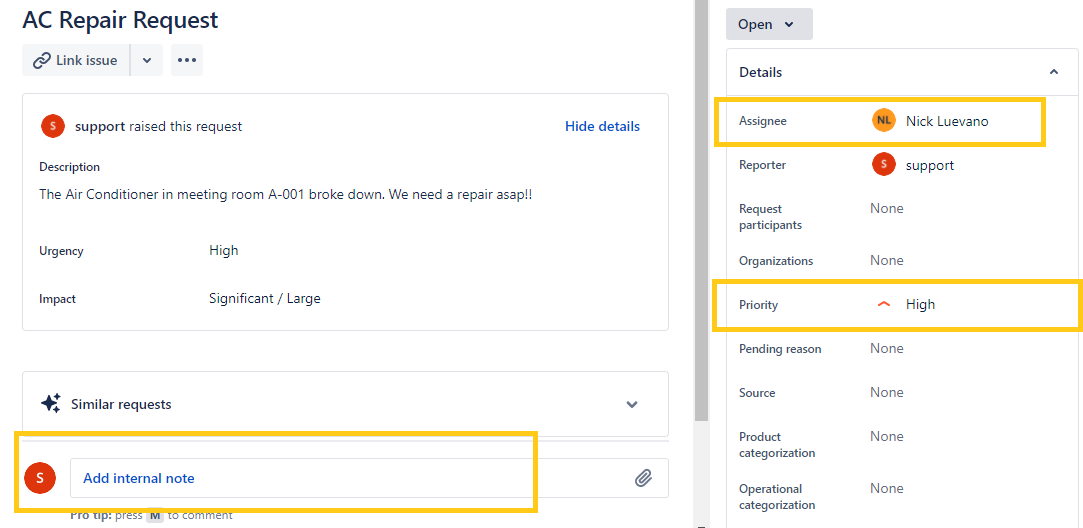 Over here, you can set an assignee and a priority level to a particular issue. You can also add internal notes or reply to the reporter. Hit Waiting for Support → Escalate when you're done.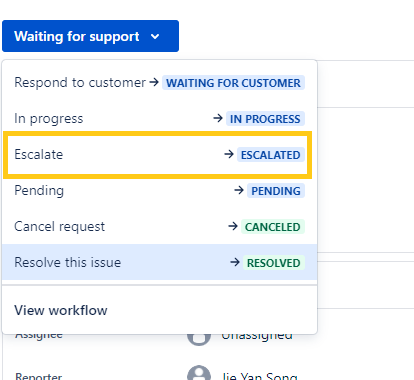 EZOfficeInventory also gives you the option to create ServiceDesk Alerts against the following action items or modules: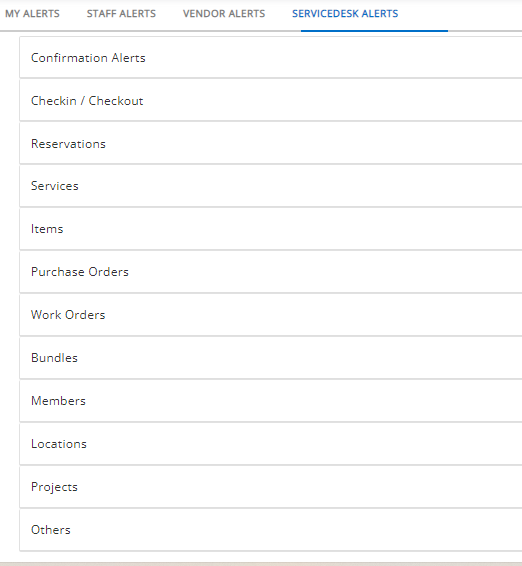 Note: Only the account owner can configure the ability to prompt issue creation in Jira from ServiceDesk Alerts in EZOfficeInventory.