OFS is a family-owned furniture manufacturing company that operates in multiple markets across the world. Established in 1937 in Huntingburg, Indiana, OFS now has multiple locations within the United States. With a focus on creating spaces that inspire, support, and connect people, OFS services multiple industries while staying true to its local roots and core values of sustainability and craftsmanship.
Switching to automation with EZOfficeInventory
As part of their commitment to high-quality customer service, OFS provides furniture samples, including office chairs, so clients can test them and make sure they are a good fit. This procedure is what prompted the need for an asset tracking software.
As chairs were sent out via dealers, the Southern California location was experiencing inventory loss when a lot of these chairs were not coming back. According to Scott Davis, Regional Vice President West, dealers would deliver the chairs for testing, and in a lot of cases, simply forget about them. Inventory movement was recorded in Excel sheets or across disparate systems. Without real-time visibility into inventory movement, they were losing a lot of furniture.
As the problems and losses associated with manual tracking mounted, Scott decided to switch to EZOfficeInventory for automated, real-time tracking.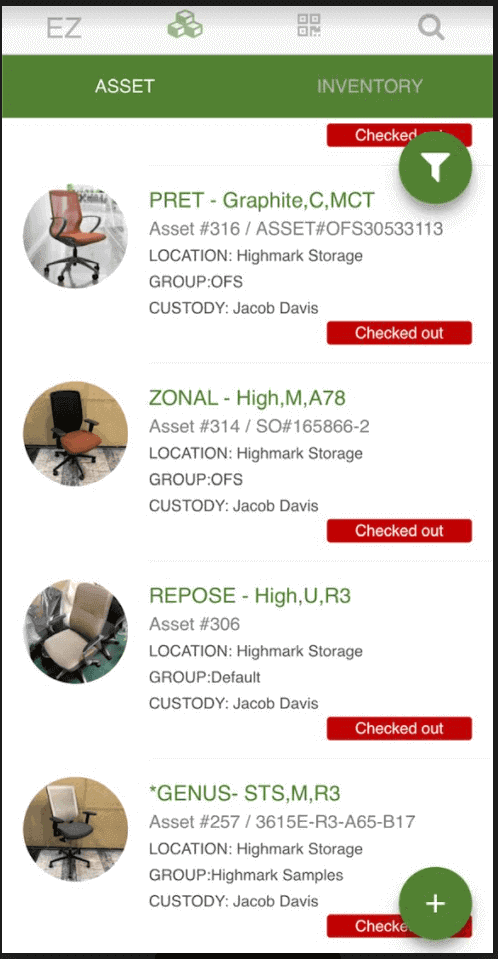 Enhanced visibility leads to reduced equipment loss
One of the immediate benefits of EZOfficeInventory was that it enabled OFS to document images of their products along with the associated details and availability status on a single, centralized platform. This ability to attach an image was particularly useful to them as they were able to quickly scroll through the products and find what was required.
However, the real "game-changer" according to Scott, was the Alerts feature. Instead of losing track of their inventory, they would set up Alerts for items in the field that needed to be picked up in five days. This was the ideal amount of time needed to complete a product evaluation, according to Scott.
Since inventory movement was recorded on a single platform, the team could easily identify which items were in stock or out in the field. In case the responsible person was unavailable, Scott could take a look into the system himself to track down a piece of furniture.
The Alerts feature has ensured that no piece of furniture is forgotten and inventory is promptly picked up.
"We completely minimized the loss of product altogether and we were returning the product much quicker," says Scott.
The result: Significant cost savings!
Improved productivity and customer service
The automation brought about by EZOfficeInventory has also improved employee performance. Now they no longer have to scramble and look for inventory in Excel sheets as the information is fully automated and available in real-time
The Southern California location has a seating specialist who is the main person dealing with the inventory and taking it out for testing. District Managers also coordinate with the specialist if they need to take samples to dealers, design firms, and end-users.
EZOfficeInventory has enabled them to offer reliable scheduling and enhanced customer service. For example, if a chair is requested by a client, they are able to instantly check if it is available and make a delivery promise on the spot. In case it is checked out, they know exactly when it is due back. Based on this information they can let the customer know exactly when to expect the chair and completely avoid confusion and delays.
"It's a big benefit that they are able to look at what is available in the system and make reliable promises to their customers," says Scott.
Because of these benefits, Scott has also recommended EZOfficeInventory to other OFS locations.
One such recommendation was to Mary Pedley, District Sales Manager on the East Coast. She and her team have been successfully using EZOfficeInventory for over two years. The system has helped them keep an accurate record of their ever-expanding inventory while reducing human error and increasing efficiency.
Ever since EZOfficeInventory enabled OFS to keep a real-time account of inventory movement and ensured transparent records, OFS has seen a positive impact on employee accountability.
"The system makes it very clear who is in possession of what so people are more careful about the equipment they are in charge of," says Scott.
Agile operations with the mobile app
For a team that is often on-the-go, the mobile app is extremely useful in keeping them agile. The team is able to easily pull up their smartphone and view item availability anytime from anywhere, making bookings and delivery fast and reliable.
While Scott and his team find EZOfficeInventory intuitive and easy to use and are particularly enjoying the new user interface, they are always able to reach the support team for any questions.
"The experience with the support team has been exceptional," says Scott.
The future with EZOfficeInventory
Scott looks forward to increasing their use of the functionality, especially adding barcodes and labels to further streamline inventory management. EZOfficeInventory has been easy to implement, use, and provides them great value. Scott sees its use expanding in other OFS locations across the country.