EZOfficeInventory has a built-in Label Designer (Learn More). Corporate customers mostly opt for commercial printing, and they might handover the Print Label data to your printing service. Here is a quick step-by-step process to go about it.
1) Ask the EZOfficeInventory user to export Print Label Data in a CSV. It can be accessed from More →  Printout Templates → Export Print Label Data For Commercial Printing (more details here). Pick module you want to export the print label date for, as shown below. If they want a logo on the labels, ask them for the logo image separately. If the CSV does not contain a data point, ask the user to first select a default print label template that contains all the required information.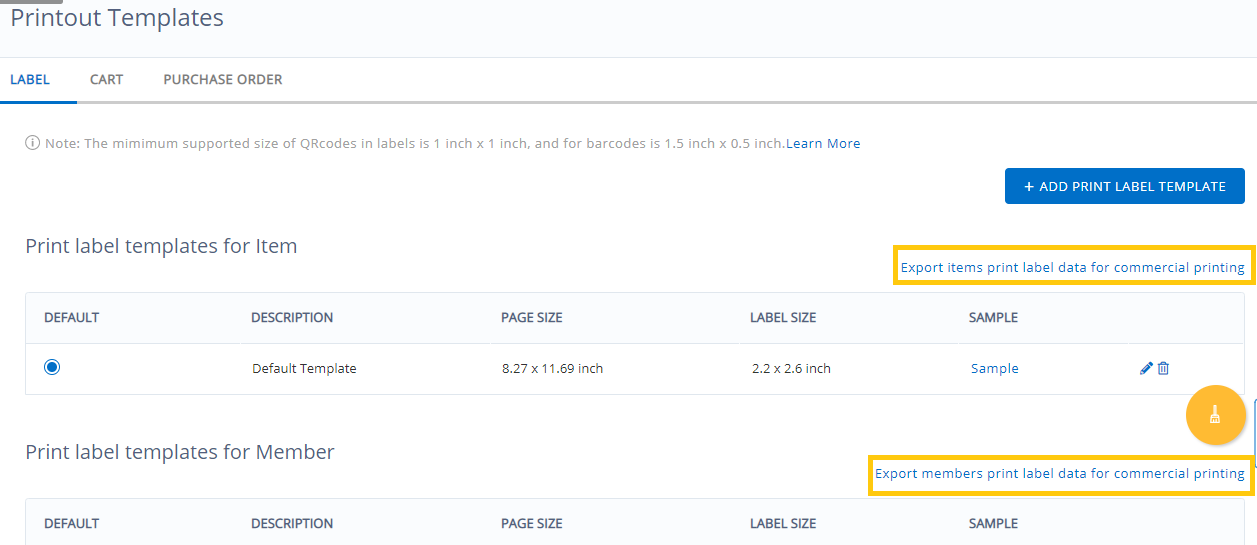 2) This option asks the user to choose a template. The template should have the data points needed on the Print Label. For example, if Item Name, Item Group, QR Code and Barcode is required, these 4 elements/data points should be in the template. QR Code links are under the QR code column. Barcodes sequence is in the Barcode column.
3) The print label data is only for existing items in the EZOfficeInventory account. However, future items can be pre-provisioned, if needed. Here is how to go about it.
4) Both Barcodes and QR Codes are supported in EZOfficeInventory.
Barcodes are set up as Identification Numbers with the items. An Identification Number is essentially the barcode sequence.
QR Codes are the URL links to the detail pages of items in EZOfficeInventory and are much more powerful than barcodes.
5) Send free samples before confirming the order. These samples should be from the actual data provided by the customer.
5) Scan the sample QR Codes/Barcodes using EZOfficeInventory mobile app on your iPhone/iPad/Android Device to verify that they can be easily scanned. You can also use these third-party apps: iPhone/iPad, Android Device
6) Other factors such as durability, label environment, and materials they will be used on should also be considered.
7) Barcodes and QR Codes should be printed in high contrast (dark color code with light background). QR Code or Barcode in black with white background is highly recommended as this combination enhances label readability.
8) We recommend the barcode to be at least 0.5″ in height, and QR Codes to be 1″x1″. The bigger the labels and fewer the encoded characters, the easier it is for our apps to pick them up through the mobile camera. Barcodes should preferably be Code 128.